The Last "Vermeers": Part Two
The Art Crime executed by Dutch painter Han van Meegeren was so brazen and involved so much intrigue that it became a feature movie The Last Vermeer. ⁂
In the previous post The Last Vermeers: Part One you were introduced to van Meegeren, the C20th artist who was obsessed with his own artistic skill, and driven by revenge for being ignored by the art critics of the time (and consequently the wealthy collectors) set out to prove that they couldn't tell the difference between a painting by C17th Dutch painter Johannes Vermeer (1632-1675) and one produced in his C20th studio with the help of Bakelite (a type of plastic) and an oven to bake the paint rock hard to give the impression that it was hundreds of years old.
Han van Meegeren was so confident that he could fool the art world he forged paintings by many C17th artists (in addition to the 7 Vermeers he produced) including Frans Hals, Pieter de Hooch and Gerard ter Borch. Van Meegeran made a fortune which he used to buy properties but also to feed his dependence on drugs and alcohol.
Today we concentrate on one painting Christ with the Woman Taken in Adultery by Han van Meegeren, (after Vermeer 1942) and two men - the unknown forger and one of the most powerful member of the Nazi party.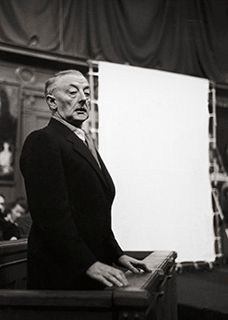 Han van Meegeren's revenge leveled at the art world had turned to greed! He was making a fortune by selling his genuine and authenticated C17th works of art by famous painters!
The narrative gains another character - the German Chancellor Hermann Göring - who was jealous that his Führer had a Vermeer and he didn't!! Göring scoured Europe to buy art. Eventually his collection got so large, that he turned his country mansion, Carinhall, into a museum of epic proportions.4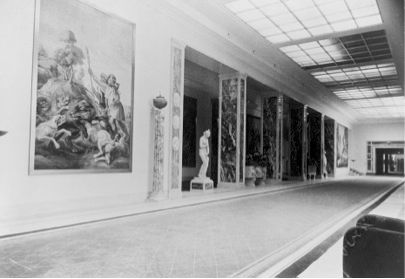 The painting Christ with the woman taken in adultery in 1942 passed from Van Meegeren through the hands of a number of intermediaries. It was disputed by Heinrich Hoffman, Hitler's personal art advisor and Hermann Göring, who ardently desired a Vermeer for his private art collection. On the contrary, Hoffman argued that such an important work by Vermeer should go only to the Führer himself, for his art collection to be housed in Linz, Austria.2
It was sold to a Nazi banker and art dealer Alois Miedl who later sold it to Göring for 1,650,000 guilders, the highest price ever paid for one of Van Meegeren's forgeries.2
Göring showcased the Vermeer forgery at his residence in Carinhall, near Berlin until in August 1943, Göring hid his collection of looted artwork, including his "Vermeer," in an Austrian salt mine, along with 6,750 other pieces of artwork looted by the Nazis. On 17 May, 1945, Allied forces entered the salt mine and recovered all the artworks.2
It is said that Göring did learn that his Vermeer was a fake before his death by suicide in 1946.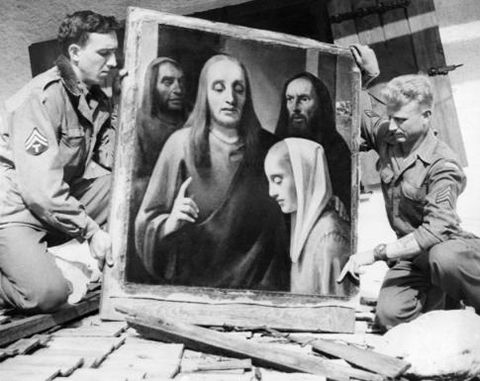 Once recovered from the salt mine in Austria Christ with the woman taken in adultery was quickly identified as a forgery and traced back to Han van Meegeren who was put on trial as a Nazi collaborator- having given up Dutch cultural property. If found guilty he would be sentenced to death.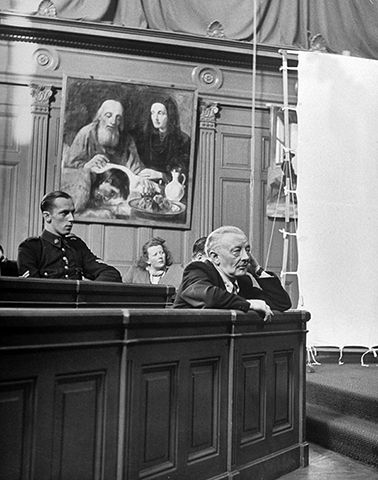 What wasn't known at the time was that the paintings sold during this period were all fakes! To escape the death penalty, Han van Meegeren confessed to art forgery, and his trial features in the movie The last Vermeer. ⁂ But the confession wasn't believed and so to prove that he had forged the paintings Van Meegeren had to produce another fake work!6
He painted Jesus among the doctors (below) in front of the judges to prove that he was the forger of Christ with the woman taken in adultery.7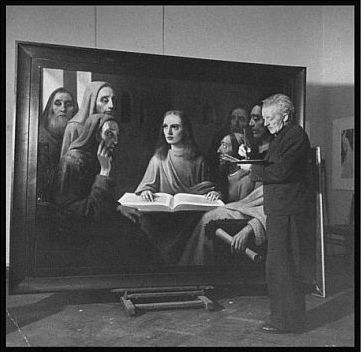 During his trial, Han van Meegeren was able to present himself in such a way that he did not go down in history as a 'swindler', but rather as the misunderstood artist who had deceived the elite 'art experts' of the Netherlands.
He was convicted on falsification and fraud charges on 12 November 1947, after a brief but highly publicised trial, and was sentenced to one year in prison. He did not serve out his sentence, however; he died 30 December 1947 in the Valerius Clinic in Amsterdam, after two heart attacks. It is estimated that Van Meegeren duped buyers out of the equivalent of more than US$30 million in 1967s money, including the government of the Netherlands.6
There is some suggestion that van Meegeren was a Nazi collaborator. During the occupation, Van Meegeren painted propagandistic artworks (under his own name) for the German-installed puppet government of the Netherlands, gave large sums of money to Nazi causes, and even sent a polite note to the Führer in Berlin, as a token of his admiration. Remarkably, Van Meegeren's interest in Nazism actually dated back to a period long before the occupation. As early as 1928, five years before Hitler assumed power as chancellor of Germany, Van Meegeren could be found parroting selections from Mein Kampf. The reality is that fleecing Hermann Goering was just an ordinary business transaction, not a political statement.9
If you are interested in knowing more details about this fascinating art crime you might like to watch this 12 minute Youtube video with subtitles.
⁂The Last Vermeer is a 2019 American drama film directed by Dan Friedkin from a screenplay by John Orloff (under the pen name James McGee), Mark Fergus, and Hawk Ostby. It is based on the 2008 book The Man Who Made Vermeers by Jonathan Lopez, and tells the story of Han van Meegeren (played by Guy Pearce), an art forger who swindles millions of dollars from the Nazis, alongside Dutch Resistance fighter Joseph Piller (Claes Bang).1
Credits
1. newyorker.com
2. essentialvermeer.com
3. simple.wikipedia.org
4. sartle.com
5. news.artnet.com
6. en.wikipedia.org
7. medium.com
8. heritage-print.com
9. amazon.com