The intriguing story of the "Portrait of Adele Bloch-Bauer I": Part One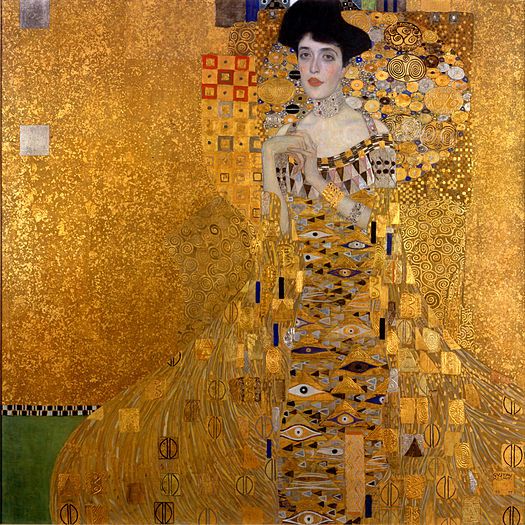 This exquisitely beautiful painting by Gustav Klimt is the feature in today's Art Crime post.
The portrait of Adele Bloch-Bauer I is a painting by Gustav Klimt, completed between 1903 and 1907. It's fame is not only to do with the story we are about to tell you but also because this painting, with only a handful of Klimt paintings, belongs to his Golden Period where he produced highly decorative work resembling a jewel box. Klimt took over a year to produce the painting and made over 200 preparatory sketches.2
The painting was stolen by the Nazis in 1941 and the family of the owner fought for 60 years to get it back. It is a story of mystery, corruption and double dealing which ended in the American Supreme Court.2
The subject of the painting Adele Bloch-Bauer (above) was a wealthy Jewish patron of the arts who served as the model for some of Klimt's best-known paintings and who hosted a renowned Viennese salon that regularly attracted the most prominent artists of the day.1
The portrait was commissioned by the Adele's husband, Ferdinand Bloch-Bauer, a Jewish banker and sugar producer.1 Ferdinand paid an astonishingly high price for the painting and went on to buy several Klimt paintings for the family art collection considered to be one of the largest in Vienna.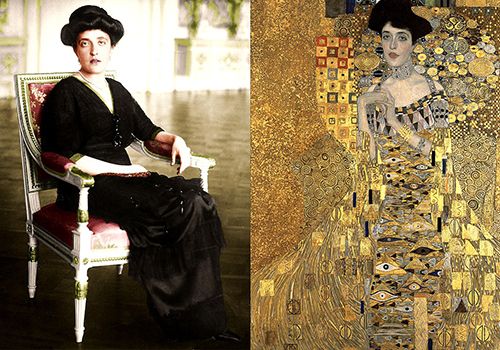 The woman who becomes the centre of the story was Maria Altmann (1916-2011), niece of Adele and Ferdinand. Maria was born Maria Victoria Bloch in Vienna, Austria-Hungary, the daughter of Marie Therese (née Bauer 1874–1961) and Gustav Bloch (1862–1938). The family name was changed to Bloch-Bauer the following year.1
In 1937, Maria married Fredrick "Fritz" Altmann. Not long after their Paris honeymoon, the 1938 Anschluss incorporated Austria into Nazi Germany. Under the Nazis, Fredrick was arrested in Austria and held hostage at the Dachau concentration camp to force his brother Bernhard Altmann, by then safely in England, to transfer his successful Bernhard Altmann textile factory into German hands. Fredrick was released and the couple fled for their lives. They made a harrowing escape, leaving behind their home, loved ones, and property, including jewelry that later found its way into the collection of Hermann Göring. They finally settled in Los Angeles. 1
Shortly after Maria arrived in Los Angeles, Bernhard Altmann mailed her a sweater made of cashmere wool – a luxury fabric not yet widely available in the United States – accompanied with the note: "See what you can do with this." Maria took the sweater to Kerr's Department Store in Beverly Hills and attracted a multitude of buyers in California and across the United States for Bernhard Altmann's cashmere sweaters. Maria became the face of cashmere in California and eventually started her own clothing business.1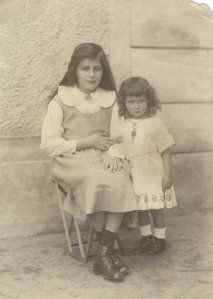 Tragically Adele died in 1925 of meningitis and her Will clearly stated that she wished her two Klimt portraits and four Klimt landscapes to be donated to The Belvedere Gallery in Vienna.2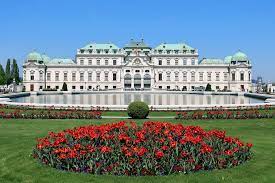 Ferdinand was grief stricken at the death of Adele and Maria Altmann recollects how he set up her bedroom as a memorial in her memory and the Klimt portraits and landscapes remained in this room.
As the Nazis rose in power, Ferdinand Bloch-Bauer used his wealth to support resistance fighters to protect Austrian borders but following the annexation of Austria in 1938 into Nazi Germany, Ferdinand fled to Czechoslovakia leaving the Klimt portraits and all his art collection behind. 2
Maria recounts how the Gestapo came to her home and took her beautiful diamond necklace with matching earrings (a wedding gift from her uncle Ferdinand) which went to Mrs Göring. This is the same necklace being worn by Adele in her portrait by Klimt.2
Hermann Wilhelm Göring, one of the main architects of the Third Reich which he believed would produce a thousand years of German achievement, 2 saw music and art as part of this great age. Maria's family paintings, jewellery and her father's Stradivarius cello were all taken. My father died two weeks after that; it was absolutely a broken heart — he died of a broken heart. 5
What we must understand is that the Nazis were very well organised and knew from their spies what valuable collections were out there and worth seizing. Every work of art seized was catalogued with description and photograph and then put on displays for the main Nazi leaders (Hitler and Göring) and they could take their pick of which pieces they wanted. 2
To cover up the fact that the paintings (and other valuables) had been stolen the Nazis brought a charge of tax evasion against Ferdinand Bloch-Bauer with the assets raised from the purported sales of artwork, property and Ferdinand's sugar business being offset against the tax claim. 1
A Dr Erich Fuhrer was sent to the Bloch-Bauer home to recover the paintings and Dr Fuhrer knew that Hitler and Göring would not want, for their private collections, the decadent paintings by Klimt. And so he sold the two Adele portraits - Adele Bloch-Bauer I (above) and Adele Bloch-Bauer II (below) plus Apfelbaum I (Apple Tree shown below) to the Belvedere gallery. 2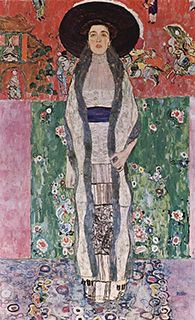 And now the story gets very intriguing legally because The Belvedere claimed that they owned the paintings as they had purchased them and furthermore Adele had said in her Will that she wanted the gallery to have the paintings.
The movie Woman in Gold brought public attention to the painting and story once more. But importantly, the painting was never called Woman in Gold though it did have a couple of name changes from Adele Bloch-Bauer I. Bruno Grimschitz, the Nazi curator at the Belvedere Gallery, first changed the name of the painting to Golden Portrait and later to The Lady in Gold. As emphasized in the movie, this was done to hide the fact that the woman in the painting was Jewish.7
We are going to continue the story tomorrow but if you would like to get a taste for the movie which recounts fairly accurately what happened you can view the official trailer below.
Helen Mirren stars as Maria Altmann, a naturalized US citizen who sues the Austrian government to recover a glittering, golden portrait of her aunt, Adele Bloch-Bauer, painted by Viennese art nouveau master Gustav Klimt and looted from her family's home by the Nazis.
While Woman in Gold is a feel-good, triumphant tale for American audiences, it's important to note that the country's own art museums still have work to do to ensure justice for Holocaust victims. The story of this one painting doesn't mitigate the fact that at least 100,000 works of art confiscated by the Nazis haven't been returned to rightful owners.8
If you would like to check out more about Gustav Klimt, Julie has written two posts on this most remarkable artist.
The Genius of Gustav Klimt and
The Vibrance of Gustav Klimt.
Credits
1. en.wikipedia.org
2. The Lady in Gold Documentary, A film on the recovery of the Bloch-Bauer Klimt paintings by Maria Altmann in 2006. Electric Sky, Nigel Janes Director/Producer.
3. simple.wikipedia.org
4. jewishhomela.com
5. historyvshollywood.com - The Telegraph
6. commons.wikimedia.org
7. historyvshollywood.com - Variety.com
8. theconversation.com