The Hop by Jyll Bradley- Hayward Gallery, London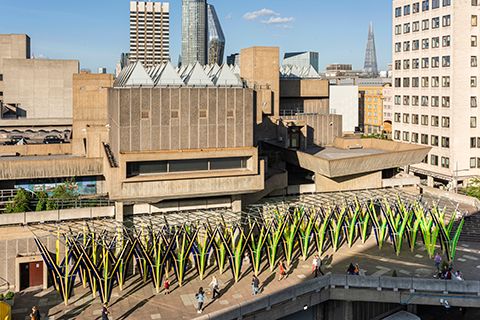 Jyll Bradley's new interactive commission links the urban landscape of the Southbank Centre in London to the hop gardens of Kent.
The Hop installation has risen out of the ground tilled for hop growing and the culture which evolved as a result of this process - just as the paintings by our friend South African artist Tendai Makufa have risen out of the ground being tended and tilled for the growing of crops in his birth country Zimbabwe.
The Hop (in place from May – October 2022) at the The Hayward Gallery, London, was inspired by local history and the story of thousands of working class families from Lambeth in South London who travelled to Kent every year until the 1960s to bring in the hop harvest. Away from the pollution of London going hopping was even viewed by some as a working holiday.2
Standing at almost four metres in height, the installation echoes the geometric design of a Kentish hop garden and has been made using Jyll Bradley's signature light-reactive materials which create a luminous public canopy alongside the Hayward Gallery.1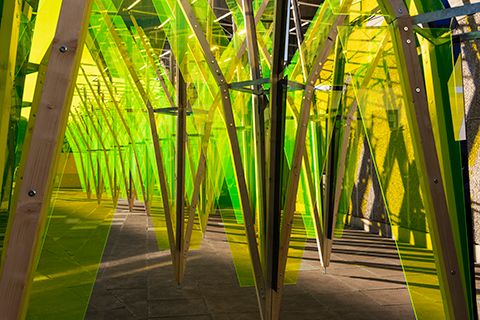 It is very important that to fully appreciate The Hop you need an understanding of the practices and culture embedded in this work. Please make sure you have read the three prelude posts 1 2 3 which not only explain Hopping but give you an overview of the art and literary works of this remarkably talented artist.
The Hop is a towering pavilion, made of metal, wood and coloured plexiglass (which) creates brilliant light reflections and projects a spectrum of colours onto the Southbank Centre's iconic Brutalist architecture.2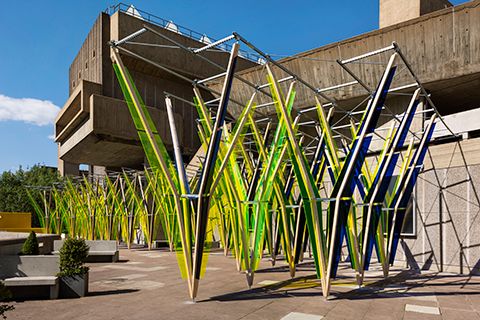 Bringing in the hop harvest – or 'hopping' – was hard manual labour, but it was also a transformative time away from city life, and a space for new experiences and new relationships.3
If you embrace installation works of art and open up your mind to viewing the world through a different lens, you too will find new experiences and new relationships with art - your sense of space and place will be expanded just as the world of the hoppers expanded each summer in Kent.
Jyll's coloured plexiglass installation echoes the geometry of Kent's unique hop growing structures where vines were arranged to expose the crop to the maximum amount of sunlight. The Hop reaches outwards and upwards, evoking a gathering of people with outstretched arms. It considers the physical and spiritual
work needed to grow something, whether a crop or a community.2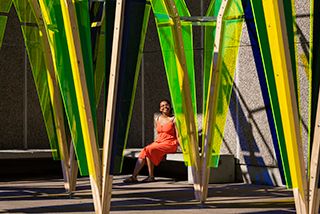 Therefore you are invited by the artist to spend time in The Hop, to create a dance routine, have a picnic, or simply sit and enjoy the colourful reflections made by the artwork in the summer sun.3
For a brief moment in time you can become part of the community of people who have travelled to see and perhaps to be part of this installation. You will embrace the light and marvel at the structures and their formation into an evocative composition provoking new thoughts and even dance.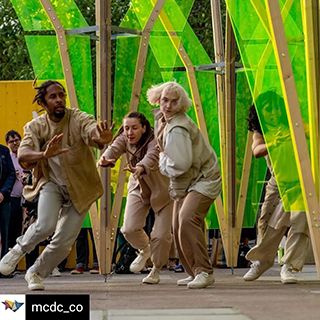 Importantly as The Hop connects the urban landscape of the South Bank to the rural hop gardens of Kent, you can visualise almost first hand the scene as it would have appeard all those years ago, with the children playing amongst the plants and structures as their parents harvested the hops in the clear air warmed by the rays of light.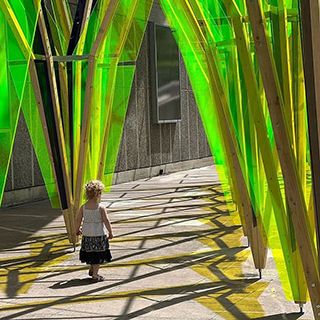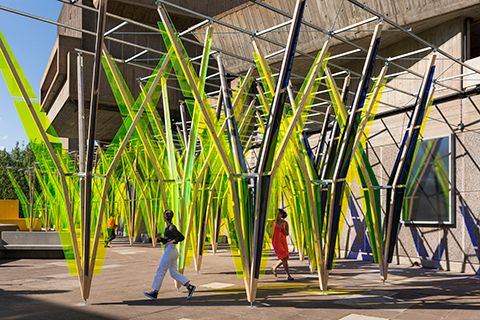 If you are lucky enough to be in London and able to experience the installation for yourself, you can engage in any way you like. I imagine most people will find the structure a perfect environment to be reflective and to marvel at the interplay between natural light and human made plexiglass cleverly planned and designed to make maximum use of the light - just as in the hop gardens: growth in human artistic and creative development paralleling the growth of the hops.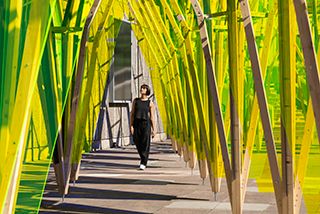 Most artists spend an enormous amount of time in working through the various preparation stages before a work is ready for public exhibition. Jyll sees
"model making is an essential part of my process. Imperfect, hand-made it's something I have done since childhood. Making models by hand slows down the process, is meditative. Know-how gleaned from making even a tiny element with balsa wood and U-HU is incomparably useful. It is a way of getting to know and feel an idea."4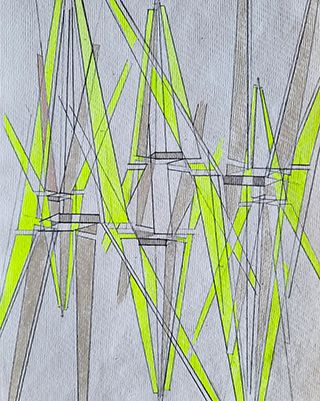 The Hop also hints at several temporary creative pavilions that were constructed nearby as part of the post-war Festival of Britain in 1951. Many of these pavilions were colourful, creative and futuristic spaces. When lit up at night, the South Bank became an exciting location for impromptu gatherings and even spontaneous dancing.
Jyll Bradley says:
The Hop is a work of time, memory and light. I felt an immediate connection to local 'hopping' stories: I grew up in the Kentish countryside and have spent all my adult life in Bermondsey.
The work also speaks to the site as I worked at the Hayward as a young artist, learning about the post-war Festival of Britain with its creative pavilions.2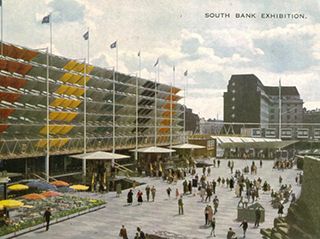 Jyll goes on to say that: "The Hop is made up of multiple elements and, like a hop garden, is the work of many hands. I see the sculpture as a collective, a gathering in itself, as well as a space for gathering and for solo contemplation." 2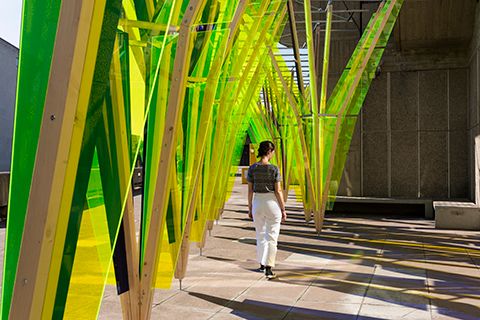 Ralph Rugoff, Director at the Hayward Gallery, says: "Inspired by local histories, Jyll Bradley's epic outdoor installation is an adventurous and engaging new work that appeals to visitors with its inspired architectural forms and its remarkable play with light and colour. As you walk through and around it, details of its appearance are constantly shifting, challenging our perceptual habits.2
At the same time, The Hop also creates an exciting and welcoming new environment on the Gallery's western terrace - a glowing and colourful space in which visitors can explore, parade or rest and reflect."2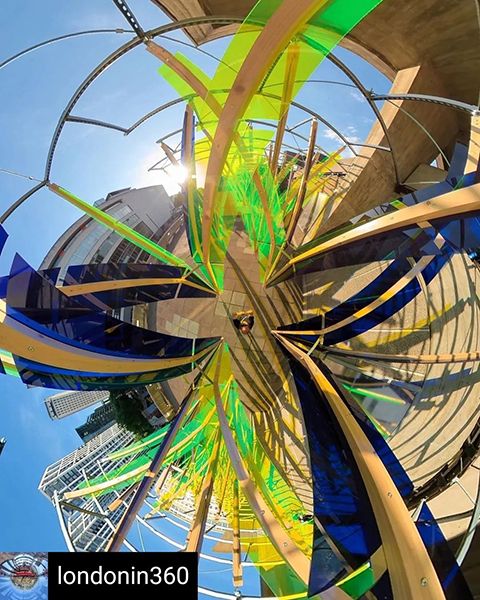 An exciting collection of newly commissioned poetry, sound art and dance pieces are being created in response to The Hop. Poetry, inspired by the themes of the installation, has been commissioned from the New Poets Collective; sound artist and composer Emily Peasgood has created an original sound composition, influenced by futuristic electronic techniques from the 60s and 70s; and a series of dance performances, choreographed by Adesola Akinleye, will take place on 6 August within The Hop pavilion.2
In the days prior to the opening, dance company MCDC performed a newly commissioned routine which responded to the themes of The Hop through hip hop and contemporary movements. An 'In Conversation' event with Jyll Bradley and Director of Hayward Gallery, Ralph Rugoff, will take place on 21 September.2
As we come to the end of this post it is important to emphasise that even without the cultural context what remains is a very beautiful structure - specifically made from wood, edge-lit perspex, aluminium, steel and mirrored film- and in itself it is quite magnificent as a stand alone art work.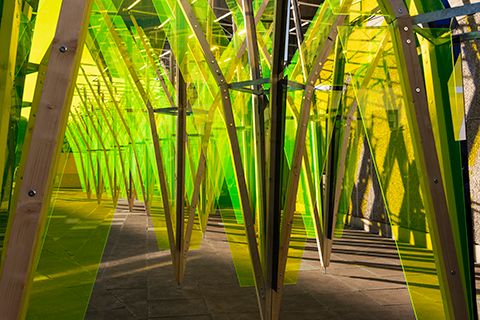 Take particular note of the interplay between the nuances of light and the shadows that it forms.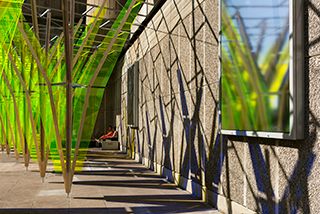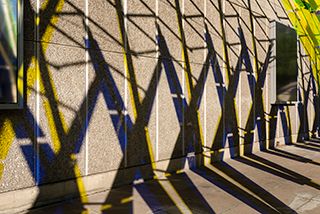 Note how one perspective harmonises with another. But also in contrast, note the seemingly randomness of shape and line which, just like in nature, accompanies the order.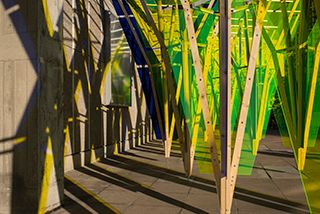 And at the end of the day this artist, Jyll Bradley, knows and is at one with her environment, or more appropriately her environments, because Jyll's sense of space and place is far reaching.
To fully appreciate the breadth and depth of her talent and vision please visit Jyll Bradley's Website.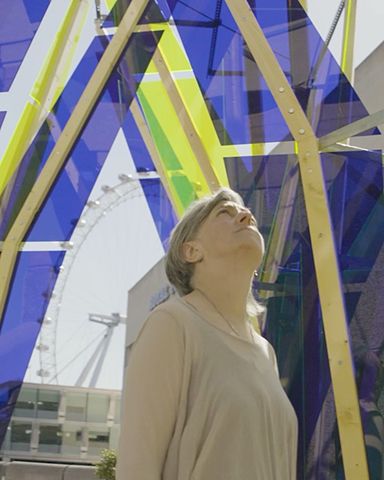 The work was designed in close partnership with structural engineer Ben Godber and Expedition Engineering, with Hayward Curatorial Assistant Debbie Meniru, Operations and Logistics Manager Marcia Ceppo, and Senior Installation Technician Maarten van den Bos managing the project's realisation on site.
The Hop has been realised with the generous support of the Hayward Gallery Commissioning Committee, and significant additional support from David Maclean.2
© Thank you to Jyll Bradley and the Hayward Gallery who kindly gave permission for the images of The Hop to be shared on AnArt4Life.
Follow this link to visit the website of the Hayward Gallery.
Late Mail
A very special welcome to D.B. in Wyoming who has joined up to receive a daily dose of AnARt4Life news. As we approach our 6th birthday we thank all of you for your on-going and loyal support.
Credit
1. jyllbradley.com
2. Hayward Gallery Press Release for Jyll Bradley's The Hop. Also correspondence with Rachel Willcocks, Hayward Gallery, London
3. southbankcentre.co.uk/whats-on/art-exhibitions/hop
4. jyll.bradley on instagram
🎼 Music by composer Emily Peasgood (@empeasgood) Peasgood's 𝘏𝘰𝘱 composition was inspired by the futuristic electronic composition and sampling techniques of the 60s & 70s, particularly the work of #DaphneOram whose studio was located in an oasthouse in Kent.