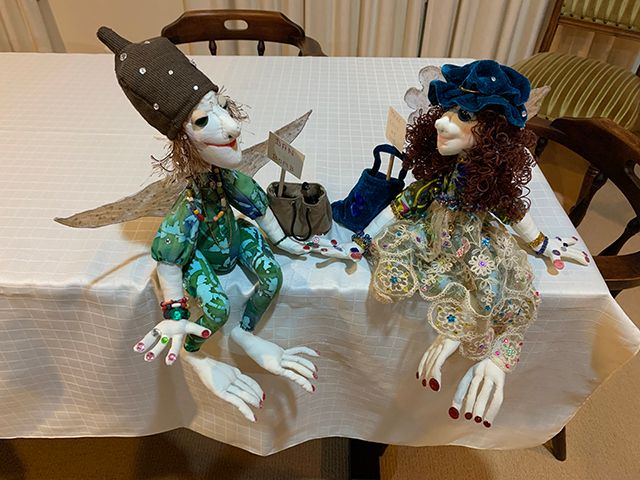 A few days ago you were introduced to the dolls owned and personally made by Octogenerian Andrea.
Over the years Andrea has created a huge theatrical range of dolls, each with a personal narrative which usually links into a theme.
But today's dolls stand out as very different to the other dolls in her collection. This pair are wild and a little unnerving: after all they are hippies. Their manners are a little rough and don't be surprised to see them sitting on the table, or the top of a shelf where they can watch the world go by. They are young and free.
Today were learn from Andrea how she made The Hippy Elves and importantly where their journey might be taking them.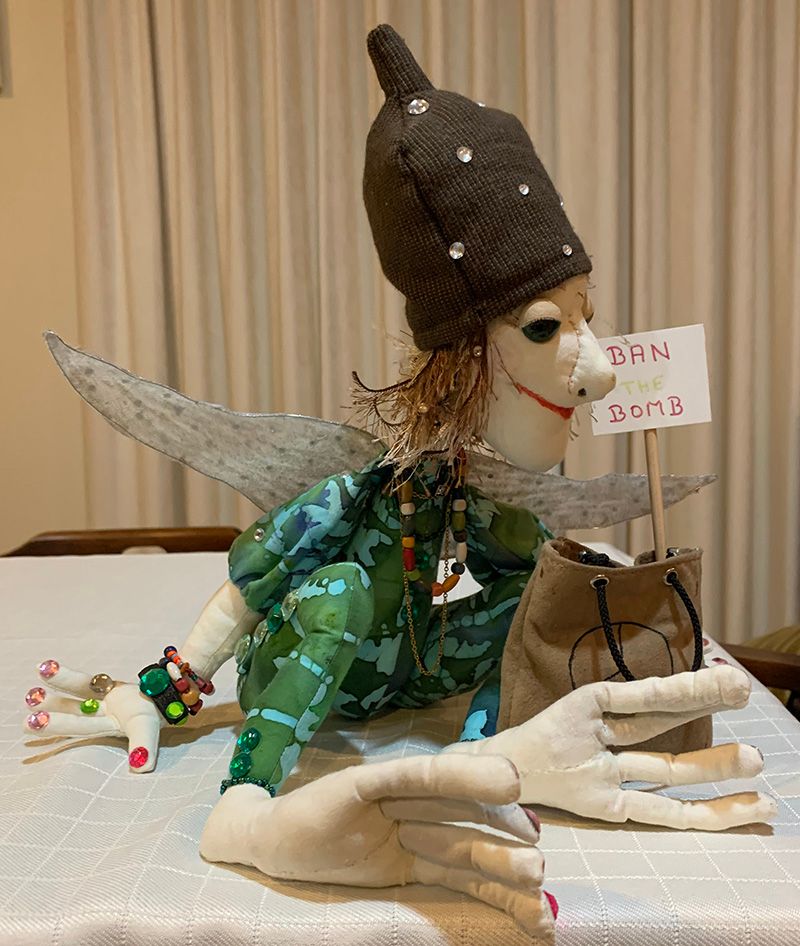 Andrea will tell you all about The Hippy Elves:
I made the male elf (above) from a commercial pattern called "Rain Forest Elf". He didn't turn out to look much like the picture on the pattern and I decided he was a Hippy Elf.
The male Hippy Elf is made of cotton material with the limbs attached with buttons. The wings are thin material sewn onto a wire frame and painted with glitter glue as a stiffening agent.
His hair is fancy knitting yarn, glued on, and his gumnut hat is made from thin woollen material, lined with cotton and with a little stuffing in the top to hold the shape. The eyes are commercial toy eyes with glued on thin felt eyelids. The other facial features are drawn with a fabric pen.
To give him a bit more of a "hippy look" he has bead necklaces and bracelets and plenty of glued on "rhinestones". I made him a sign reading "Ban the Bomb" and a suede bag containing "found things" - odd beads and small pieces of broken jewellery.
He is going to a folk festival where he hopes to exchange some of the "items" in his bag.
He looked lonely and so I decided he needed a girlfriend.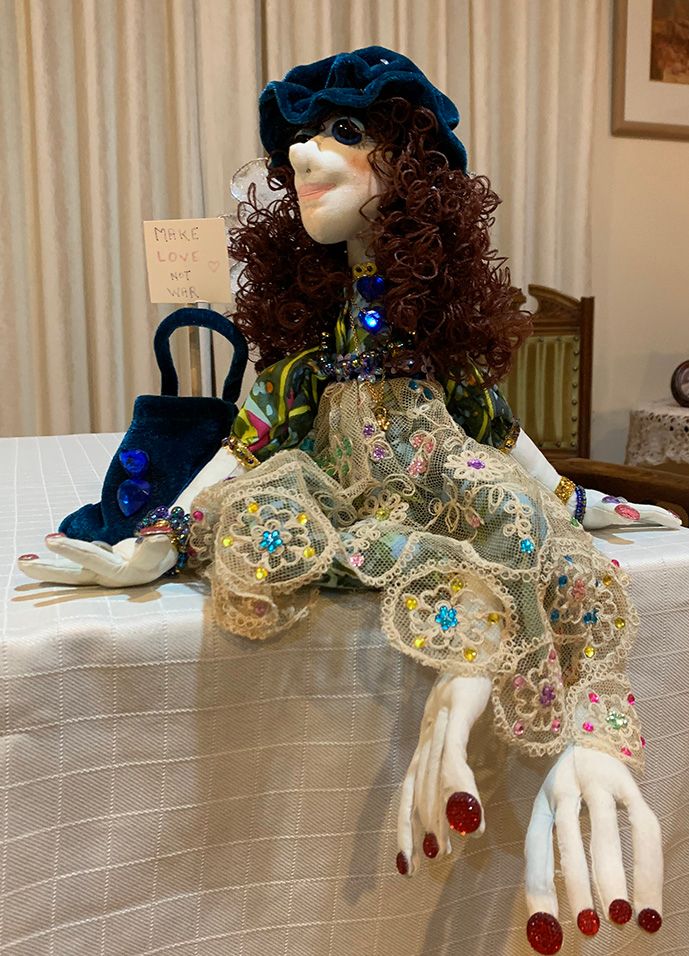 I made the girlfriend using the same pattern. In construction she is the same as her boyfriend except for her face. It needed to look more feminine and it took several tries at altering the original pattern before I was satisfied.
The neckline of her costume and sleeve edges are defined by gold ribbon with sewn on beads. She wears a skirt of old lace decorated with glued on "rhinestones". Her hair is made from lengths of "doll's hair", glued on, and her hat is velvet.
She too has a sign - "Make Love Not War" and a velvet bag of "found objects".
Like her boyfriend she wears several necklaces and bracelets plus lots of glued on "bling"!
In about a week the next Dolls by Octogenarian Andrea you will meet are characters from the Commedia dell'arte.
© Thank you to Octogenarian Andrea who kindly gave permission for the images of her work and explanation to be shared on AnArt4Life.
Late Mail
A very warm welcome to C.A. in France - our newest subscriber to join the AnArt4Life blog community.
The blog team aims to encourage chatting and sharing about all things art in our lives around the world.
Our subscribers come from:
Australia, UK, Ireland, Scotland, USA, Philippines, Hong Kong, France, Holland, Germany, South Africa, India, Tanzania, Sweden, New Zealand, Indonesia, Brazil, Italy.
We are approaching our 4th Birthday Party and we have managed to post every day in this time. None of this would have been possible without the wonderful team I have the pleasure of leading.
A huge shoutout to Jane, The Keeper, Julie, Matt, John Pickup, Rowdy Wylie and Andrew from the Hunter Valley and to our incredible subscribers and followers around the world.