The Futuristic, Functional, Fun Lego Head Office
Today we showcase how the Lego brand morphs their renowned blocks into real 'bricks' and mortar. To see the results, we need to travel to the birth place of Lego, Billund, Denmark, a small town located approximately 260kms west of Copenhagen. For those who may have missed it, we outlined the family history behind Lego in an earlier post.
The Lego's campus (office) was inspired by a painting of the toymaker's famous plastic blocks in billionaire owner Kjeld Kirk Kristiansen's office showing a boy proudly holding up a building made with the firm's famous bricks.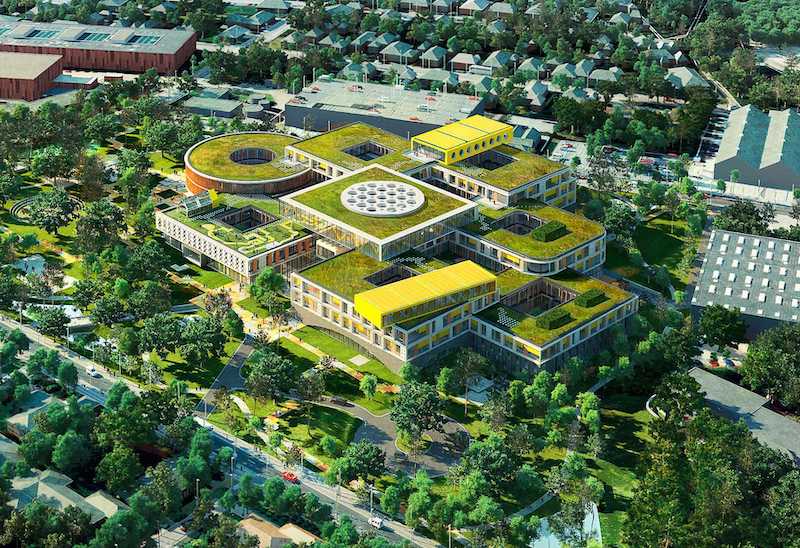 The C.F. Møller designed project spans 54,000 square meters and houses 2,000 Lego staff. Lego-style bricks appear in the exterior walls and two gigantic yellow blocks are perched on the roof.
Niels B. Christiansen, CEO of the Lego Group, said that the workspace "reflects our values" and "instils a sense of fun". Adding, "Our mission is to inspire children so it's important we provide our talented colleagues with an environment that is playful and inspires creativity and innovative thinking".
The new campus has a focus on sustainability and Lego builders have covered the roof of the nearby parking garage with 4,150 solar panels to produce more than 1 million kWh, which will supply half of the energy of the campus.
Who best to tell us more about this remarkable space than the architects themselves… 'Collaborative spaces create an informal and inspirational atmosphere throughout LEGO Campus. The upper floors include spaces for a variety of work and play activities to support creativity and innovation. Where the individual building parts overlap, small squares with brightly coloured stairways form social nodes and wayfinding markers.
I think this staircase may follow the Fibonacci golden ratio principle we have spoken about previously in A sequence of very famous numbers.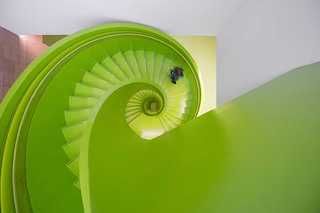 The façade is designed to both maximise interior daylight and minimise cooling requirements. This creates a playful yet beautiful façade which contains large Lego bricks as one of the buildings motifs. Two giant Lego bricks form meeting spaces on top of the building.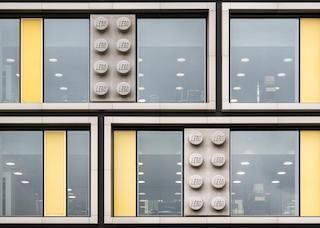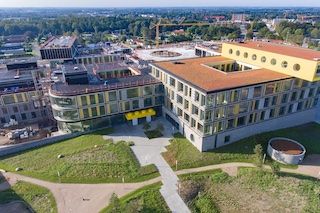 Integration of the building within the publicly accessible park, creates outdoor meeting spaces, walk and talk routes and play areas. These elements break down the barriers between inside and outside, stimulating innovation. From the interior, one is surrounded by greenery everywhere, in the form of the park, courtyards, pocket gardens, and green roofs including greenhouse and mini-golf course.
Green roofs, durable materials, enhanced biodiversity and collection of rainwater for distribution to basins and lakes, all make LEGO Campus a highly sustainable complex which achieves the strictest Danish 2020 energy certification'.
Kjeld Kirk Kristiansen said in 2016 his mission was to "inspire and develop the builders of tomorrow" but promised a "continued ambition to leave a positive impact on the planet, which future generations will inherit."
Looks to me like Kjeld's vision has materialised.