The Coronation Coaches – not always a dream ride!
The Gold State Coach will continue the tradition of British pageantry at the coronation on 6th of May 2023. You would think that a gold coach worth over 3.5 million pounds would be a comfortable ride for a King or a Queen….!
But during a documentary interview in 2018, Queen Elizabeth II reflected on her journey to her Coronation ceremony in 1953 and said the ride was "horrible", due to the lack of comfort in the coach. "Not very comfortable," The Queen said. "It's not meant for travelling in at all...it's only sprung on leather."
The Queen had to endure the trip both to, and from, Buckingham Palace in The Gold State Coach, with 1.1km distance instead winding more than 8 kilometres through the streets to enable as many people as possible to see her.
Taking over 2 hours at walking pace, what a trial it must have been for her returning in an uncomfortable coach after already enduring a three hour ceremony at Westminster Abbey……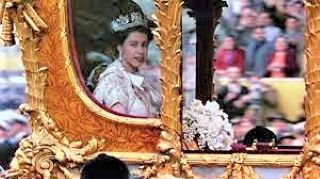 Nevertheless, the Gold State Coach has been a splendid sight at royal coronations, jubilees, and events since it was built in 1762 to transport British kings and queens. It was designed by architect William Chambers and made by the coachmaker Samuel Butler. It wasn't ready in time for the coronation of George III, so its first outing was the opening of Parliament on 25th November 1762. 1
Now at 260 years old, it has been used at every coronation since William IV's in 1831. It cost £7,562 in 1762, which means it would be worth over £3.5m now. 1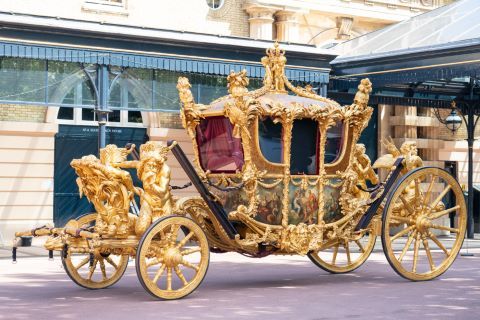 The question is often asked as to whether the Coronation carriage is real gold?
The answer is that it is made from giltwood, which is solid wood painted in gold leaf. It has iron wheels, which were then covered with rubber after World War II.
The carriage weighs over four tons. Because of its weight, it needs a team of eight horses to pull it, and this is only possible at a walking pace! It is very ornate, festooned with carvings of dolphins, mermaids and cherubs. 2 The paintings on the outside of the carriage were painted by Giovanni Battista Cipriani.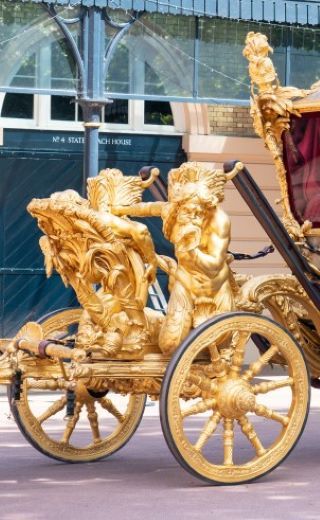 I was lucky enough to see the Gold State Coach on display at The Mews (next door to Buckingham Palace), about 20 years ago. This where a number of Royal carriages and cars are kept.
Here are a couple of my photos: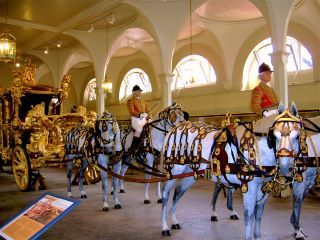 This historic coach will bring King Charles and Queen Camilla back to Buckingham Palace from Westminster Abbey after the coronation ceremony. It will be drawn by the traditional eight Windsor Grey horses at walking pace, but over a much reduced route of only 2.1kms (1.3 miles) compared to the Queen's return journey. But this will still be an unforgettable spectacle for the crowds lining the route, don't you think!
Do let us know if you are going to be there to witness this historic event!
By contrast, on the morning of the 6th May, Charles and Camilla will travel from Buckingham Palace in The King's Procession to Westminster Abbey in the Diamond Jubilee State Coach.
Created for Queen Elizabeth II to commemorate the 60th anniversary of Her late Majesty's reign in 2012, (her Diamond Jubilee), the coach has only ever conveyed the Sovereign, occasionally accompanied by the consort or a visiting Head of State. It was first used at the State Opening of Parliament on 4 June 2014. The coach is over 5m long, weighs over 3 tonnes (despite being made of aluminium), and needs 6 horses to pull it.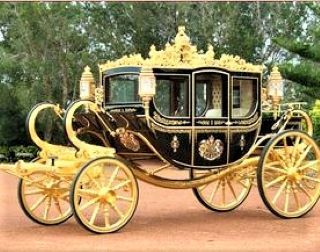 The interior wooden panels of the coach are made from objects donated by over 100 historic sites and organisations with specific connections to Britain and its history, such as Royal Residences including Buckingham Palace, Kensington Palace, Windsor Castle and the Palace of Holyroodhouse in Scotland. The seat handrails are from the Royal Yacht Britannia, and the window frames and interior panels include material from Caernarfon Castle; Canterbury Cathedral; The Mary Rose (Henry VIII's flagship); 10 Downing Street; and the Antarctic bases of Captain Scott and Sir Ernest Shackleton. The gilded crown on the top of the coach, carved from oak from Nelson's ship, HMS Victory, can hold a camera to film journeys. 1
If you would like to see some images of the interior of the coach, please click on the bookmark below:
Their Majesties are guaranteed to arrive at Westminster Abbey looking cool, calm and collected, whatever the weather conditions might be on the day, as The Diamond Jubilee State Coach is much more modern than it appears. It has air conditioning, heating, electric windows and hydraulic suspension. (But probably no bar fridge, I suspect)....
Originally intended for the Queen's 80th birthday in 2006, and initially known as the State Coach Britannia, it was delayed for over 8 years and instead was dedicated to the Queen's Diamond Jubilee in 2012. Although completed in 2010, the coach did not arrive in London until March 2014 due to issues with funding its transportation. Bureaucracy!
It was made by David (Jim) Frecklington, coach builder, of NSW Australia, who was also responsible for constructing the 1988 Australian State Coach. Frecklington funded the construction of the coach as a private initiative with some help from the Australian government in the form of a $250,000 (£138,000) grant. 3
Whilst there are over 100 Royal coaches and carriages, this one is the newest and the most modern and comfortable. Perhaps because of this, and the fact that it was the Queen's own coach, and his own links with Australia, may be why Charles has chosen it for his own Coronation journey……
With thanks to
The Royal Collection Trust
Royal.co.uk
Wikipedia