The Cavalcade of Transport - Wall Mural
Once again, we at the AnArt4Life Blog marvel at how our readers take the time to share their knowledge and experiences after reading a post, and we are often then led by a series of steps to a hidden gem!
This time, we have uncovered an almost-lost wall mural in Melbourne which is dedicated to the history of all forms of land travel over 100 years. This discovery came to light after our contributor, John Pickup, OAM was reminiscing about other trains and train journeys, following Julie's post on the Blue Train of South Africa.
John mentioned the Southern Aurora and the Spirit of Progress, sleeper trains of yesteryear, which ran between Sydney and Melbourne from 1937 to August 1986, until reduced passenger numbers (compared to 1 hour flights) made the service unviable to continue.
(The Southern Aurora was also involved in one of the worst train crashes in Australian history when it collided with a freight train going the other way at 7am on February 7, 1969, killing nine people and injuring 120, just near Violet Town in North East Victoria. A carriage from the Southern Aurora is now a permanent reminder in a memorial garden there, and a 50 year anniversary ceremony was held in February 2019 in memory of the acccident.)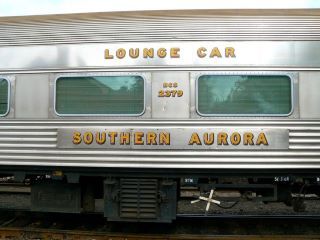 All interstate trains came into Spencer Street Station, located in Melbourne's CBD. I remember it very clearly as a child, and I am sure many older Melburnians remember taking many iconic train journeys around Australia from this landmark station. Originally built in 1859, it was gradually expanded and upgraded as our population grew, demand for affordable travel increased and train routes around Australia opened up.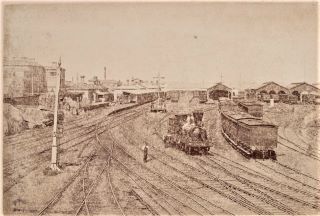 The Cavalcade of Transport is a massive wall mural, measuring 7 metres high by almost 38 metres long, commissioned by the Victorian State Government in 1973.
It was painted by Melbourne born artist Harold Freedman (1915 – 1999) and his three assistants. Harold Freedman was a war artist in the Pacific theatre of World War II, and undertook other large-scale painted and mosaic mural projects after the war,2 notably a mural in the Australian War Memorial in Canberra, some 4.5 metres by 60 metres, commissioned to mark the 50th anniversary of the R.A.A.F. He is the only artist to ever be appointed to hold the title of State Artist of Victoria.
The Cavalcade of Transport mural, a realist oil painting on canvas mounted on plywood, took five years to complete. It was painted in five main sections at the East Camberwell railway substation, and erected in stages above the Spencer Street station concourse at a cost then of $250,000 (which was an eye watering sum for one art project back in the 1970s in Melbourne!). Unveiled by the Premier, Dick Hamer, in January 1978 at Spencer Street Station, it records 100 years of transport progress from 1835 to 1935. It shows horses and carts, steam trains, vintage cars, early trams, and trucks of all types, in meticulous detail. Deputy Premier Lindsay Thompson called the mural ''a landmark in the history of Australian transport''. 1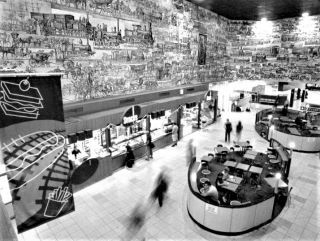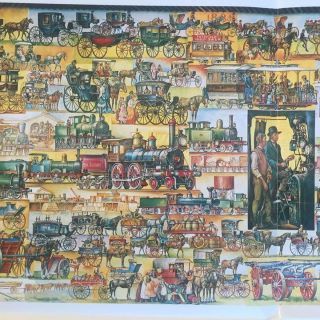 A complete rebuild of Spencer Street Station commenced in 2002, and the complex now includes suburban rail lines as well as platforms for the XPT (to Sydney) and The Overland (to Adelaide), the only interstate trains which run from Melbourne nowadays. Sadly, the mural no longer adorns the train station. It was taken down at the time of the rebuilding of the station, despite the Stationmaster of the time saying "You can't take it away, it's our only asset!!!!"
Nowadays it is almost unknown, hidden away at the back of a DFO shopping precinct which was built as part of the rebuilding and renaming of Spencer Street Station, now known as Southern Cross Station. There just wasn't room for the mural in the redesigned station, (they said), so a home was found for it high on a wall in the main walkway of the DFO shopping centre there.......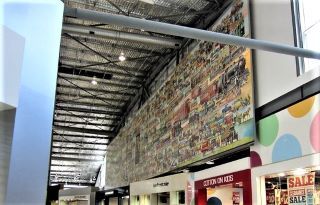 Originally there was a viewing platform, but even that is now gone, and the mural has been relocated yet again, to the very back of the shopping complex, high up on the back wall, stretching across Harris Scarfe and T K Maxx department stores. There is no way of knowing it is there, unless you happen to see it whilst in these shops.
It is a real shame that such a labour of love, by such a distinguished artist, and at a significant cost, is now languishing largely out of sight of the public to whom it belongs.
There is, however, a group of enthusiasts who are keen to have the mural re-instated to its former prominence in an appropriate place, but to date their endeavours with the State Government and PTV Victoria have not been successful……. click here for the Facebook page.
I have seen the mural hanging up high at the rear of the Southern Cross DFO shopping centre, (below). It is magnificent, colourful and vibrant. I do think it is worthy of a home that is more accessible to the public to appreciate, rather than up high on a back wall, hidden by lights, ducts and wiring...... Let us know what you think in the Comments box below.....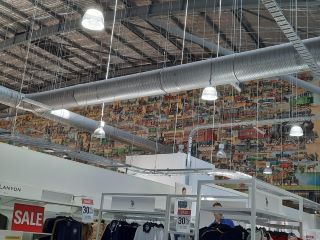 Footnotes
With thanks to
Lawrence Money, The Age newspaper, 8 March 2014.
Click here to read more about the artist, Harold Freedman.