The Blue Train of South Africa
"As time meandered from the 19th Century towards the dawn of the new era, a dream was born. A dream of harnessing steam technology to link Africa's vast south to north, around the awe-inspiring mountain ranges that dot the continent, through the apparently arid desert landscapes, over untamed savannah grasslands teeming with wildlife. From the Cape all the way to Cairo… all of this on parallel lines of tempered steel.
It is from this dream that The Blue Train was born. Cairo was never to be, but the dreamers persevered and The Blue Train now traverses South Africa and its breath-taking scenery in a manner that befits the mystique that has grown around it." 1
And so with these words, the official website introduces us to the romance of The Blue Train of South Africa, brought to our attention in Anne's recent post about John Broom the artist, Part Two.
The main "dreamer" mentioned above was Cecil John Rhodes, who built his influence and wealth on the Kimberley diamond fields and who founded the De Beers Mining Company in 1880. His dream was to extend the British Empire by building a Trans-African railway between Cape Town and Cairo. Although this never materialized, he did achieve the construction of a line between South Africa and the then Congo Free State, formerly known as Zaire, now the Democratic Republic of the Congo. 2 The line eventually reached a bridge across the gorge of the Zambezi River, overlooking the thundering Victoria Falls (below right).1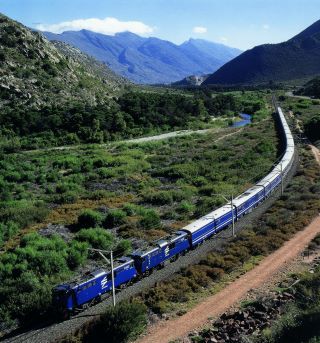 By 1923, there were two engines, so the journey could be undertaken from each end, from both Cape Town and Johannesburg. The trip between Johannesburg and Cape Town was named the Union Express and the trip from Capetown to Johannesburg (in the opposite direction) was called the Union Limited ….. who knows why!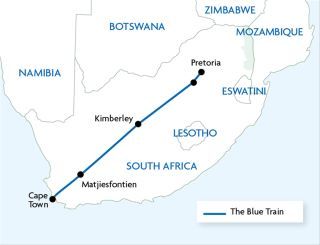 As time passed newer and more powerful steam locomotives were introduced and timings of less than 30 hours between the two towns was achieved. The accommodation became even more luxurious and spacious with the introduction in 1928 of articulated coaches equipped with heating, hot and cold water, bunk lights and bells for the summoning of the coach attendant.2 Imagine!
In 1933, a new dining saloon called Protea was introduced on the Union trains. The exterior was finished in very distinctive colours: azure blue and cream with a silver roof. By 1936, both the Union Express and Union Limited trains were painted in the same livery. Three years later, new train carriages made in England were placed into service, all finished in that blue and grey/cream.2 People would watch the distinctive train go by and say "there goes the blue train".
World War II caused a suspension of service, but it was resumed in 1946. It was then that the pre-war nickname of the "Blue Train" was officially adopted by South African Railways (SAR) and it has been known as this ever since.
The Blue Train was initially pulled by steam locomotives, in fact, right up until the early 1980s, and now is hauled by either electric or diesel traction. 3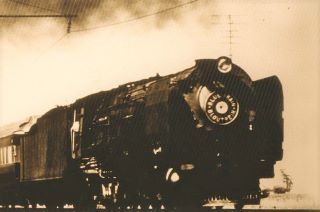 I estimate that John Broom would have been travelling on the Blue Train in the 1970s, at which which time it would still have been drawn by steam locomotives.
If, like me, you are a steam enthusiast/tragic, you may care to watch some of the following video which shows the Blue Train being pulled by the steam train 25NC "Griet" from Johannesburg to Klerksdorp, South Africa on 18 May 1990 (or thereabouts). ( The video is 14 minutes, but if you wish, you can fast forward to just before the 5 minute mark and watch for a couple of minutes to get the overview! You will be amazed at the length of this train with it's distinctive blue carriages, and the speeds that can be reached with steam power; in this case, up to 90 miles an hour!)
The trip of some 1,600 kilometres, over approximately 30 hours, passes through some iconic African scenery. It's no wonder that John Broom had his sketch pad close at hand, as there was no end of inspiration for his creative talent!
Today the Blue Train is one of many on the luxury train journey list – there is even a club called The Luxury Train Club! I'm sure you will recognise many historic, famous trains in this list, some made famous in movies, and which people all around the world are still drawn to travel on. I think it is wonderful that the romance and nostalgia of a train journey from yesteryear is still alive and well!
Enjoy some photos which show the opulence and the nostalgia of the Blue Train, which make it one of the top train journey's in the world, on many people's "bucket list"!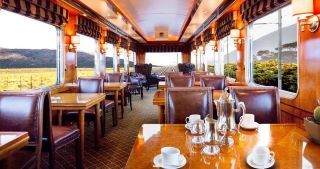 And we leave you with stunning photos below of scenes around Cape Town where John and Monica lived in the latter years of John's life.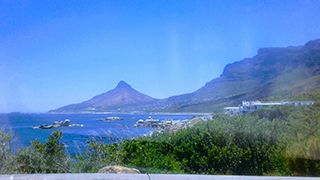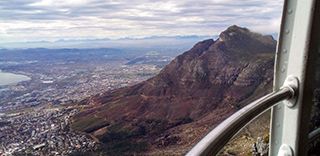 New Subscribers have joined us over night and so it is a very good day. A very warm welcome to A.MC in the U.K. and to K.M. in France.
We write for our subscribers and followers so please email us with some of the artists or art works you would like us to present. Our email is [email protected]. Or you can just do a reply email to your post that you receive each day in your email inbox.
Tomorrow we return to learn a little more about the art journey taken by African John Broom.
Footnotes
www.bluetrain.co.za
Siyabona Africa www.trainsafari.co.za
theheritageportal.co.za/article/cracktrainsofsouthafricathenandnow
Photos of Cape Town were provided by Monica Broom's friend Caro Attwell
Note: there is another luxury railway in Africa named Rovos Rail, which was the relatively recent inspiration (in 1989) of passionate visionary, Rohan Vos. It also is an extraordinary story of extensive travel through Africa! If you would like to read about this, please click here.