The art of sustainable floristry
My niece, Emma, is an event florist and loves making occasions such as weddings extra special for her friends and clients.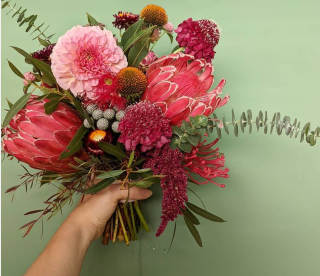 Our family love to see Emma's creations. There is no doubt that floristry of all types is hard work, and invloves long hours, but it is also very rewarding.
She is particularly careful about the materials she uses in putting her creations together, making sure they are environmentally friendly and not contributing to landfill and wastage.
So I was particularly drawn to a recent story on the Australian ABC television programme, Gardening Australia, about Rita Feldmann who also has a particular interest in sustainable floristry. She is dedicated to making the most of flowers and foliage in season, recycling bottles and vases to use in her creations, and totally avoiding the green florist foam blocks we are all familiar with.
In this story on Gardening Australia, she shares some of her floristry secrets, and the principles she follows to leave as small a "footprint" as possible in the way she runs her business in the leafy Dandenong mountains, just outside Melbourne, Australia.....
Tomorrow you are going see some artworks that have a botanical quality and are closely aligned with the amazing mathematical world of nature but made with a human hand and brain not that of Mother Nature.
And a very warm welcome to B.A.B. in Melbourne who is joining us as our newest subscriber.