The Alluring Baobab and Boab Trees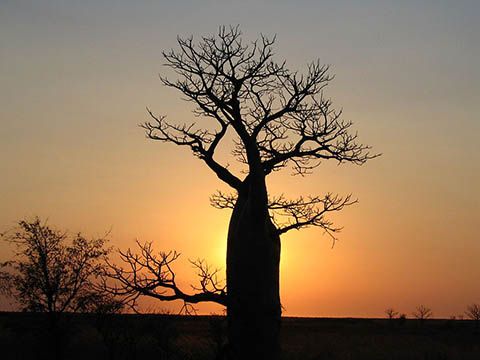 There are few more mystical, more alluring and fascinating natural growths than the sight of a boab tree rising magestically from the Australian desert at sunset.
But how did a species whose only living relatives lie nearly 10,000km away on the other side of the Indian Ocean in Africa end up in an isolated corner of the Australian continent? The origin of Western Australia's boab is one of modern botany's great conundrums.1
Naive artist John "Rowdy" Wylie from Port Elliot and I share a fascination with the Boab Tree and together we are going to explore a little about this remarkable tree which goes far beyond its alluring appearance.
The Baobab (or Boab as it is called in Australia), (genus Adansonia), genus of nine species of deciduous trees of the hibiscus, or mallow, family (Malvaceae). Six of the species (Adansonia grandidieri, A. madagascariensis, A. perrieri, A. rubrostipa, A. suarezensis, and A. za) are endemic to Madagascar, two (A. digitata and A. kilima) are native to mainland Africa and the Arabian Peninsula, and one (A. gregorii) is native to northwestern Australia. They have unusual barrel-like trunks and are known for their extraordinary longevity and ethnobotanical importance. Given their peculiar shape, an Arabian legend has it that "the devil plucked up the baobab, thrust its branches into the earth, and left its roots in the air." 2
This is so graphically and beautifully illustrated by African artist Errol Norbury (born South Africa 1949).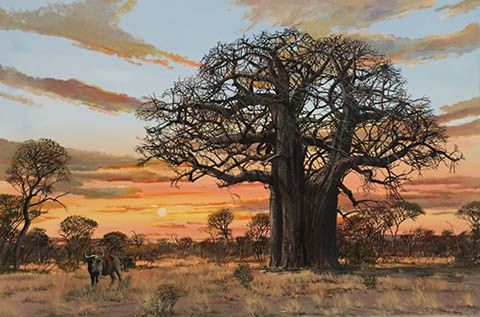 As distinctly African symbols, Baobab trees aren't just known for providing shade and nourishment but they're also a central part of traditional legend and lore. They have featured prominently in African literature and traditional folk tales, with many stories making reference to its unique shape or meaning.4
It is believed that kings and elders would hold meetings under the Baobab tree, with the belief that the tree's spirits would guide them in decision-making. In more modern times, the Baobab tree is commonly used as a venue for community meetings or even as a classroom.4
We discovered the incredible painting below created about 1934 by the South African artist Acob Hendrik Pierneef (1886-1957).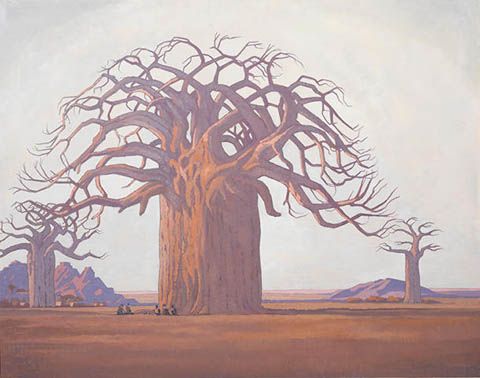 The Pierneff painting, oil on canvas (112x142.5cm) sold in 2008 for £826,400 (AU$ 1,563,053) - reputedly the most ever paid for a South African painting.
This painting is unquestionably a product of Pierneef at his finest. The majestic baobab tree stands proud, dominating the landscape, with the five people at the foot of the tree and the signs of human habitation in the background dwarfed by comparison...
The colours used in the painting are naturalistic but with overtones of the symbolic quality that Pierneef also strove for - a legacy of the influence on Pierneef of the Dutch artist and philosopher of art, Willem Van Konijnenburg (1868 – 1943). The early influences of Art Nouveau, particularly evident in the tracery of the branches, are here fully assimilated into Pierneef's mature and assured style.
As can so clearly be seen in this painting, Pierneef did not strive to capture a particular time of day or atmospheric effect in his landscapes - instead, he strove to depict the most typical and essential. The tree and, indeed the landscape and figures, have an emblematic quality. This painting, therefore, is a magnificent example of Pierneef's achievement in creating a landscape painting that is uniquely and essentially South African.5
The painting was part of the Tate Gallery, London Overseas Exhibition of South African Art held in 1948.
These are remarkable trees with remarkable statistics. Two large baobabs growing in Tsimanampetsotse National Park were studied using radiocarbon dating. One called Grandmother (below) is made up of three fused trunks of different ages, with the oldest part of the tree an estimated 1,600 years old. The second, "polygamous baobab", has six fused stems, and is an estimated 1,000 years old. 7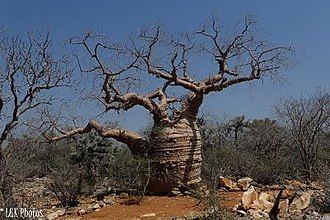 But Grandmother baobab is a youngster compared to the Panke baobab in Zimbabwe which was carbon dated to be some 2,450 years old when it died in 2011, making it the oldest angiosperm ever documented, and two other trees—Dorslandboom in Namibia and Glencoe in South Africa—were estimated to be approximately 2,000 years old.7
In addition, the Glencoe baobab, a specimen of A. digitata in Limpopo Province, South Africa, was considered to be the largest living individual, with a maximum circumference of 47 m (154 ft) and a diameter of about 15.9 m (52 ft). 7
The award for the most spectacular forest of baobabs must surely go to those found in Madagascar 19 kms from Morondava. Most of these baobabs are more than 800 years old, a legacy of the dense forests that have flourished on the island a long time ago.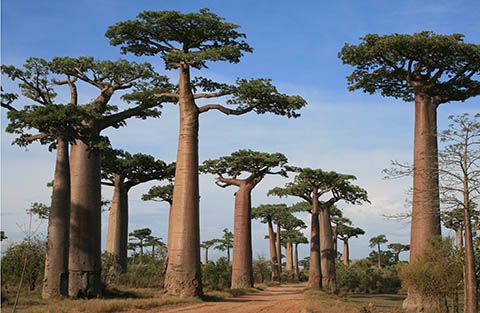 We will leave you today with one more painting of a baobab tree by Errol Norbury where you can see the Baobab and Kudu in the Bush (Oil on Canvas / 36 x 26cm).⠀⠀With a deliberate and highly detailed brushstroke, Errol has perfected the skill of depicting his artworks with the greatest level of vivid detail and clarity. ⠀⠀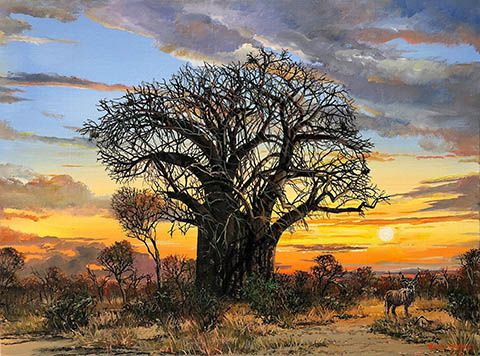 Sadly,the baobab trees in Africa are facing many threats. You might like to check out the baobabfoundation. a non-profit organisation in South Africa that promotes and supports the conservation of baobab trees and is involved in improving the lives of communities who live among these trees.
We haven't answered the question how did the baobab get to Australia and become the boab?
The answer is that no-one really knows though scientists do agree that baobabs and boabs are not related through Gondwanan history8: the ancient supercontinent that broke up about 180 million years ago to become Africa, South America, Australia, Antarctica, the Indian subcontinent and the Arabian Peninsula.
We will tease out more possible answers to this question in Part Two on the Mystical Boab Tree when we return to this topic in a couple of days.
Before inviting you to join Rowdy Wylie and me in the north west of Australia to see our version of the baobab tree, tomorrow we will show you the remarkable work of Beth Moon who photographs trees - many of which are baobabs.
Lots coming up to keep you entertained and informed.
Late Mail
H.B. in the UK has just signed up to be our latest subscriber. Welcome H.B. - we are delighted that you have joined us.
Credits
1. australiangeographic.com.au
2. britannica.com/plant/baobab-tree-genus
3. pinterest.com
4. suninternational.com
5. bonhams.com
6. madagascar-tourisme.com
7. en.wikipedia.org
8. abc.net.au