Strolling Through Sandringham Spring 2021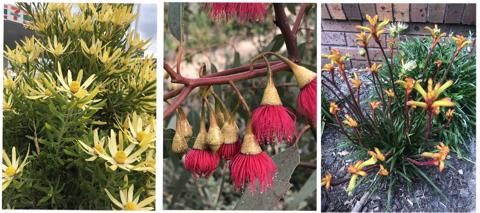 Spring has sprung once again in the Southern Hemisphere and in Melbourne to our complete dismay we are in another long covid lockdown. In fact Melbourne will hold the world record for the number of days in lockdown, surpassing London and even Buenos Aires which stands at 263 days. Thankfully the end is in sight and just announced we expect freedom from around 26 October.
In the meantime with my neighbour Dell, we are again sharing walks around our suburb and finding new delights. Australian natives, such as those above – gum nut blossoms, wattle and kangaroo paw are in full bloom.
With so much time at home, new bird feeders are popping up, much to the delight of the birds. A beautifully built cubby house on the nature strip was snapped up quickly – sure to thrill some children with many hours of make believe tea parties, while in an adjoining street, rope hearts adorned the trees – as a tribute to a keen sailor from the Sandringham Yacht Club, dying suddenly as age 29.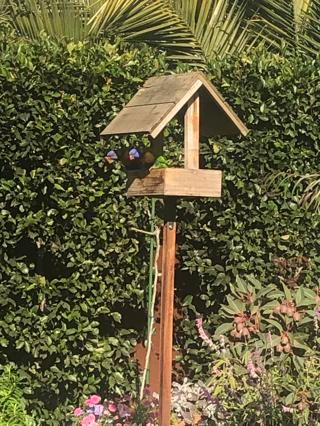 Tucked away along the beachside track, a plaque on a picnic table commemorates the life of Donald Neale, leader, friend, gardener, environmentalist who contributed to the local community with one of his quotes:
May we then walk where birds will sing and round our softly treading feet, may little wildflowers spring.
How fitting that spring blossoms bloom around the table. The table looks out across Red Bluff, featured in a painting by Arthur Merric Boyd in 1923.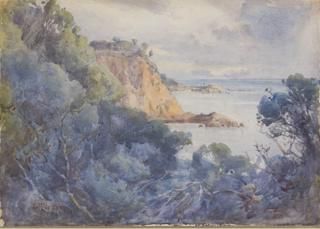 This year the local children are busily schooling at home with little time to devote to establishing Spoonvilles which I shared with you in last years posts; however we did come across a chalked message on a fence, which I am sure will bring a smile to your face:

Join me in a stroll around my 'hood.