Sovereign Hill is a 30-acre outdoor museum, which appeals to overseas visitors, as well as Australians, discovering a unique, living experience of Australia's gold mining history, presented with a rare degree of accuracy and integrity.
Visiting the Gold Museum close by, I was reminded the important role artists play, often unknowingly, recording day to day life. We saw illustrations created by Samuel Thomas Gill (an English painter born 1818 and later migrated to Australia), who recorded the vitality of the gold fields in the 1850s. His many works provided Sovereign Hill with the most detailed visual record of life on the goldfields.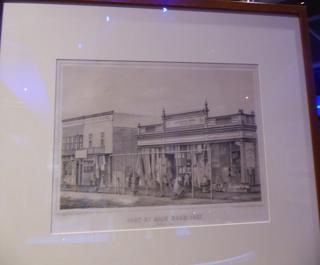 In the town, there are shops, factories, hotels, cottages and a theatre – all based on those found in Ballarat and brought to life by costumed staff and volunteers, and the students who visit the schools for a 2-day role play experience of life as a goldfields child - as you saw on the clip in yesterday's blog. Over 40 working horses provide coach rides and are used to demonstrate examples of early mining technology. (Credit:cv.vic.gov.au)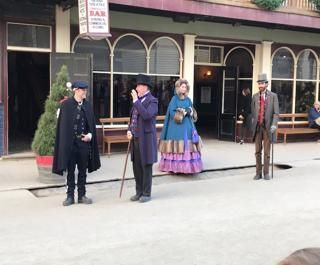 Above ground, in the mining precinct, the sights include seeing steam power in action – from Cornish boilers to a winding engine, a beam pump and a ten-head stamper battery. Below ground, fully guided tours commence with a ride on an inclined tramway. Visitors see original workings and demonstrations of quartz mining technology. (Credit: cv.vic.gov.au)
On the diggings, its lots of fun to pan the creek for real gold – sadly our results were a mere 10 cents worth. Our excitement was seeing the gold pour - $200,000 worth of gold.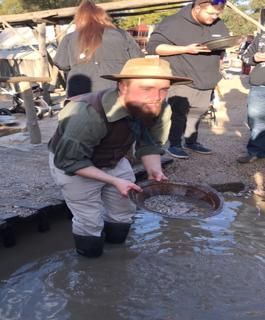 The short clip below gives you a feel for Sovereign Hill and the passion of the people maintaining the authenticity.
---
http://education.abc.net.au/home#!/media/1661974/living-the-past-historian-at-sovereign-hill
Our excitement continued into the evening as we enjoyed the Winter Wonderland Light and Sound Show, held for just a few weeks in June.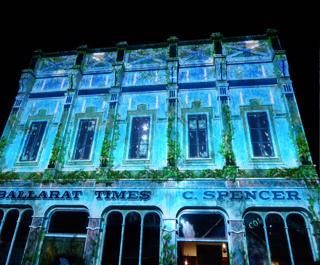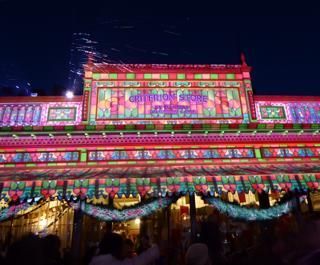 In tomorrow'spost we will take a look at The Allure of Gold.