Some of the most interesting fountains in the world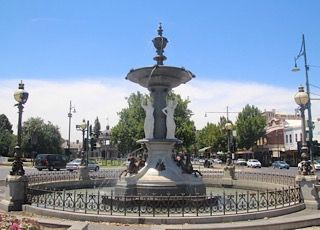 The fountain is named in honour of Alexandra, Princess of Wales and the grand opening (5 July 1881) was attended by her sons Prince Albert and Prince George. It was designed by W. C. Vahland, a local architect responsible for some of Bendigo's most prominent buildings. The fountain stands 28 feet (8.5 m) high and is made from 20 tonnes of Harcourt granite, cast iron and painted stone. The decorations include: lion head spouts, four allegorical female figures, spouted bronzed mer-horses and dolphins, medallions of seashells, dolphins and tridents. The pool is bordered by a decorative cast iron fence and lit with four cast iron lamps. (Wikipedia)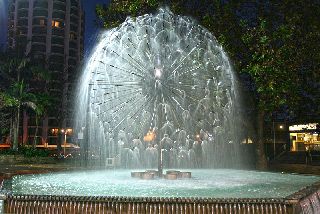 The fountain was designed by Australian architects Robert Woodward and Phill Taranto.  Built between 1959 to 1961 it was commissioned as a memorial to soldiers who died in 1942 during World War II in two battles at El Alamein, Egypt. (Wikipedia)
And now to showcase some other fountains that I find attractive and interesting. The child in me loves this one which is at the entrance to the Hong Kong Disneyland. I'm sure K of Hong Kong spends a great deal of time here!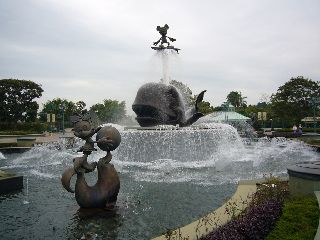 This spectacular example is the Banpo Moonlight Rainbow Fountain in Seoul and at 1,140 meters is the world's longest bridge fountain.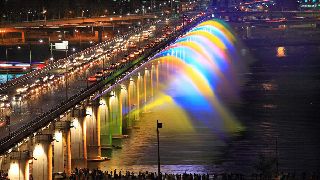 The most creative fountain must surely be the Crown Fountain in Millennium Park, Chicago. Designed by Spanish artist Jaume Plensa, the fountain consists of two 50-foot glass block towers at each end of a shallow reflecting pool. The towers project video images from a broad social spectrum of Chicago citizens, a reference to the traditional use of gargoyles in fountains, where faces of mythological beings were sculpted with open mouths to allow water, a symbol of life, to flow out. (Wikipedia)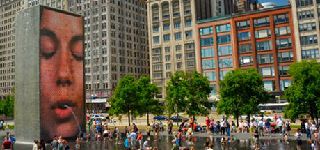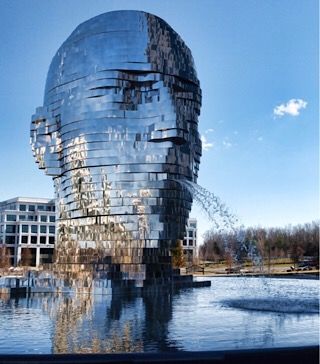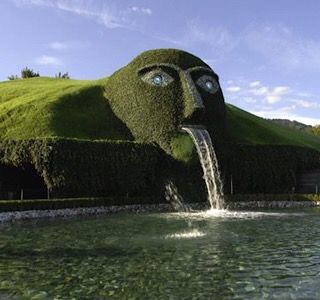 The fountain is an entrance to 14 underground Chambers of Wonder which display eye-popping crystalline structures. You can see some images of these amazing works of art tomorrow.