Sending you some Virtual Eggs for Easter!
The anArt4Life team sincerely wish all our supporters a very Happy Easter! And a special warm welcome to our latest subscriber RRM of Melbourne.
Whilst this year may not hold the usual family celebrations and traditions, we thought we would send you some "virtual" Easter Eggs by exploring how the traditions of eggs at Easter arose, whether they be decorated, hard boiled or chocolate! Perhaps you will recognise some of these traditions?
The practice of decorating eggshells is quite ancient, with decorated, engraved ostrich eggs found in Africa, thought to be 60,000 years old.
In the early cultures of Egypt, Mesopotamia and Crete, eggs were associated with fertility', 'rebirth' and 'the beginning', as well as with kingship. Decorated ostrich eggs, and representations of ostrich eggs in gold and silver, were commonly placed in graves of the ancient Sumerians and Egyptians as early as 5,000 years ago.
(Sourced from Wikipedia. Images are courtesy of Unsplash unless otherwise stated)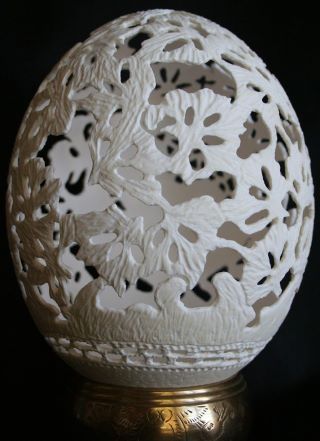 In Egyptian mythology, the phoenix burns its nest to be reborn later from the egg that is left; Hindu scriptures relate that the world developed from an egg.
Eggs continued to be associated with times of renewal and rebirth, such as New Year, and the new growth of Spring.
The Persian culture also has a tradition of egg decorating, which takes place during the spring equinox. This time marks the Persian New Year, and is referred to as Nowruz. Family members decorate eggs together. In Europe an egg is hung on New Year trees, on Maypoles, and on St. John's trees in midsummer.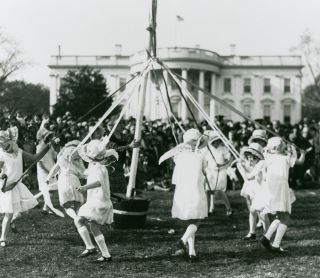 It is said that the Christian practice originates from these early traditions, but was further enhanced by the fact that in the Medieval Europe, eggs were forbidden to be eaten during the strict Lenten fast of 40 days, (as well as other traditional fast days). It was traditional to use up all of the household's eggs before Lent began, which established the tradition of Shrove, Pancake Day.
To celebrate the end of Lent, on Easter Day, eggs were then given, and eaten. This also tied in with historical theme of new life. And so, the association of eggs with Easter began.
In Germany and Austria, people still decorate homes, trees and bushes with eggs. As well, in Germany, public areas such as wells or fountains are decorated with Easter eggs, which is called Osterbrunnen.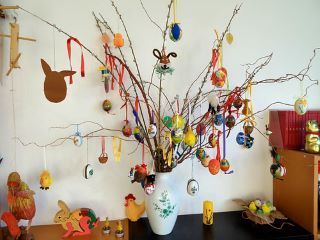 Eastern European cultures, and particularly Slavic ones, also have a strong tradition of decorating eggs. Chicken, duck and goose eggs are usually "blown" – a hole is made in each end and the contents are blown out, and then they are dyed and decorated with wax resistant batik dyeing, applique, scratch-work, wax encaustic and carving.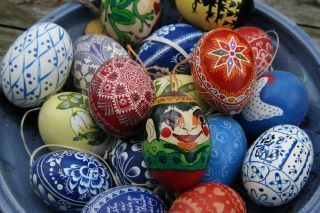 In other countries, the whole egg is boiled, and different colours are created by boiling the egg in natural substances (such as, onion peel (brown colour), oak or alder bark or walnut nutshell (black), beet juice (pink) etc.), or using artificial colourings.
When boiling them with onion skins, leaves can be attached prior to dying to create leaf patterns. The leaves are attached to the eggs before they are dyed with a transparent cloth to wrap the eggs with, like inexpensive muslin or nylon stockings. The patterns show up once the leaves are removed after the dyeing process.
Psanki are Ukrainian Easter eggs, decorated using a wax-resistant (batik) method. The word comes from the verb pysaty, "to write", as the designs are not painted on, but written with beeswax.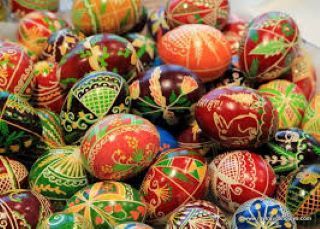 Marzipan eggs
In the Indian state of Goa, marzipan is used to make Easter eggs. In the Philippines, mazapán de pili (Spanish for "pili marzipan") is made from pili nuts.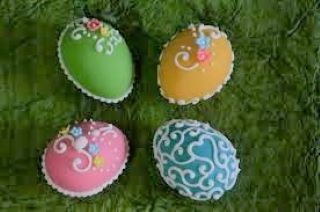 Chocolate Eggs
In 1873, J.S. Fry & Sons of England introduced the first chocolate Easter egg in Britain. Manufacturing their first Easter egg in 1875, Cadbury created the modern chocolate Easter egg after developing a pure cocoa butter that could be moulded into smooth shapes. And of course, the rest, as they say, is history, with the giving and hiding of chocolate Easter eggs and bunnies now a common tradition across the Western world.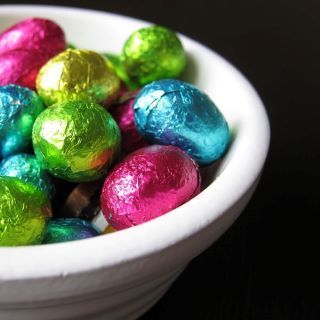 Artificial eggs
In Bulgaria, Poland, Romania, Russia, Ukraine, and other Central European countries, folk traditions includes making artificial eggs out of porcelain for ladies.
But by far and away, the most well known is the Fabergé egg, a jewelled egg created by the House of Fabergé, in St. Petersburg, Imperial Russia. The renowned Russian court artist and jeweller Peter Carl Fabergé made exquisitely decorated precious metal and gemstone eggs between 1885 and 1917 for the Russian Romanov Tsars Alexander III and Nicholas II as Easter gifts for their wives and mothers.
These Fabergé eggs resembled standard decorated eggs, but they were made from gold and precious stones Possibly as many as 69 were created, of which 57 survive today. The most famous are the 52 "Imperial" eggs, 46 of which survive.
Many of these precious creations themselves contained hidden surprises such as clock-work birds, or miniature ships. They are held in private collections as well as museums across the world. Aren't they just exquisite? Well worth the many millions they are valued at today!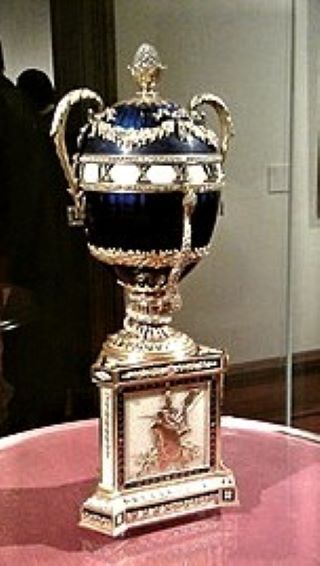 If you would like to read more about the Faberge Eggs, click here.
We leave you with a look at the delicate work of modern day ostrich egg carving, using a dentist's drill!