Russell, Matisse and Monet: Colour Revolutionaries
There is so much to say about colour and I must resist the temptation not to go on for too long. But let me say a little on the Colour Revolution which started with Monet and the Impressionists but burst into life with Matisse and the Fauvists.
Let's commence with Claude Monet who used very dark colours at the beginning of his career. One of the best examples of his use of colour during this period is Woman in Green Dress created in a Realist style rather than the Impressionist style we know him for.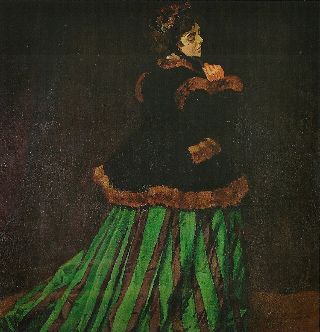 But after 1886 Monet no longer used these dark shades of brown, earth tones and black.2
Woman with Parasol (facing left) was painted during a period starting in 1885 when Monet, after ignoring figure painting for a long time, began once more to work on the relationship of figures to landscape.3 Soon after, Monet stopped focusing on figures.
But today we are talking about colour and I have chosen this painting because the woman isn't really the subject of the painting: colour is the main focus. Monet wants to showcase his mastery of colour: leading the movement in exploiting light and soft tones. And this is the Monet we know and love.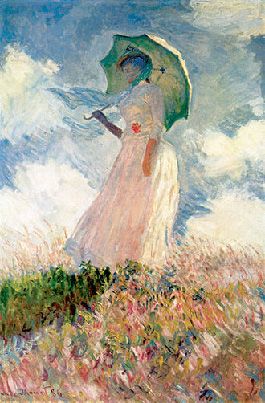 And then along came Henri Matisse who at first painted in a traditional style using what could be called a subdued palette but with a strong command of the effect of light. The painting below was painted in 1895.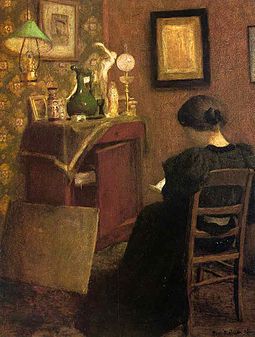 A little later in 1898, Matisse was becoming more expressive following his contact with the impressionists and post-impressionists. The colours remain subdued but there are patches within the shapes where the colour is taking on its own life apart from the objects.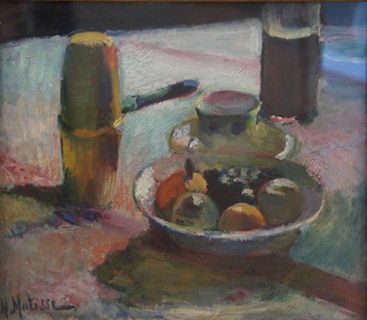 Matisse was now thoroughly absorbed in the art world; he had begun studying to be a lawyer but following an illness when he was given paints by his mother he discovered art.
Henri Matisse (1869-1954) is credited with revolutionising attitudes towards colour.
But we know from Jane's blog on the Australian Impressionist John Russell, Matisse credited Russell with teaching him a different way to look at colour. So let's take a little more of a look at the works by John Russell as we see him in a new light.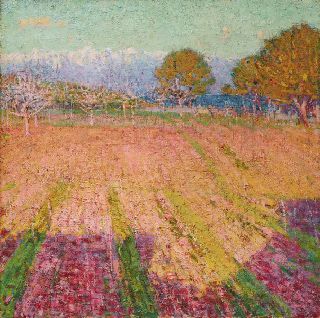 From the research done by the Art Gallery of New South Wales, we learn that Russell worked on lightening his palette and using colour as a texture through the application of thickly layered paint. As pointed out by the NSW Art Gallery every stroke was carefully considered contrary to the popular belief that Impressionists painted spontaneously. Russell in fact repainted In the Afternoon in his desire to achieve more vibrant colours!
So how did Henri Matisse meet John Russell?
Thoroughly bitten by the "art bug" Matisse set out on a quest to learn from fellow artists of his day. It began in 1896, when Matisse joined Australian painter John Russell (1858-1930) on the island Belle Île off the coast of Brittany. Russell introduced him to the work of Paul Gauguin (1848-1903) and Vincent van Gogh (1853-1890). He would later say, "Russell was my teacher, and Russell explained color theory to me." Due to van Gogh's influence Matisse started painting with more speed and color intensity.5
In his painting, Fruit and Coffeepot (above), we can see the influence of these post-impressionist artists on Matisse.
In this painting the artist uses light to draw our attention into the picture plane. Matisse intensifies color by reflecting it on the objects and the shadows on the tablecloth. In this painting we see his brushwork is similar to that of van Gogh's kinetic mark making. In 1897, Matisse met Camille Pissarro (1830-1903), who introduced him to the work of Paul Cézanne (1839-1906). From studying Cézanne's work he learned how to let go of the details and allow the color to become the dominant factor.5
It would be correct to say however that it was Paul Cezanne who had the greatest influence on Matisse, and Cezanne's painting Three Bathers (1879-82) which Matisse purchased remained his inspiration, as it represented Cezanne's merit of wanting the tones to be forces in a painting.4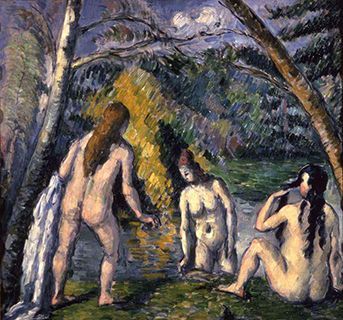 With the birth of the C20th came the culmination of Matisse's style and quest for his perfect rendering of colour on canvas. The style he has come to represent was born: Fauvism.
Matisse, along with André Derain (French, 1880-1954), introduced unnaturalistic color and vivid brushstrokes into their paintings in the summer of 1905, working together in the small fishing port of Collioure on the Mediterranean coast.8
The Fauvists shared the use of intense colour as a vehicle for describing light and space, and redefined pure colour and form as a means of communicating the artist's emotional state.9
Two of Matisse's most famous paintings from this period are shown below. The colours speak for themselves!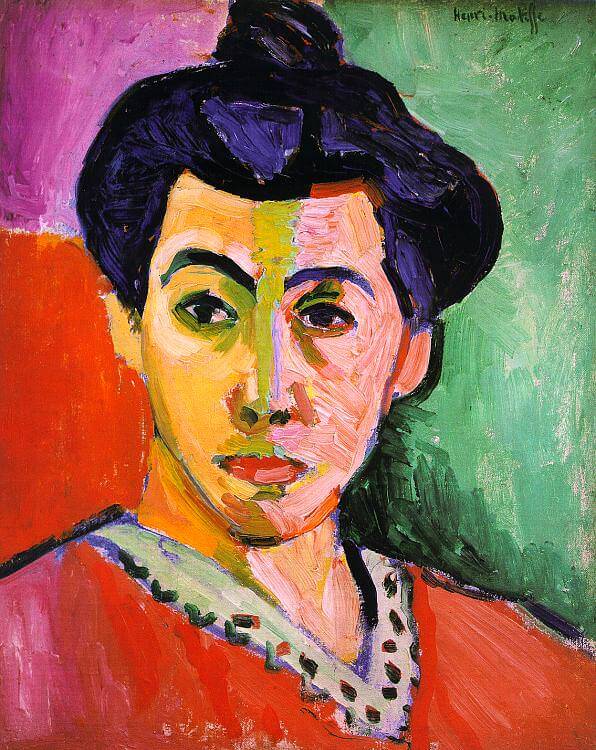 For me, however, the Matisse painting that best represents his command of colour is Woman in a Purple Coat (below) painted in 1937. I have chosen this painting because it illustrates Matisse's use of color and light to express his emotions in life, not towards his model, like some artists, but to life itself. 8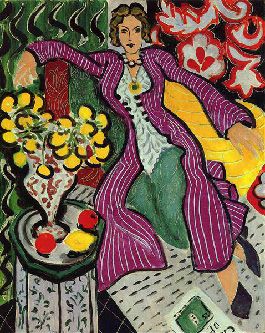 And to celebrate this remarkable artist and his command of colour I will conclude with his last self portrait The Sorrows of the King painted in 1952.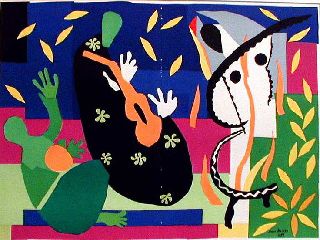 I hope you have enjoyed this journey into the world of colour. Do remember however that before Matisse and Russell, Monet had already begun to question the way colours were being used. A little more reading for the devotees of colour and Monet.
Credit
monetpaintings.org
blogs.lt.vt.edu
aaronartprints.org
en.wikipedia.org
musings-on-art.org
artgallery.nsw.gov.au
paulcezanne.org
henrimatisse.org
theartstory.org