Rebeca Dorich shares her Zanabazar Art Festival art works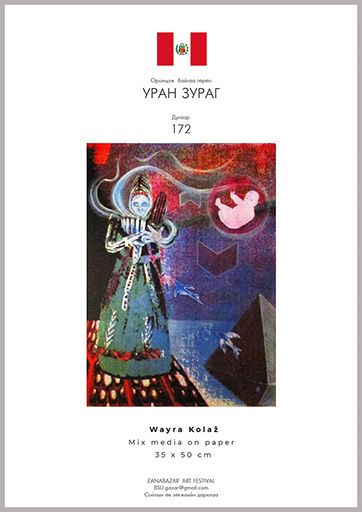 Rebeca Dorich from Peru is one of the AnArt4Life blog followers and recently she alerted me to one of her mixed media creations exhibited in the Zanabazar Art Festival. The work features the Chuncho, a wind musician who is calling the new children to the earth.
Rebeca Dorich explains her mixed media painting in this way:
Wayra comes from "for the courage to flow gracefully", a performance of artistic initiation that I carried out sustained in community. That action was related to my cultural heritage. For which, I was awarded four pieces from the traditional art collection of the San Marcos Art Museum.
The works that I selected reveal their connection with the four elements of nature, manifested in celebrations. My purpose was to highlight it, echoing its festive mood, renewal the harmony as human beings in nature and keeping in our souls that something new comes with it. We present that action with a participatory art treat. It was on April 22, 2016, Earth Day (and in personal commemoration of my father's birthday, feeling that he was accompanying me from the spiritual world).
Here appears the Chuncho, a character represented in a Quinua ceramic (one of the four pieces I selected for the performance). This is a wind musician. In my WAYRA proposal, he is calling the new children to the earth, there are some octahedra in a series of flown planes, also a couple of birds. Everything tells the element of air.
It is a mix media, the base is a four-color screenprint, there are small pictorial interventions: on the face of the character, whom I turned from dark to friendly; in the birds and the girl in the bubble, which are photos, cut and glued impressions, to which I gave glazes; and on the octahedra, which I tapped with colored pencils.
The debut of this artwork was in an exhibition created for children's eyes, which was held at the Epiphanies event, on January 6, 2017, in the same space of the performance, Centro Cultural de la Universidad Nacional Mayor de San Marcos. And, now is here at ZANABAZAR ART FESTIVAL due to its cultural heritage, harmony promotion and a kind of spiritual illumination. Rebeca Dorich 1
Two more Rebeca Dorich works exhibited at the Zanabazar Art Festival are shown below. On the left is: Thread of Limbus (acrylic on paper) which shows:
Precious stigmas, wake up dream to see them wild and that when I get free, I am allowed to see the strings of limbo. I am a daydreamer wishing to see you wild and free. 1
and on the right Continuum (acrylic on paper) - for the health of the world.1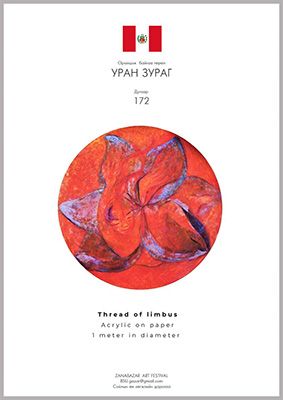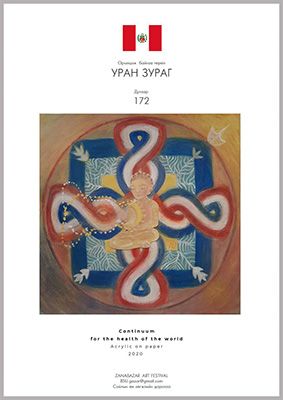 For me, Rebeca's work has a touch of Frida Kahlo about it which makes it very exciting and we look forward to seeing more of her creations.
As Rebeca Dorich has said:
ART IS LIFE ITSELF
EVERYONE IS CREATIVE AND THAT MEANS TO BE ALIVE
For Facebook Users please follow this link to learn more about Rebeca Dorich and the Zanabazar Art Festival.
© Thank you to Rebeca Dorich who kindly gave permission for the images of her work to be shared on AnArt4Life.
Credit
facebook.com