Pub scenes from around the world: the Flemish View
I couldn't resist the temptation this week to go on a pub crawl around the world.
Most of the paintings of pubs/taverns were done by genre artists - painters who create scenes from everyday life about ordinary people - just like you and I.
Today we will look at the Flemish view - one of my very favourite periods of painting.
I can imagine myself in one of these paintings - can you?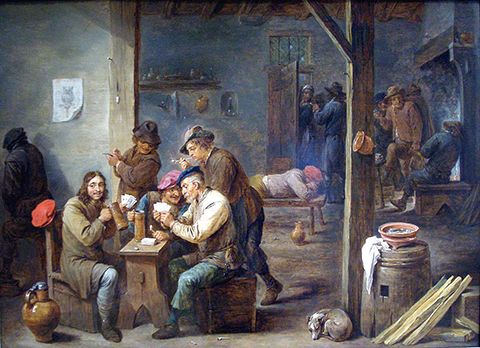 The Flemish artist David Teniers II (1610-1690) was also known as David Teniers the Younger and was part of the Breugel Dynasty which I wrote about 4 years ago. I am going to repost this series very soon as many of you will be interested in the breadth of artistic talent in this artistic dynasty which consisted of about 12 members who were artists.
But today a little look at David Teniers II who painted many tavern scenes and became one of the leading Flemish genre painters of his day. His Déjeuner au jambon (below) is an excellent example of the tavern genre.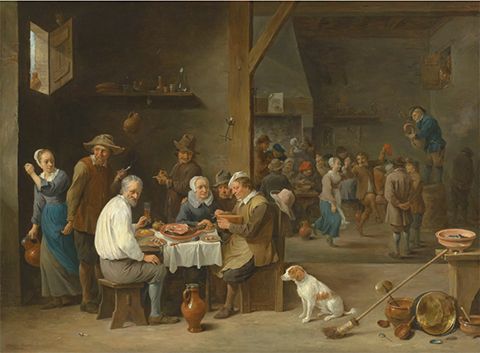 Teniers' brilliantly observed Déjeuner au jambon was painted in 1648, shortly after the artist had entered the service of Archduke Leopold William, Governor of the Southern Netherlands.
It is executed on an impressively large copper plate, allowing for a high degree of finish, and is an excellent example of the tavern genre that Teniers developed during the 1630s, in which he quickly excelled.
The painting has exceptional provenance, having been in some of the most important European collections of the eighteenth and nineteenth centuries, frequently being singled out by collectors and connoisseurs as a masterpiece by the artist...
The painting showcases Teniers' mastery of composition, his remarkable ability to capture a wide variety of characters and expressions in his figures, and his skill at rendering still life details. The artist was clearly pleased with the work, having included a self-portrait and the painting's execution date on the feigned print tacked to the wall in the centre as well as signing and dating the work at lower left.2
Teniers was inspired in his tavern art by Adriaen Brouwer (c1605-1638) another of the Flemish Master artists. His paintings are extremely bawdy and hold little back for the viewer!! The translation of the title for the painting below The Schlachtfest as The Slaughterhouse is somewhat disturbing. Nevertheless the artistic skill in capturing the expressions and poses of the tavern visitors is wonderful. And afterall - this was their life.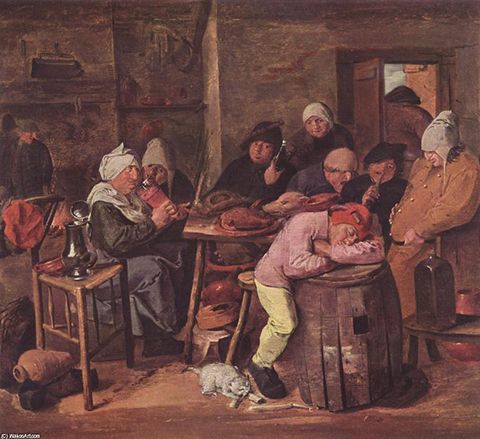 And today is a day to extend a warm welcome J.L from Michigan in the USA who has joined our AnARt4Life online community. We love to share our joint love of art in all its dimensions.
Next week in my pub crawl we will go to the UK and take a look at the English view of pub life!
Credits
1. nga.gov
2. christies.com
3. wikioo.org