The enduring legacy of the poppies of Flanders fields
Today, the 11th of November, we pause to remember the end of World War I, on this day in 1918.
In many countries around the world, such as Great Britain, Australia, New Zealand, Canada, the United States of America, France, Belgium and many other European countries, there are formal wreath laying ceremonies, and people generally stop to observe one minute's silence at the eleventh hour of the 11th day of the 11th month.
The total number of military and civilian casualties in World War I was approximately 40 million people. There were 20 million deaths and 21 million wounded, about half of which were military and half civilians. 1
To this day, the red poppy of Flanders is recognised across the world as the symbol of World War 1. (In France, it is also the blue cornflower, Bleuet de France).
During the First World War, red poppies were among the first plants to spring up in the devastated battlefields of northern France and Belgium, and became a symbol of both remembrance for the fallen and hope for the future.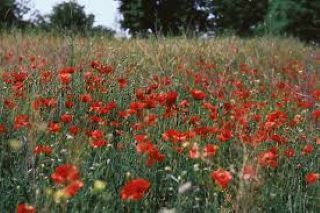 Poppies have long caught the imagination of artists, long before the advent of World War 1 – fragile and beautiful, but resplendent in their vibrant mass display.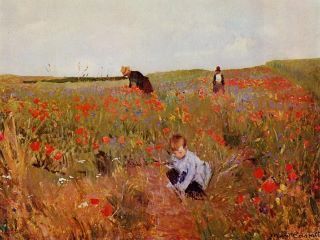 The sight of poppies on the battlefield at Ypres in 1915 moved Lieutenant Colonel John McCrae to write the poem In Flanders fields. It was published in Punch magazine in late 1915, and was used at countless memorial ceremonies. It became one of the most famous works of art to emerge from the Great War. 2
After the war, a French lady named Anna Guérin organized French women, children and veterans to make and sell artificial poppies as a way to fund the restoration of war-torn France. 2
Within a year, Guérin brought her campaign to England, and in November 1921, the first-ever "Poppy Appeal" sold millions of artificial silk flowers. It raised over £106,000 (a hefty sum at the time) to go towards finding employment and housing for veterans. 2
Likewise, poppies were first sold in Australia for Armistice Day in 1921. One million silk poppies, made in French orphanages, were imported. Each poppy was sold for a shilling: five pence was donated to a charity for French children, six pence went towards welfare work, and one penny went to the returned servicemen's national organisation.3.
The sale of poppies continues today to support Australian war veterans involved in all conflicts since World War One, as well as their families. Many people proudly wear their poppy in their jacket lapel.
Poppies adorn the Wall of Honour at the Australian War Memorial, and wreaths are laid at many remembrance ceremonies, such as ANZAC Day, not just on Armistice Day.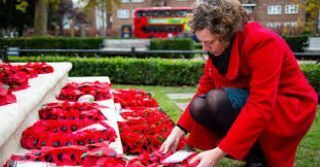 The use of the poppy to honour all the servicemen and women who have fought in wars, conflicts, and peacekeeping operations over the last 100 years reached incredible heights in 2016 at the Chelsea Flower Show, where 300,000 crocheted poppies were displayed.
The project started in 2013, when Lynn Berry and Margaret Knight, both from Melbourne, decided to crochet 120 poppies to honour their fathers, who had fought in World War II.4
The idea caught on, with individuals and community groups all around Australia contributing hundreds of poppies to the cause. It became known as Project 5000 Poppies, with Lyn and Margaret aiming for 5,000 poppies to create a display for the 100th anniversary of ANZAC Day in 2015.
It is also a wonderful testimony to the ability of people to unite together for a powerful cause, because by March 2015, the project had over 300,000 hand-made poppies! Logistical help was freely at hand to help Lyn and Margaret co-ordinate the volumes of poppies coming in from all over Australia, something they had never envisaged!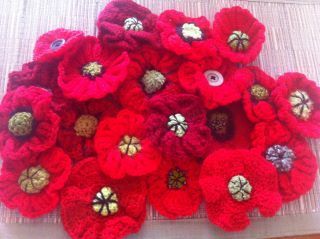 Initially, in March 2015, a tribute garden was installed at the Melbourne International Flower and Garden Show, for the 100th Anniversary of ANZAC Day. The display was seen by over a million people over the three day event in April.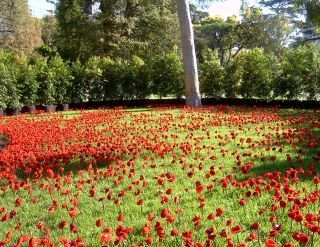 But it went much further, with all 300,000 poppies set out as a huge carpet in Melbourne's main event space, Federation Square: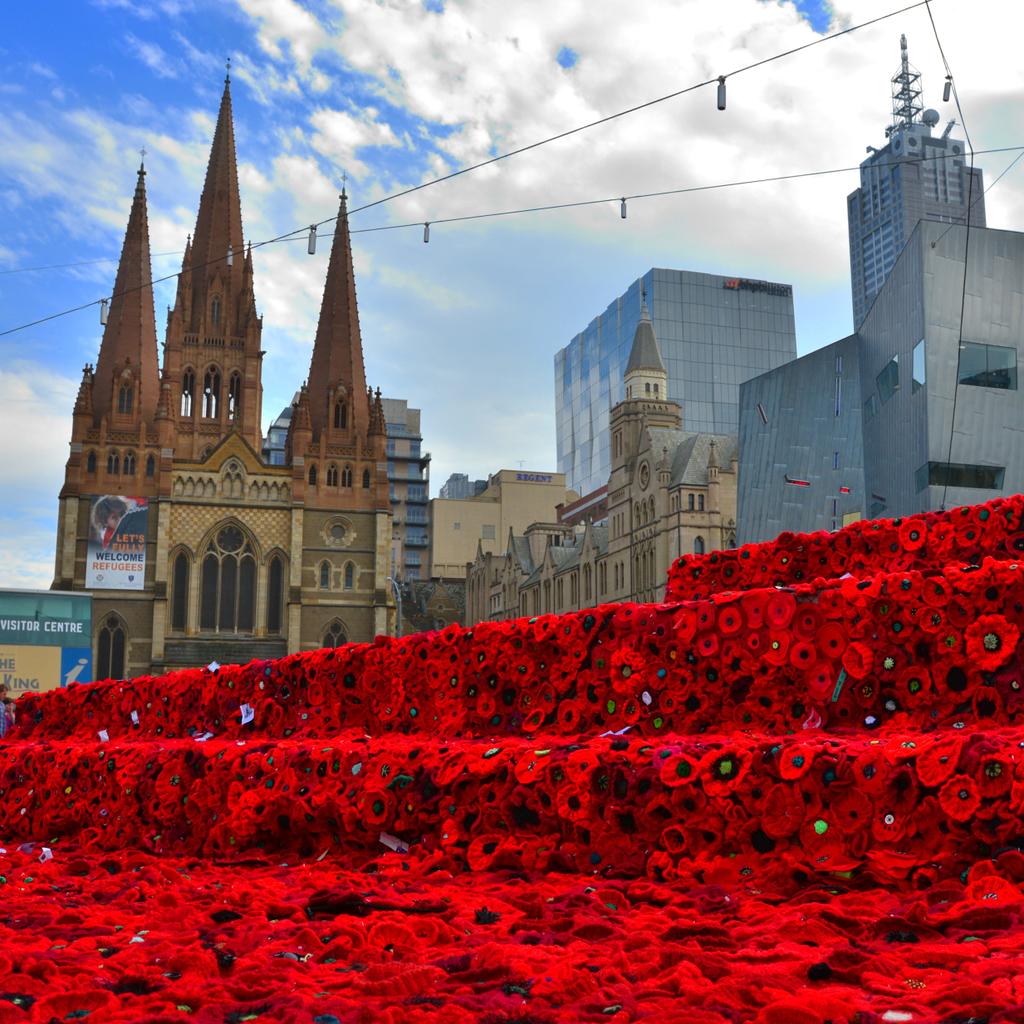 Then in May 2016, the 5000 Poppies project was invited to exhibit at the RHS Chelsea Flower Show in London! The installation in London was a highlight of the show, with visits by Her Majesty Queen Elizabeth, Prince Phillip, Princess Anne, the Duke and Duchess of Cambridge, Prince Harry, and many other members of the Royal Family.4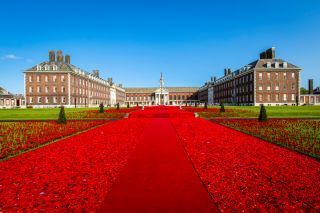 You might like to watch this short You Tube video which shows the scope of creating the project in London:
And finally, if you would like to keep up to date with the 5000 poppies project, including access to their poppy crocheting patterns, click here.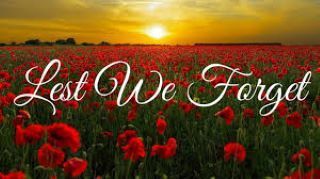 Footnotes
With thanks to
Wikipedia
History.com/world war 1 - poppy remembrance symbol
Australian War Memorial, awm.gov.au/commemoration
Project 5000poppies, Facebook.