Poetry and Pragmatism: 2022 MPavilion
Trevor in Canberra missed the January Mailbag with this notice to visit (if you live in Melbourne) the playful and joyous, 2022 MPavilion by Bangkok-based architects All Zone (which) emerges from an intense process of exploration, with a flirty canopy that blurs the boundary between porosity and solidity.1
The 2022 MPavilion ... flirtatiously lifts the corners of its canopy to reveal its ruffled underskirt – a coloured shading fabric woven into a vertical waffle. At night, the inside of the canopy roof is lit to reveal the bodice-like supporting structure and waterproof membrane offering weather protection to visitors. The design is a seductive invitation into a space, with a kiosk and two raised platforms that hosts hundreds of events across four summer months.1
Please follow the bookmark link to learn all about this remarkable structure.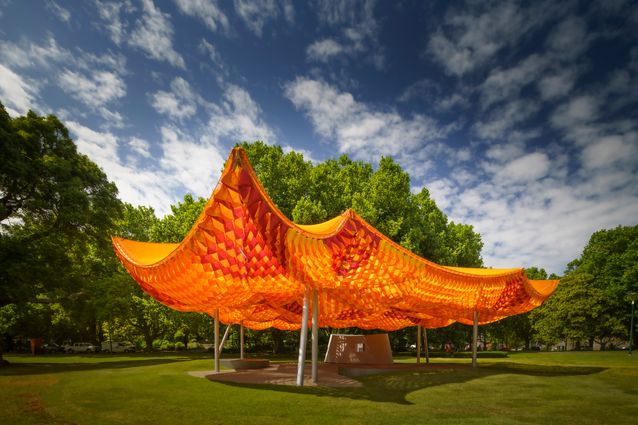 MPavilion is an ongoing initiative of the Naomi Milgrom Foundation and is supported by City of Melbourne, State Government of Victoria through Creative Victoria and Development Victoria, and ANZ.
Each year since 2014, the Naomi Milgrom Foundation has commissioned an outstanding architect to design a pavilion for the Queen Victoria Gardens, in the centre of Melbourne's Southbank Arts Precinct. The MPavilion then becomes the focus of a free program season of cultural events and interventions, lively talks, performances, workshops, installations and kid-friendly experiences.
At the close of each season, the MPavilion is gifted by the Naomi Milgrom Foundation to the people of Victoria and relocated to a new, permanent home, where it can be engaged by the community. Find out where to visit MPavilions in Victoria. 2
This unique annual architecture commission and design event for Melbourne can be viewed with free admission at Queen Victoria Gardens, King Domain until 24 April 2022.
Credit
1. architectureau.com
2. facebook.com/mpavilion/