Platinum Jubilee - Queen Elizabeth II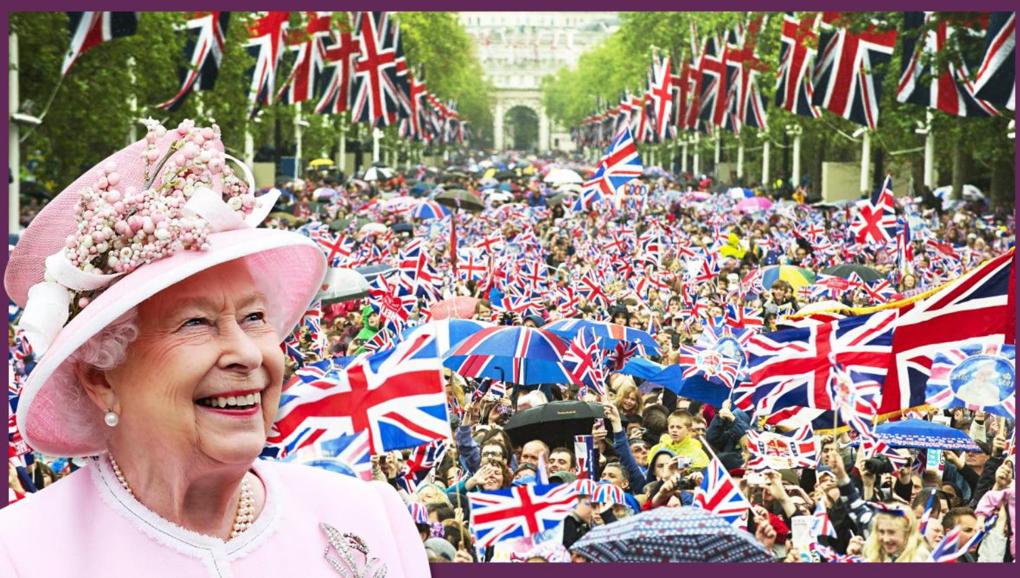 Over four days this last weekend Britain celebrated the Platinum Jubilee of Queen Elizabeth II. Little did she know that her pledge at the Coronation in 1952 would continue for a record 70 year reign - and that's so far!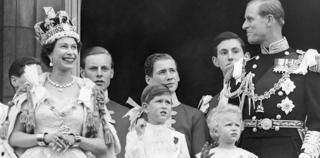 Prince Charles, 73, son and heir to the throne, paid a personal tribute during the celebrations:
"You pledged to serve your whole life – you continue to deliver. That is why we are here," Charles said in his message to the Queen, who was at her Windsor Castle residence outside London.
"You have met us and talked with us. You laugh and cry with us and, most importantly, you have been there for us, for these 70 years",
Charles added, referring to the Queen as 'Mummy'.
It is impossible to summarise the many trials and tribulations the Queen has seen over those 70 years. She is know for her sense of duty and even at the tender age of 13, addressed via radio, British children during WWII offering inspiration and fortitude.
On the website Royal.uk this 3 minute summary provides an insight into the life of service to which she was committed.
Tens of thousands of fans, and up to one billion people watching live, took part in celebrations across Britain, the Commonwealth and the world.
The four days of events kicked off last Thursday, when a beaming Queen waved to crowds from the balcony of Buckingham Palace after a military parade and Royal Air Force flypast.
The monarch later led the lighting of the Principal Platinum Jubilee Beacon at her Windsor Castle home, after which over 3,000 beacons were lit across the United Kingdom and the Commonwealth to celebrate The Queen's 70 years of service.
Below:
The crowd enjoys the spectacle of the flypast by the Red Arrows.
Royal family watches Trooping of the colour from the balcony of Buckingham Palace.
Precision flying by the RAF forming a perfect "70" in honour of the Queen's Platinum Jubilee.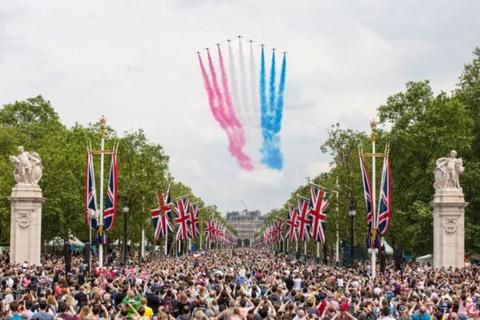 The celebrations continued on Friday with a National Service of Thanksgiving at London's St Paul's Cathedral but the Queen, now 94, was forced to cancel a series of engagements recently due to recent mobility problems.
The Queen also missed Saturday's 243rd Epsom Derby, which she normally attends, and which together with a massive rock concert outside Buckingham Palace were the focal point of the third day of Jubilee celebrations.
Her Majesty is known for her sense of humour and although she was unable to attend the concert, she delighted the crowd with a sketch where she enjoys afternoon tea with Paddington Bear. As you will see, the Queen, never flustered, took Paddington's antics in her stride.
The fourth and final day on June 5 culminated in street parade and a fond farewell.
The Platinum Jubilee Pageant wound its way through central London to huge spectator crowds, along with tens of thousands of patriotic Brits holding their own street parties and lunches.
The procession followed a similar route the Queen took on her coronation day in 1953, and showcased the different decades of her record reign.
As a last delight the Queen made an appearance on the balcony of Buckingham Palace with key members of the Royal Family.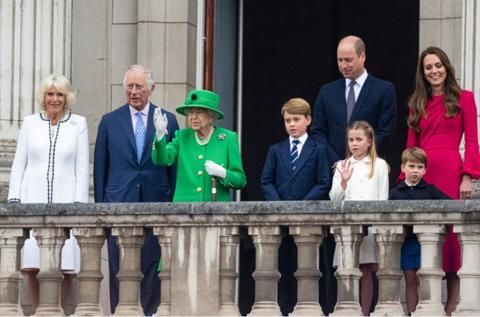 Her Majesty Queen Elizabeth II released this final statement:
When it comes to how to mark seventy years as your Queen, there is no guidebook to follow. It really is a first. But I have been humbled and deeply touched that so many people have taken to the streets to celebrate my Platinum Jubilee.
While I may not have attended every event in person, my heart has been with you all; and I remain committed to serving you to the best of my ability, supported by my family.
I have been inspired by the kindness, joy and kinship that has been so evident in recent days, and I hope this renewed sense of togetherness will be felt for many years to come.
I thank you most sincerely for your good wishes and for the part you have all played in these happy celebrations.
ELIZABETH R 5 June 2022
For those interested the 3min video below provided highlights of the Platinum Jubilee.
---
We add our congratulations to Queen Elizabeth II on celebrating her 70 years on the throne.
GOD SAVE OUR GRACIOUS AND NOBLE QUEEN