Patrick Dougherty – the stick sculptor!
Today we meet an artist with a difference! Patrick Dougherty is a stick artist in North Carolina, USA. More specifically, he weaves supple, young tree branches into large sculptural installations.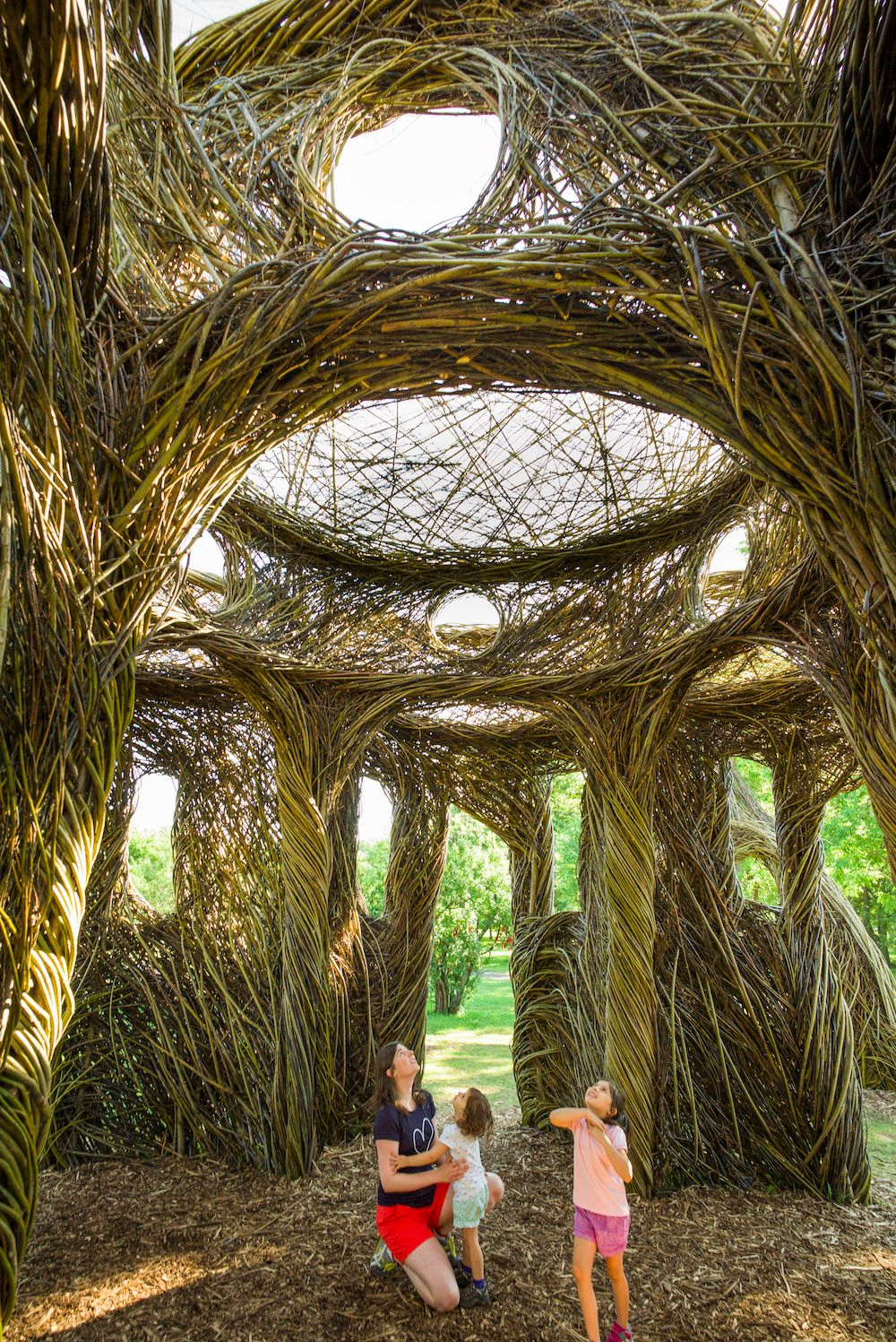 Whilst Patrick's study and work life were very different, achieving a B.A. in English and an M.A. in Hospital and Health Administration in the late 1960s, he was always creative in his spare time. He combined his love of carpentry with an interest in primitive building techniques. He began to experiment with tree saplings as a construction material and loved how they could be bent and woven without snapping. In 1982 Patrick's first work, Maple Body Wrap, was included in the North Carolina Biennial Artists' Exhibition.1
His work quickly evolved from single pieces on conventional pedestals to monumental scale environmental works, which required saplings by the truckloads. 1
During a three year stint in the military, he was further able to hone his skills.
Patrick was so inspired that he also returned to the University of North Carolina to study art history and sculpture. 1
Over the last thirty-something years, he has built over 300 of these works, and become internationally acclaimed. His sculpture has been seen worldwide---from Scotland to Japan to Brussels, and all over the United States.1
The easiest way to gain an appreciation of the scale of Patrick's work is to look at a 2 minute, time lapsed video of one such installation in 2011, called Diamonds in the Rough at the Lewis Ginter Botanical Garden:
You can hear Patrick talking abut his sculptures and motivations for this time-consuming work in the following 10 minute video below:
He has received numerous awards, including the 2011 Factor Prize for Southern Art, North Carolina Artist Fellowship Award, Pollock-Krasner Foundation Grant, Henry Moore Foundation Fellowship, Japan-US Creative Arts Fellowship, and National Endowment for the Arts Fellowship. Princeton Architectural Press published a major book about Patrick and his work in 2009.
Obviously, creativity runs in the family! Since 2016, Patrick's son, Sam Dougherty has been Patrick's full-time construction assistant and has developed into an expert stickworker. Sam earned his bachelor's degree from Warren Wilson College with ceramics as his special interest. He is an avid gardener and tree lover. Sam's signature can be found on every sculpture, especially in the rolled top edges.1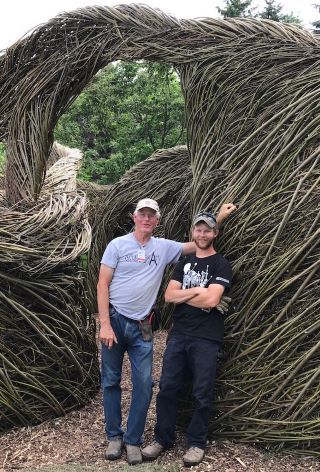 You can see more of Patrick and Sam's wonderful work on their website, click here, and other articles, videos and podcasts by clicking here.
Isn't it fascinating what people do and the positive effect it has on people!
Footnotes
With thanks to Patrick Dougherty, at www.stickwork.net