Past Posts No 19 October 2018: Homage to Houses
Our Past Posts today take you back to October in 2018 when I was thinking about the concept of House and Home.
I love to paint houses and I love paintings of houses. Check out today's Past Posts and you will see many different ways to represent a house. From my own easel the houses shown below in The Macedonian Shepherd exemplify the significance of the concept of home to the millions of people who have left their heart in their ancestral homeland to seek a better life elsewhere.
The large house on the right is the childhood home of John who commissioned me to paint his village back in Macedonia so he could share his heritage with his children and grandchildren.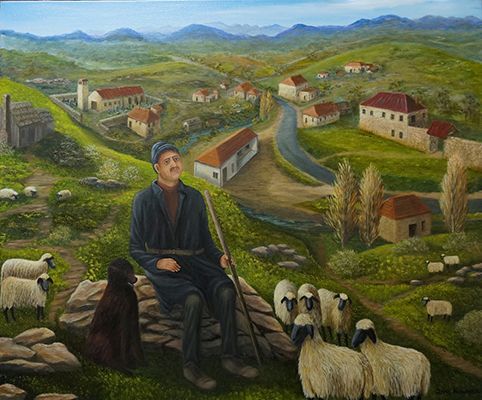 Back in 2018 when I was thinking about the concept of house and home I discovered English artist Dame Rachel Whiteread (born 20 April 1963) who primarily produces sculptures, which typically take the form of casts. She was the first woman to win the annual Turner Prize in 1993. 1
Whiteread was one of the Young British Artists who exhibited at the Royal Academy's Sensation Exhibition in 1997. Among her most renowned works are House, a large concrete cast of the inside of an entire Victorian house; the Judenplatz Holocaust Memorial in Vienna, resembling the shelves of a library with the pages turned outwards; and Untitled Monument, her resin sculpture for the empty fourth plinth in London's Trafalgar Square.
She was appointed Commander of the Order of the British Empire (CBE) in 2006 and Dame Commander of the Order of the British Empire (DBE) in the 2019 Birthday Honours for services to art.
You might like to listen to Rachel Whiteread's House being explained by Jill Perry, Professor of Art History at the Open University.
In October 2018 I also produced two posts that showcased some of my favourite paintings of houses - both traditional and abstract representations. Follow the links below to view these two posts.
Credits
1. tate.org.uk