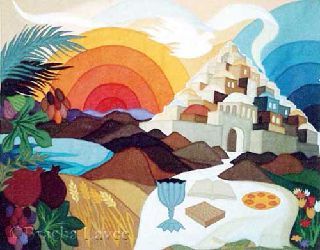 HAPPY PESACH TO ALL MY JEWISH FAMILY AND FRIENDS: MAY IT BE A TIME OF LOVE, HAPPINESS AND GOOD COMPANY.
In celebration of Passover I want to introduce you to Israeli artist Bracha Lavee who created the glorious Pessach Table tapestry shown above. Born Bracha Brym in Poland in 1948, she arrived in Israel in 1957. Bracha lived and studied in Tiberias, where even as a small child her artistic talents were apparent. She had already won her first art prize at the age of seven in Poland and throughout her public schooling in Tiberias she was known as the class artist.
Inspired by Jewish tradition, the Bible and the views of Israel, Bracha defines her style as between realistic and imaginary scenery (bracha-lavee.com). Today I have chosen to show you some of her tapestries predominatly of Jeruselem as I have several subscribers and supporters who know and love this city.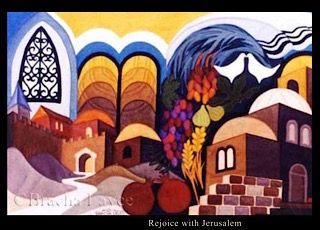 Bracha Lavee continued to develop her talents, including music, and in 1970, following graduation from high school and the completion of military service, she enrolled in the Bezalel Art Academy in Jerusalem. There she met her future husband, Menachem Lavee.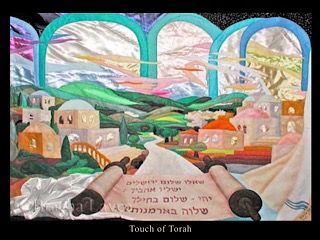 Menachem Lavee is also an artist and designer and a full partner in all of Bracha's projects.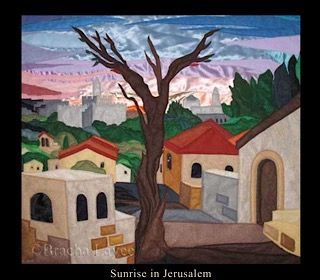 As the Northern Hemisphere comes out of Winter into Spring and down here in Australia we are leaving Summer behind and gradually slipping into Autumn, I thought it appropriate to conclude today with Bracha Lavee's tapestry the Tree of Seasons.


Happy Passover Everyone.
You might like to watch Bracha at work creating one of her masterpieces.
And this video is longer, taking about 5 minutes but does give you an overview of her wonderful felt tapestries.
Please visit the Bracha Lavee Gallery for a journey through the remarkable works.