Passover for 2020 will be celebrated from the evening of Wednesday 8 April until the evening of Thursday 16 April. I have chosen Marc Chagall to help tell my Jewish family and friends that we are thinking of them at this time.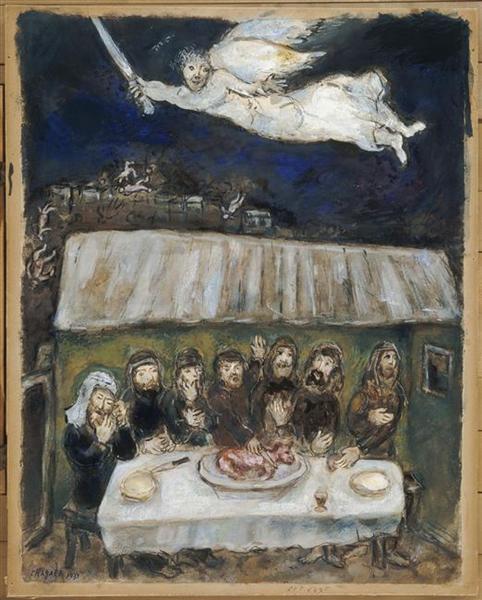 I also want to introduce you to a new artist I have recently discovered: Galia Goodman from Durham, North Carolina, USA. Galia began with very traditional Jewish papercuts and calligraphy in Hebrew and English and has expanded her repertoire to include acrylic and watercolor painting, collage and art made with found and recycled materials. She has created large works and awards for a number of synagogues, churches, colleges and universities, and non-profit organizations. She's taught art and calligraphy to children and adults and strongly believes that anyone can be creative and artistic, given the right tools and a bit of encouragement. Each November, she spearheads the organization of a neighborhood art walk that has included artists and craftspeople of all ages.1
As a self-defined world citizen as well as a strong feminist, environmental activist, supporter of equal rights for all and education for all, and especially for women, she seeks to practice these beliefs on a daily basis through her artwork and her community involvement.1
Below are three examples of acrylic collages on canvas from Goodman's White Blaze Series artwork: Images from the Appalachian Trail.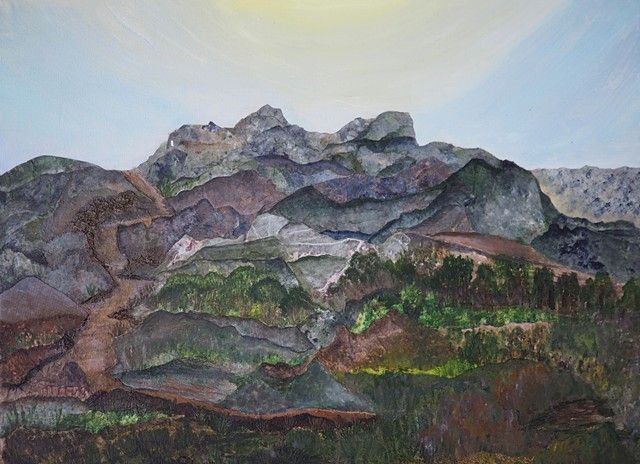 And to Meet the Artist: Galia Goodman, Ecological Jewish Artist and Hiker through an interview conducted by Jonathan Homrighausen2 click on the bookmark below where Galia talks about her project: The Promise of the Land: A Passover Haggadah (Behrman House). This ecological haggadah was written by Rabbi Ellen Bernstein, and Galia contributed the dozens of artworks beautifying the seder.
Footnote:
Galia Goodman's Bio from: https://galiagoodman.com/home.html
Jonathan Homrighausen is a calligrapher and a doctoral student in Hebrew Bible/Old Testament at Duke University. He is author of Illuminating Justice: The Ethical Imagination of The Saint John's Bible (Liturgical Press, 2018), and his own work may be seen at jdhomiecalligraphy.com.