Ole Kirk Kristiansen, founder of The Lego Group, a story of faith and resilience
Jane's post on building a model of the city of Pompeii from Lego blocks stimulated a lot of interest. It prompted me to ask the question: what is the story behind the Lego block? I hope you enjoy the answer as I did of this iconic brand that so many of us remember as a child.
The LEGO Group was founded in 1932 by Ole Kirk Kristiansen. The Company has passed from father to son and family members are still on the Board today.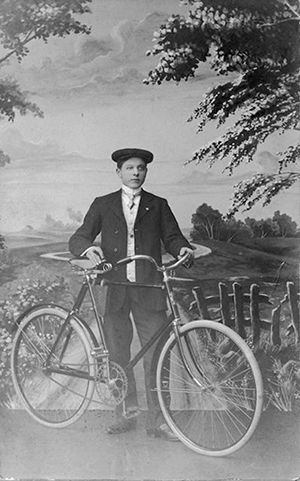 Ole Kirk Christiansen was born in 1891 in Filskov, Denmark, the tenth child of a poor family. Despite these circumstances, Ole, after a basic high school education, apprenticed under his brother, and worked in carpentry. In 1916, Ole purchased a the Billund Woodworking and Carpentry Shop making a decent living mainly making custom furniture. Ole married in 1916, had four sons.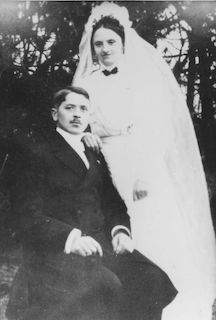 A fire in wood shavings occurred in 1924 and both Ole's workshop and home were burned, this was the first significant fire in Ole's life. This is where Ole showed his resilience. How did he respond? He built a larger workshop.
In 1932 Ole's wife died, this, along with the Depression forced Ole to change from making custom made furniture to making more practical items, such as stepladders, ironing boards, and stools for milking cows. He also began producing a variety of finely crafted wooden toys from high quality birch wood, initially trading toys for food.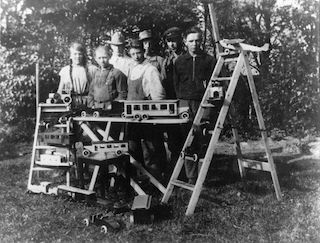 One can't imagine what that would have been like for Ole being left with four boys aged 6 – 15 years, trying to survive during the Depression where the Danish winter hovers around zero degrees for months on end.
However, Ole Kirk was an active member of the local community and he lived his life according to simple basic Christian principles, to look after what has been granted to him as well as possible. An attitude he has brought with him from childhood. "Life is a gift, but at the same time can be challenging." A thought, which Ole often repeated to his children.
In his memoirs Ole Kirk Kristiansen writes of the year 1932 "... I looked to the future with hope. But within two months my world was tumbling. There was a crisis in farming but as we owed our living to the smallholders and farmers, we were also affected. We were in a difficult time – but it was as well that we could not see what lay ahead. During the summer we were asked to make toys for Jens W. Olesen, Fredericia, and as we had no other work, we looked on it as a gift from God."
Ole persisted, and with assistance of the The National Association for Danish Enterprise (Landsforeningen Dansk Arbejde) who supported Ole Kirk Kristiansen's business during the economic crisis and thus indirectly plays a part in the journey Ole Kirk transitioning from an ordinary carpentry business into a toy manufacturer.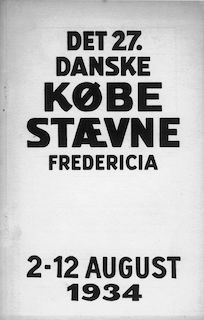 When Ole Kirk Kristiansen starts making wooden toys in 1932, trains are among his first creations. In the 1930s, 40s and 50s the company produces various types of wooden trains from steam locomotives to express trains. The main aim at the time is to produce toys children can recognize from their everyday lives and trains fit perfectly into this picture.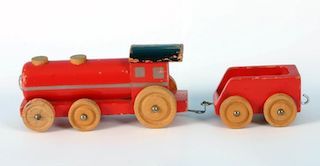 Ole's 12-year-old son Godtfred started to help his father in his workshop. By 1934 Ole's reputation for great craftsmanship spread and he was again able to hire workers and it was around this time Ole came up with the name "Lego", shortening the Danish phrase leg godt which means "play well".
Ole Kirk Kristiansen buys his first milling machine in Germany in 1937, an expensive piece of equipment. He pays DKK 3,000 for it. At the time, by way of comparison, a house costs between DKK 4,000 and 5,000 so it is a massive commitment. The sum he pays for the machine equals one-third of the company's total profit the previous year.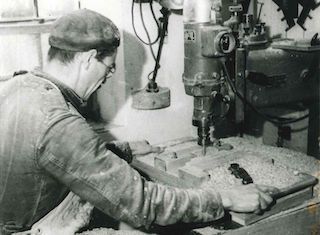 The words "The best is not too good" or "Only the best is good enough" are Ole Kirk Kristiansen's motto for the company, echoing his years as a quality craftsman and his attitude to quality and finish. The motto continues to apply in the company to this day.
The motto is cut in beechwood on the milling machine and hung up in the factory in 1936.

Children need toys - even in hard times!
The outbreak of World War II does nothing to limit Ole Kirk Kristiansen and his toy production. In times of crisis, the demand for toys is greater than ever. During the first two years of the war, the company doubles its sales.
Another devastating fire engulfs the factory in 1942 and virtually destroys Ole Kirk Kristiansen's life work, but the adjoining family home is saved from the flames. The fire is almost too much to handle for Ole Kirk. He relates the story in his memoirs: "At three o'clock in the morning one of the young men who sleep in the workshop comes and shouts 'The factory's burning!' It was a shocking message – and painful. I struggled to get a grasp of the situation but I had to pause for a moment and kneel to God. It was my thanks to him who knows all things, and it gave me peace and quiet in my mind."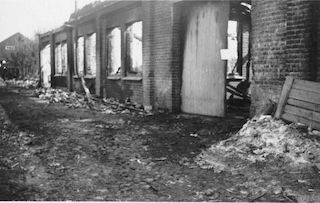 Ole Kirk almost abandons the idea of rebuilding the factory. He receives a number of offers from other parts of Denmark to build a factory but finally decides to remain in Billund, thereby securing the jobs of his 15 employees. With the assistance of a bank loan and support of family and employees, the first dedicated toy factory is built at the site of the old woodworking factory. By the end of the year production has resumed, and by the following year the company is employing 40 people.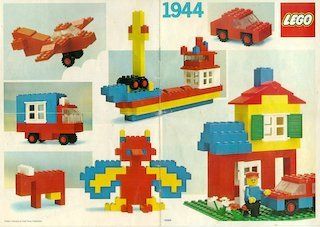 The Company continued to expand producing plastic toys. In 1949 Lego began producing, among other new products, an early version of the now famous interlocking bricks, calling them "Automatic Binding Bricks". (Giving the toy an English name, a tribute to the Allied forces who liberate Europe and end World War II in 1945.)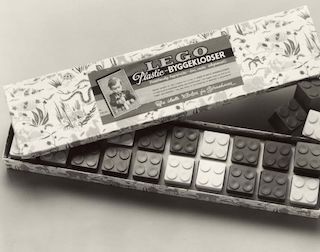 These bricks were based in part on the Kiddicraft Self-Locking Bricks, which were patented in the United Kingdom by Hilary Fisher Page in 1939 and then released in 1947. The blocks snapped together, but not so tightly that they required extraordinary effort to be separated.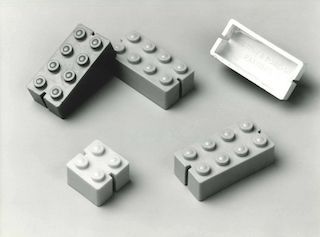 By 1951 plastic toys accounted for half of Lego's production. In 1953 the Automatic Binding Brick was renamed the "Lego brick". The name Lego was printed inside every brick.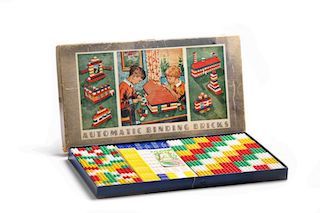 By 1954 Ole Kirk Kristiansen's son, Godtfred, had become the junior managing director of the Lego Group. Godtfred was instrumental in launching the Lego system where all elements fit together and can be used in multiple ways. Cousin, Dagny Holm, joins the company in 1961 as a model builder and revolutionises this area. She has a skilled eye, which sees that elements combined with others can become anything in the world, buildings, castles, figures and animals.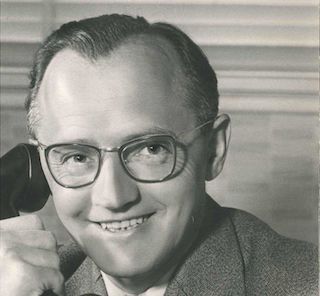 The next generation took control of the LEGO Group in the eighties as Godtfred resigned as chairman of the board and his son, Kjeld Kirk Kristiansen, took over. By 1990 LEGO was one of the ten largest toy manufacturers in the world.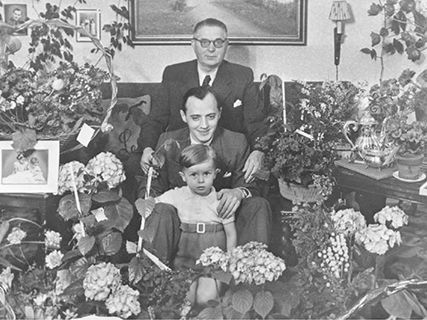 Today the family business continues to innovate and negotiate the changes in the way children play and has survived a decade of deficits in the 90's largely by partnerships that lead to the successful launch of Indiana Jones, Star Wars and Harry Potter Lego sets.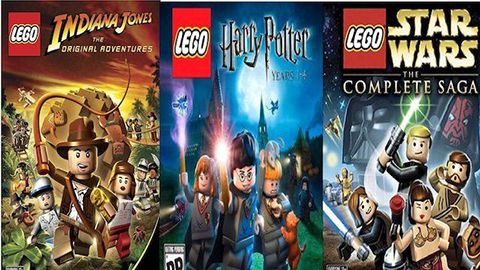 I wonder if Kjeld Kirk Kristiansen who has an estimated net worth of 8.9 Billion dollars (USD), and his son, Thomas Kirk Kristiansen, the current Chairman, ever think about Ole Kirk and how it all started? If you are interested to see some of the innovative art works made from Lego blocks, Anne's previous post is a good place to start here.
In Part 2 we will look at the amazing office space that has been created, styled on, you guessed it, Lego blocks!
---
Credits - text
Lego.com
companieshistory.com
Forbes.com
moc2000.medium.com