November 2021 Mailbag No 1
Hi everyone - it has been a very busy month and we have so much correspondence we will have to have two very full November mailbags.
I have been approached through Facebook to help identify the artist of a particular work shown below. Ironically the artist is Anne Newman - but it is not one of my paintings.
Can anyone help us?
We know that the artist, Anne Newman, is a keen gardener and lover of plants (yes that is also me), spent time at the Botanical Gardens in Pueto-de-la-Cruz and the Gardens of Oratava in Tenerife. Some of her paintings express joy of the Canary Islands flora. The painting was purchased in the UK from a charity shop.
Please get in contact via the email hello@anart4life.com if you can shed any light on this unidentified Anne Newman!!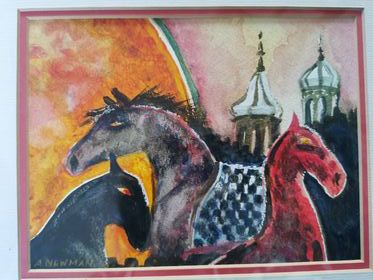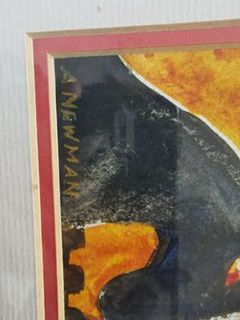 Julie has been showing us some amazing art works from Japan and her two posts on Japanese woodcraft brought much interest on Twitter and Facebook -
Preserving the art of traditional Japanese woodcraft Part 1
Preserving the art of traditional Japanese woodcraft Part 1
Facebook follower G in Melbourne responded to the posts by saying:
A small Japanese garden was constructed at our School some time ago. The bamboo fence was built using traditional methods. People from our Japanese sister school were there for the opening.
Covid restrictions have prevented G from providing us with a photo of the garden but now Melbourne is out of lockdowns we hope to see the garden in the December mailbag.
Julie's Japanese posts were also enjoyed by Jane who responded with:
Hi Julie,
Very interesting posts on the Japanese woodcraft. I checked out a few more websites on Kengo Kuma and he has completed a range on different projects. These include The Exchange in Sydney, a small cafe in Japan, the V&A museum in Dundee, the Hans Christian Anderson museum in Denmark (which I visited a few years ago). To see some articles on Kengo's achievements and more details on the Olympic stadium click here.
Jane goes on to say:
I love the work Des King is doing, especially coming up with new ways to complete items using common tools. In general Japanese people are very gracious and particular - this comes out in so many things, art, architecture, poetry, even their attitude. When I was in Japan I bought a little tray (below), which looks very much like the work Des does - It's beautifully finished, the surfaces so smooth, you wouldn't know it was made from lots of little pieces. Keep up the good work, you find so many unusual and different things to write about.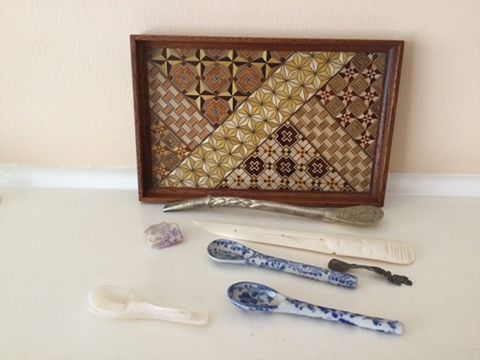 And Rowdy Wylie also enjoyed the Japanese posts telling us:
An amazing post by Julie covering the Traditional Art of Japanese "Woodcraft"… commencing with the story of Japanese Architect Kengo Kuma's design and construction of the "Tokyo Olympic Stadium" 2020…… by using timber beams on a "major scale" in it's creation and development… Also… fantastic photos of the Stadium and the "Woodcraft timber joints!!!
We know Rowdy as a painter but his artistic skills extend to working with wood. He explains:
As a Cabinetmaker/Joiner I have a "huge" interest in building construction and furniture design… the Japanese "age old craft" of working with "hand tools" only to "dress" seasoned timber and "cut out" specific timber "joints" for long lasting strength and durability is absolutely …. "unique craftsmanship"…. which is handed down by senior craftsmen to younger trainees with only "hands on" practical skills training over many years…. All timber "joints" are assembled with incredible accuracy and skill…. with out the use of glue… nails or screws… truly amazing "Woodcraft Craftsmanship"… a very proud culture….in touch with nature!! Congratulations Anne, Julie and the GAALS Team…. A tremendous post!!!………. Thankyou…… Rowdy
Rowdy makes the frames for his own paintings and prints he finds in Op Shops. I understand that he finds old frames and reconstructs and restores them as shown below on a print by Australian artist and member of the Brushmen of the Bush Jack Absalom.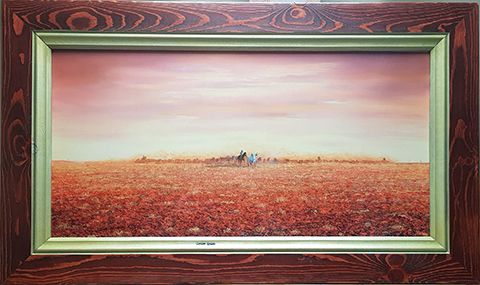 Talent abounds in Rowdy's family as his partner Sue is a quilter and also a deft hand at cooking. Sue belongs to The Victor Harbor Quilters (South Australia) which meet at the PennyLane Patchwork Shop. Recently they celebrated the Melbourne Cup with a special lunch.
We see Sue's
1 Silhouette of Race Horses and Jockeys with colourful "Pumpkin Pin Cushions";
2 & 3 Baker's Delights…cream puffs and snow balls with "track" silhouettes and in the home kitchen which is obviously an artist's paradise;
Victor Harbor's "Penny Lane" "Melbourne Cup Prize" with "Fat Quarters" of material at the base.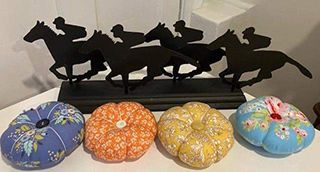 And below we see Sue's "office" where we can enjoy the wonderful range of "works" she is producing.
The "Dragon Fly" (a work in progress) is Rowdy's favorite... and as he says: it will look magnificent "hung" on the wall… The material was purchased from a Quilt Shop in Mildura…..on a run to Broken Hill a couple of years back…
Thank you Rowdy and Sue for sharing your photos with us.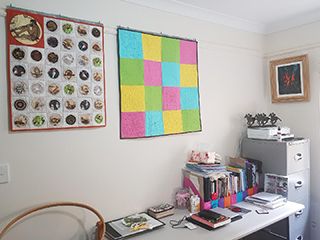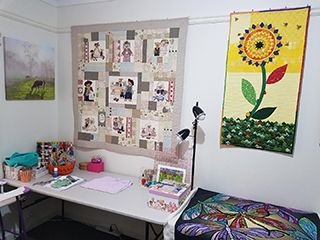 Concluding today's mailbag with a reminder to check out the current Kevin McKay exhibition being held at May▲Space Online which seeks to juxtapose the domestic and contemporary with the historical and heroic, as our homes have become our bastions in recent times.
Please use the Comments Box below if you would like to leave a comment regarding any of the items in today's post. Or you can email me at hello@anart4life.com.