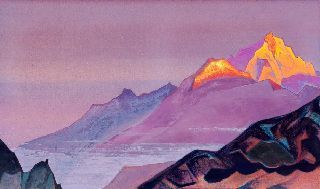 I discovered Nicholas Roerich (1874–1947) and his wonderful paintings when I was looking for information about the Himalayas during the time Jane was travelling in this area. Yesterday I showed you some of the photos taken by K of Hong Kong whilst flying his plane over the area so I thought it was a good opportunity to follow on with some of the works of Nicholas. Above is Explore the Himalayas.
Roerich was a Russian painter, writer, archaeologist, theosophist, philosopher, and public figure of Baltic German descent, who in his youth was influenced by a movement in Russian society around the spiritual. He was interested in hypnosis and other spiritual practices and his paintings are said to have hypnotic expression. (Wikipedia)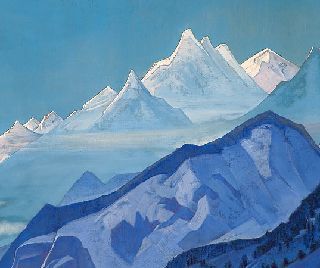 Born in Saint Petersburg, Russia, to a well-to-do notary public Baltic German father and a Russian mother, Nicholas lived in various places around the world until his death in Naggar, Himachal Pradesh, India. Trained as an artist and a lawyer, his main interests were literature, philosophy, archaeology, and especially art. Roerich was a dedicated activist for the cause of preserving art and architecture during times of war and initiated the modern movement for the defense of cultural objects, for the idea of Peace of Civilisations. He earned several nominations for the Nobel Peace Prize long list. The so-called Roerich Pact was signed into law by the United States and most nations of the Pan-American Union in April 1935. In fact it was the first international treaty signed in the Oval Office.(Wikipedia)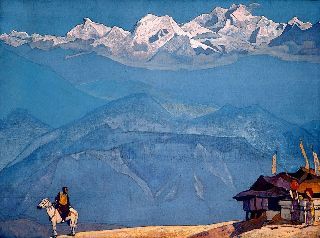 Nicholas' parents encouraged him to study law, but seeing their son's inclination for painting, they allowed him to study both, which he did with much success. In 1900, Roerich went to Paris to take lessons from Fernand Cormon, the well known tutor of Van Gogh and Toulouse-Lautrec. Upon his return to St. Petersburg, he married Helena Shaposhnikova, who later developed the Agni Yoga philosophy. Soon Roerich became quite a successful painter. One of his paintings was purchased by Russian Tsar Nicolas II himself. Roerich also worked as stage and costume designer for several operas and ballets by Maurice Maeterlinck and Igor Stravinsky.
In 1917 Roerich went to live near a lake in Finland, to strengthen his health. After the border between Russia and Finland was closed in 1918 in the context of the October Revolution and Finnish Civil War, the family travelled across several Scandinavian countries to Great Britain and eventually left for North America in 1920. There, Roerich founded two cultural institutions: "Cor Ardens" (Flaming Heart, a fraternity of artists from several countries) and "The Master Institute of United Arts" (an organization for education, science, and philosophy). (Wikipedia)
One of the reasons I've chosen to introduce Nicholas Roerich to you is because of his interest in combining science with art. This is a topic we are going to start examining in the coming blogs. But today we are just enjoying his paintings of the Himalayas and surrounding areas.
After leaving America, the Roerichs settled at Naggar in the Kullu Valley from which their estate looked towards the Himalayas. Here they established the Urusvati Institute which remains in Naggar with an exhibition about the pact. Nicholas Roerich died of a cardiac arrest on 13 December 1947.(Wikipedia)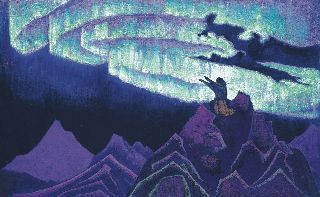 Nicholas Roerich is considerd to be one of Russia's greatest painters and there is a minor planet 4426 Roerich in the Solar System named in his honor.
In 1923, the Roerich Museum was founded in New York. In 1929, it moved to a new building. Presently, the Roerich Museum is located in Manhattan, at the corner of 107th Street and Riverside Drive.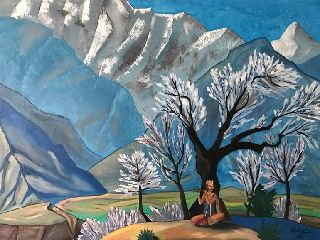 The Treaty on the Protection of Artistic and Scientific Institutions and Historic Monuments or Roerich Pact is an inter-American treaty. The most important idea of the Roerich Pact is the legal recognition that the defense of cultural objects is more important than the use or destruction of that culture for military purposes, and the protection of culture always has precedence over any military necessity. (Wikipedia)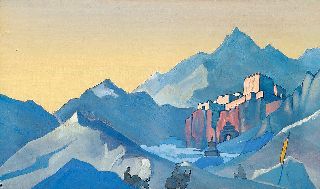 Note: Nicholas Roerich was also known as Nikolai Konstantinovich Rerikh (Russian: Никола́й Константи́нович Ре́рих)