Nic Fiddian-Green and his Horses
In response to our posts on horses from a couple of weeks ago, E in London wrote in to say that her favourite horses are being made by British sculptor Nic Fiddian-Green.
I have to admit that this sculptor has missed my notice so let's have a look at some of his works which are ... breathtaking.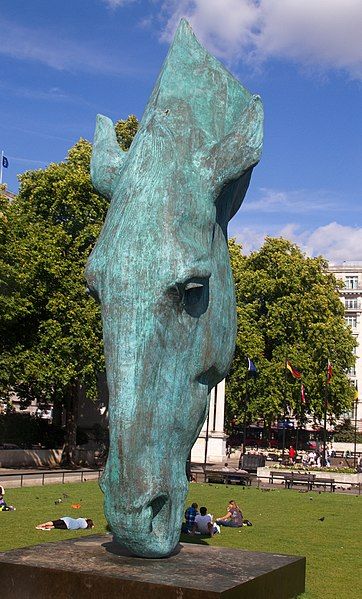 Still Water (2010) by Nic Fiddian-Green, installed near Marble Arch in London, United Kingdom. At 33ft high this is the largest free-standing bronze sculpture in London.1
The 33 feet (10 m) piece was commissioned to replace an earlier and similar, but slightly smaller, work, Horse at Water XV. This was installed at the same site temporarily, but then moved to Daylesford, Gloucestershire, the home of Sir Anthony and Lady Carole Bamford, who had commissioned it.1
In 2012, Fiddian-Green cleaned the sculpture himself, using a cherry picker.1
The sculpture of Nic Fiddian-Green is at once deeply traditional and startlingly modern. The ragged and physical look of his horses with their rough impressionist surface and rough-cut and riveted panels, recall a whole lineage of modernism from Rodin, Bourdelle and Rosso, through Cubism, to post-war figures such as Frink and Marini, and also contemporaries like William Turnbulll, Chris Lebrun and Deborah Butterfield.2.
At the same time his inspiration is clearly Classical. In particular, there is the influence of the Parthenon Frieze which so enthused him as a student and spurred him to become an artist. In his remarkable sculpture the poetry and lofty dignity of the horse heads draw responses from the viewer that are fundamentally, if unconsciously, rooted in the ideas of the Antique and of Arcadia, yet remain strangely Contemporary. The still simplicity and almost spiritual calmness of the pieces strikes a chord with all who see them.2
It is important to see these magnificent scuptures in context and insitu so please check out these images by following the bookmark links.
And now enjoy meeting Nic Fiddian-Green in his studio/workshop as he talks about his scultpures and horses.
To learn more please follow this link to the website of Nic Fiddian-Green.
Very soon I will show you my favourite artistic representation of a horse.
Credit
1. en.wikipedia.org
2. nicfiddiangreen.com