In line with getting a new website I am changing the format of the blog. Starting today (Saturday) the weekend will be a rest period for me and also for you: a time to rest, relax and reflect.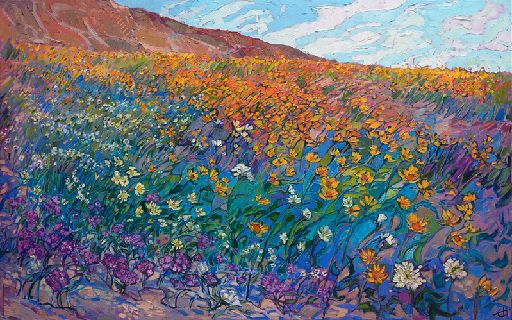 (Credit: https://www.erinhanson.com/Portfolio)
Back to the format of the Blog which I am going to arrange according to the days of the week.  
Monday: Inspiration
Monday's blog will aim to motivate you to be creative and to inspire you to want to know more about the world of art. Mondays are often downdays for some and the blog will aim to get you up and going!  
Tuesday: Learning
Tuesday's blog will aim to teach new ideas about all things art. Of course amongst my subscribers there is a great range of knowledge so what might be new to some might be well known by others. In the latter case you can use Tuesday to check your knowledge against what is being presented in the blog and comments are most welcome.
Wednesday: Reinforcement
Wednesday's blog will aim to reinforce and extend the learning from Tuesday. This will be the day we apply some of our new learning.
Thursday: Challenge
Thursday's blog will set a challenge for you in some way such as in terms of the way you perceive the world of art. Imagine you are in a gym working on getting fit- this is the day you lift that heavier weight! Please send in difficult questions we could discuss. To keep our minds and bodies active we need to be challenged mentally, emotionally and physically. So don't be surprised if I tell you go for a walk to find an object of a certain description. Or I might challenge you to make a sculpture from that pile of dirty washing!
Friday: Unrestrained
Friday's blog will be our naughty day when we don't follow the rules. It will be like when I first started life as a fledgling academic: we never ever worked on a Friday afternoon! Yes, we spent it drinking in the pub! So the Friday blog will be a little like that.  So if you really want to send me photos of the images you have made in the cappuccino froth (you have made, not the barista!!) - this is the day to do it!
Saturday and Sunday: Rest, Relaxation, Reflection
The blog over the weekend will feature an image to make you feel good about the wonderful world we live in. Please continue to send in images of your favourite scenes to share with fellow art lovers.
I want to thank my Web designer Matt Cameron for suggesting I come up with this type of format. If you are  interested in furthering your knowledge about social media you can follow Matt on Twitter using the handle @mattcameron.