In 2019, I had the pleasure of visiting the Munch Gallery in Oslo Norway.
Edvard Munch (12Dec1863 – 23Jan1944) was a Norwegian Painter, whose best known work, The Scream, has become one of the most iconic images of world art.
Munch's childhood was overshadowed by illness, bereavement and the dread of inheriting a mental condition that ran in the family. Studying at the Royal School of Art and Design in Kristiania (now Oslo) he began to live a bohemian life under the influence of nihilist Hans Jæger, who urged him to paint his own emotional and psychological state ('soul painting'). From this would emerge his distinctive style.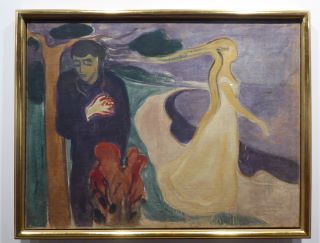 In Separation (above), Munch depicts his own affair with Millie Thaulow
(1860-1937) who was married to his third cousin. Inspired by his own unhappy
love affairs, here Munch paints a couple who are in the act of parting from each
other. The scene by a beach in a kind of sinuous landscape was recreated many
times during his career.
Travels brought new influences and new outlets. In Paris, he learned much from Gauguin, Van Gogh and Toulouse-Lautrec, especially their use of colour. Wandering through the exhibition I likened some of the paintings to Van Gogh's works - for example the background on this portrait.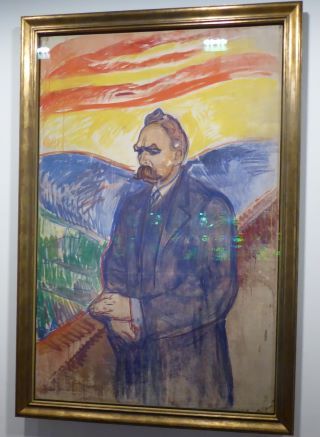 His legendary work The Scream was conceived in Kristiania. According to Munch, he was out walking at sunset, when he 'heard the enormous, infinite scream of nature'. That agonised face is widely identified with the angst of modern man. Between 1893 and 1910, he made two painted versions and two in pastels, as well as a number of prints. One of the pastels would eventually command the fourth highest nominal price paid for a painting at auction.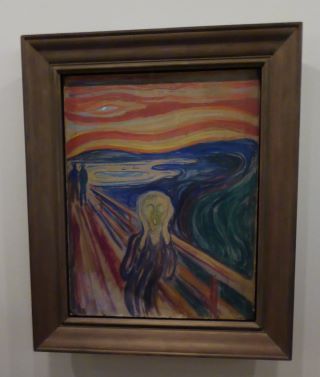 As his fame and wealth grew, his emotional state remained as insecure as ever. He briefly considered marriage, but could not commit himself. A breakdown in 1908 forced him to give up heavy drinking, and he was cheered by his increasing acceptance by the people of Kristiania and exposure in the city's museums. His later years were spent working in peace and privacy.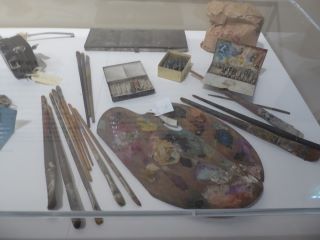 At the outbreak of WWII, Munch was worried, should the Germans invade Norway, what would happen to his life's work, which were scattered throughout his home, his studio and outbuildings. With no wife or immediate family he bequeathed all the art in his possession to the City of Oslo. This comprised some 28,000 pieces; probably the largest collection ever donated by a single artist. Today I had the chance to view 60 of his paintings, along with drawings etc.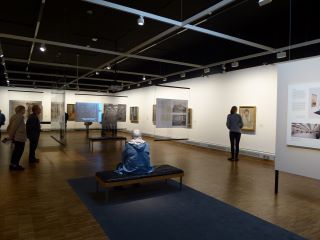 After Munch's death, work commenced on cataloging and moving his collection. Several canvases were damaged by wind, rain and/or sunlight; some had stains and rips. Munch's friends and acquaintances told how Munch deliberately exposed the paintings to the elements, which created challenges to preserve the collection. Should the damage be repaired or not? We still don't know whether Munch stored his paintings outdoors as part of his artistic process or due to lack of space. Even today 14 conservators and technicians work on preserving and researching Munch's artworks.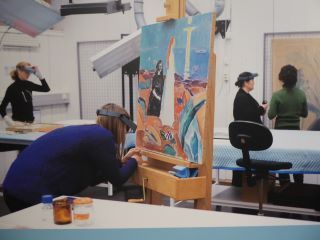 The Scream is one of art history's most well know images. There are two painted versions of The Scream, one is owned by the Munch Museum; the other by the National Museum of Art Architecture and Design. The motif was widely discussed already in his lifetime and a nail hole at the top of this version tells us that Munch kept it out on display.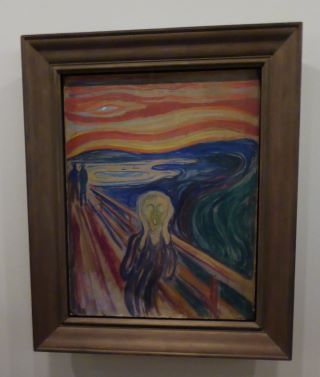 The theft of this painting as well as of the Madonna (below) in 2004 brought home to Norwegians the work's uniquely iconic status in art history and popular culture. Thankfully the two paintings were recovered two years later in 2006.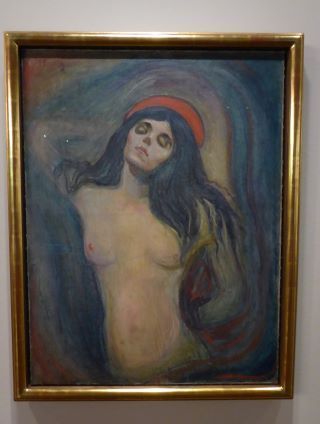 Madonna is one of the Munch's most popular but also most controversial images. He produced both paint and canvas and print (lithograph) versions.
It is disputed whether the sensual depiction of a woman was intended to be Mary but the work was a best seller and at the same time caused controversy during Munch's life time.
Nearly 300 impressions of the print exist today of which around a third are owned by the Munch Museum. During the robbery in 2004, the painting was brutally wrenched out of its frame causing several rips and holes. This damage has not reduced the power of the image, in fact quite the opposite. Munch himself said that a good painting with 10 holes was better than 10 bad paintings without holes.
It takes some time to absorb the works and life of such a complex artist, of whom I knew little until today. As you can see from just some of the posters below, he has captured a worldwide interest.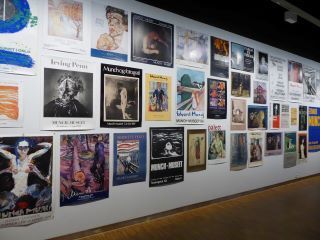 Credits: all text taken from Wikipedia and the Munch Museum.
All images are my own photos.