Monday's Feature Art Work: Lake George Reflection by Georgia O'Keeffe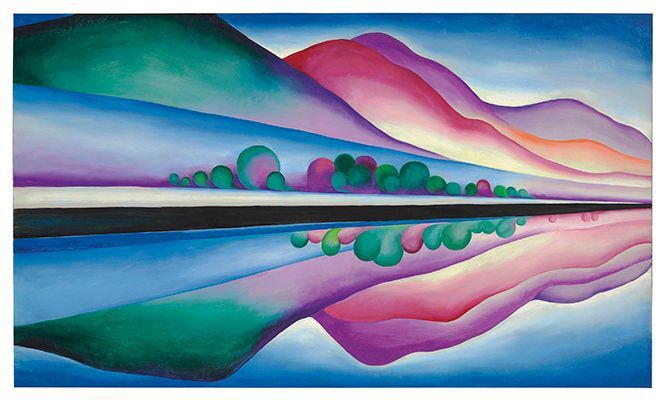 I have chosen this painting for today's art work because it challenges our belief that there is only one way to view a painting - only one way that a painting can be displayed.
Painted 1921-22, the first time Georgie O'Keeffe exhibited Lake George Reflection it was hung vertically.
The painting (147.3cm x 86.4cm) sold in 2016 for USD 12,933,000.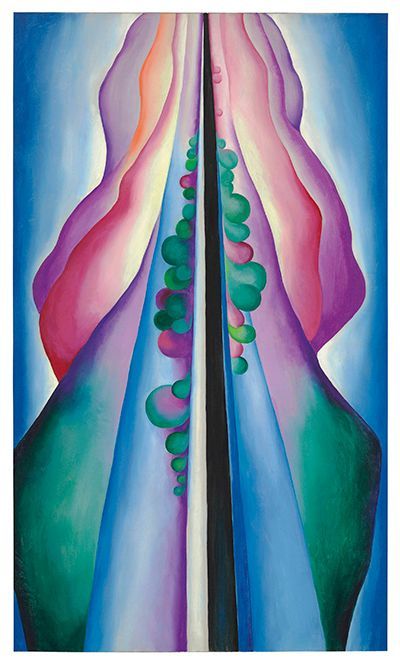 Lake George Reflection was inspired by O'Keeffe's frequent visits to the family home of Alfred Stieglitz. This work continues in the tradition of earlier Hudson River School painters inspired by the sublime topography of the region, but interpreted in O'Keeffe's avant-garde style of abstraction. The painting can be viewed either vertically or horizontally and this ambiguity of orientation creates a work that is at once highly representational and wholly abstract. First exhibited in 1923 by the artist at the Anderson Galleries, the work was hung vertically, encouraging anthropomorphic comparisons most closely relating to her magnified flower imagery, which she was simultaneously exploring. 2
Georgia Totto O'Keeffe (1887–1986) was an American artist. She was known for her paintings of enlarged flowers, New York skyscrapers, and New Mexico landscapes. O'Keeffe has been recognized as the Mother of American modernism.1
I am sure we will return to study more of the works by this inspirational artist. But in the meantime, follow this link if you would like to read more about Georgia O'Keeffe.
Credits:
christies.com
curiator.com
What do you think of Lake George Reflection by Georgia O'Keeffe? Please leave comments below if you are a Facebook user.