Misaki Kawai: a love of fluffy and wobbly things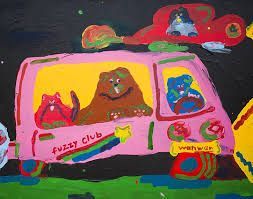 In line with our recent run on children's art it is time to introduce you to Misaki Kawai, a Japanese artist whose works appeals to children of all ages.
Misaki Kawai (born 1978 in Ōkawa, Kagawa, Japan) is a Japanese artist. Her work has been shown extensively in the United States. "Her father was an architect and amateur painter and her mother made clothing and puppets" Kawai creates installations out of papier-mâché, wood, fabric, and other low-tech, "crafty" materials like felt, stickers, and yarn. She shuns expertise and uses an anime method called heta-uma that "risks amateur aesthetics by embracing basic expression". Kawai's artist book, Blueberry Express, was published by Nieves Press in 2009. 2
Here are some of the creatures created by Kawai.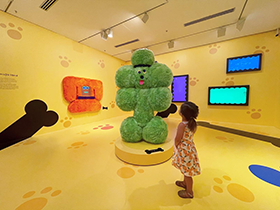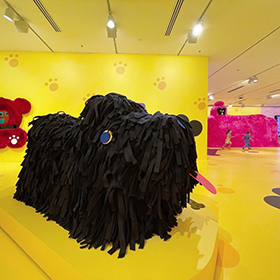 Watch the video below and learn a litle more as Misaki Kawai explains her concept of her art works.
And as she emphasises: everyone can be an artist.
To see more of Misaki Kawai's art works Click Here.
If you live in Victoria and especially Melbourne there is an exhibition workshop for children by Misaki Kawai at the National Gallery of Victoria until 18 April 2021.
Misaki Kawai's Moja Moja Life: Misaki Kawai for Kids is an indoor playground featuring a display of colourful, furry sculptures of dogs and a puppet studio. With a love of mimetic word pairings spoken in the Japanese language, such as moja moja which means 'hairy', and an interest in children's creative play and making, Misaki shares her playful approach to creating art and her affinity for fluffy dogs with NGV's young visitors.
Misaki describes her style of making art as heta-uma. This Japanese term translates to 'bad but good', and prioritises a good idea over skill or perfection. In Japan, heta-uma imagery can be seen in advertising and packaging as well as pictures in newspapers. Today Misaki exhibits all over the world, delighting visitors with her bold and colourful paintings, sculptures and drawings. Misaki invites you to visit Moja Moja Life, her first installation in Australia. 4
For further details Click Here.
Credits
1. itsnicethat.com
2. en.wikipedia.org
3. melbournewithkidz.com
4. ngv.vic.gov.au