Melbourne Havelock Hardwick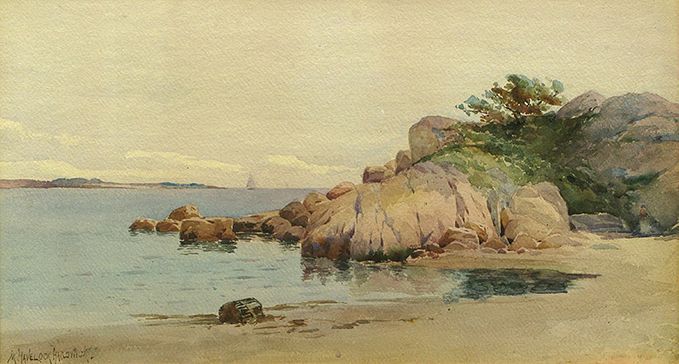 My Melbourne place name posts are going to conclude with an artist who carried the name Melbourne - namely Melbourne Havelock Hardwick.
Melbourne Havelock Hardwick was born in Digby, Nova Scotia in 1857 and died in Waverley Massachusetts in 1916.
Melbourne Hardwick never lived far from the sea, as he maintained residences on Boston's waterfront and spent time along Massachusetts' coastal North Shore and at European seaside destinations.2
He studied in both Boston and Europe under Triscott, Luyton and Blummers, and frequently returned to such locales as Holland, England and Nova Scotia later in his career.2
These seascapes definitely have the feel of The Netherlands about them confirmed by the title of one: Fishermen and shells gatherers on the beach of Katwijk. Katwijk is situated in the mid-western part of The Netherlands.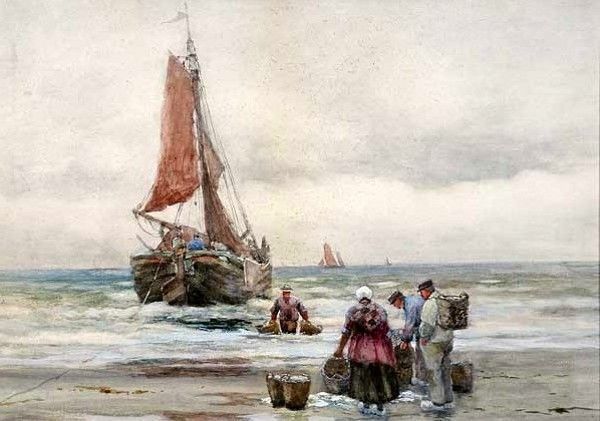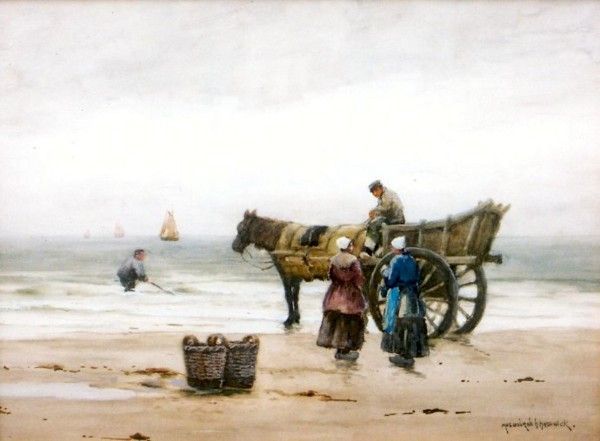 While Boston was Hardwick's primary home, William Gerdts in his text Art Across America lists him as one of a collection of artists who did not just visit Gloucester on summer excursions, but resided in the town for substantial parts of the year. He exhibited his Gloucester themed watercolors and oils with the Boston Art Club annually from 1888 until 1909, the National Academy of Design (1891-1893), the Art Institute of Chicago (1891-1910) and the Pennsylvania Academy of the Fine Arts (1890-1901).2
Both these two paintings below are set in Massachusetts.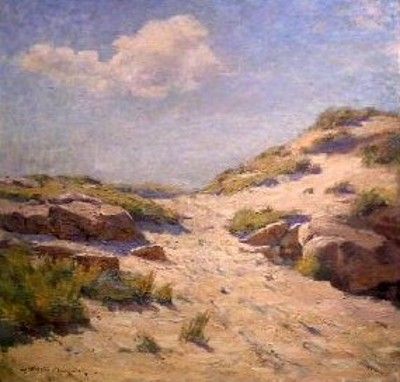 And below is a similar scene which has a feel of The Netherlands about it.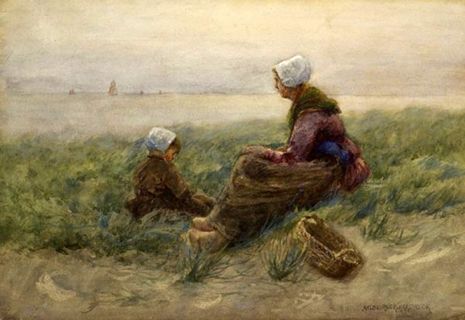 Known primarily as a watercolorist of landscapes, Hardwick's submissions to these exhibitions account for his broad talent and also include a selection of figurative and genre scene. 2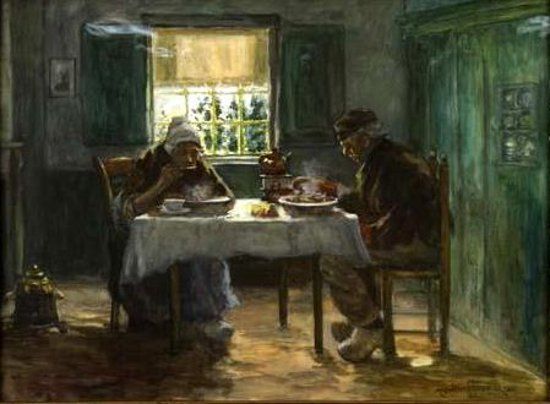 A further couple of paintings represent Melbourne Hardwick's view of Europe and his skill in capturing the different experiences of light.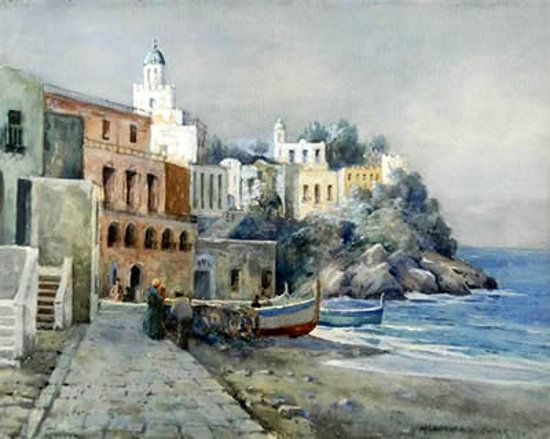 His presence in local and national exhibitions made him a prominent member of Boston's art community, and he maintained membership to the Boston Society of Watercolor Painters and the Boston Art Club. Hardwick was also a member of the Connecticut Academy of Fine Arts and the Salmagundi Club in New York.2
Melbourne Hardwick was a most accomplished artist and I do love his marine scenes and those following the genre themes popular with the Dutch and Flemish painters. But the showstopper must surely be Melbourne's painting titled The Grand Dame (below).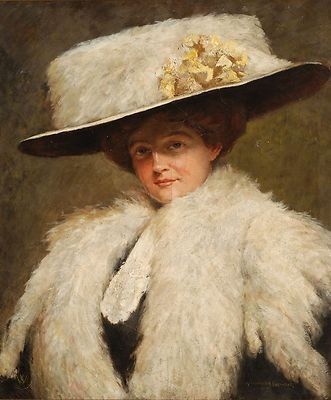 ...this portrait speaks volumes. It is as magnificent as it should be for what seems to be the artist's personal best work. It is amazing how he captured both detail and personality in his impressionistic style, maintaining total integrity to a woman who obviously accepts nothing but the BEST...
Our guess is this was a portrait done in and around Boston when he was a member of the Boston Art Club - William Merritt Chase, Winslow Homer, John Singer Sargent, Edmund H. Garrett, Frank W. Benson, Edmund Charles Tarbell and virtually every major National and International Artist sent paintings for the many shows. The colors are simply breathtaking! This portrait was rumored to be of Isabella Stewart Gardner who was a fantastic patron of the Boston Arts Club for many years, but we could not find any solid verification of that. She does have that wonderful "seen it all, done it all, know it all" look though. The huge fluff of her white fur against the bright yellow feathers in her hat are as grand as she is. This was truly a very glamorous woman.4
If anyone has more information about Melbourne Havelock Hardwick please send it to me via the return email that accompanies each daily AnArt4Life post.
Credits
1. commons.wikimedia.org
2. vosegalleries.com
3. americangallery19th.wordpress.com
4. worthpoint.com