May Morris & Celebrating Female Artists for International Women's Day
Growing up as the younger daughter of the Pre-Raphaelite artist and designer William Morris and his wife, artist model and embroiderer Jane Morris, you would expect her to be great. And Mary "May" Morris (1862–1938) was. Therefore I have chosen her to be our female artist to celebrate International Women's Day.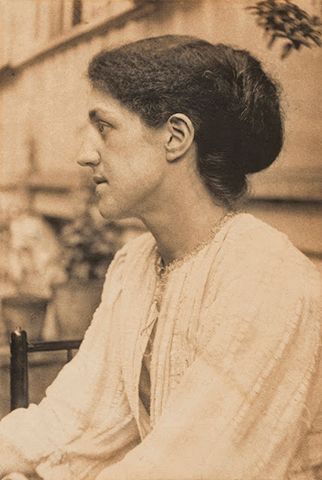 May Morris was an English artisan who had a successful career as a designer, maker and exhibitor of embroidery and jewellery and became a leading contributor to the Arts & Crafts Movement. Here is one of her embroidery patterns that were often filled with flowers, birds and biblical scenes.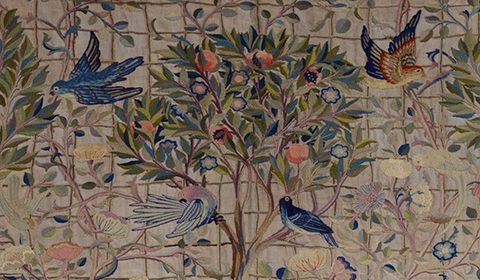 May studied textile arts at the South Kensington School of Design, and ran the embroidery department of her father's famous firm Morris & Co.from 1885 when she was only 23. She also taught embroidery at the LCC Central School of Art, London from 1897 until 1910. She was Head of the Embroidery Department from 1899 until 1905. She also taught at Birmingham, Leicester & Hammersmith Art Schools. Here are more examples of her beautiful work.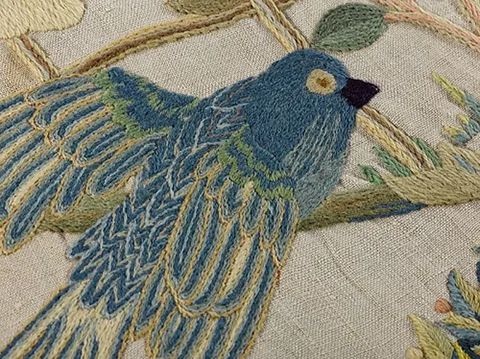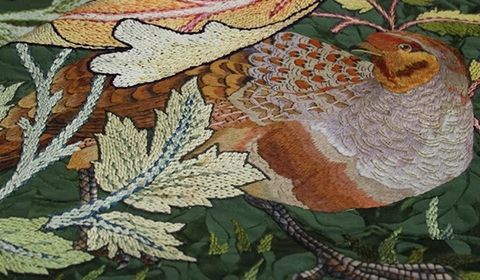 And May at work in her home in Hammersmith, London.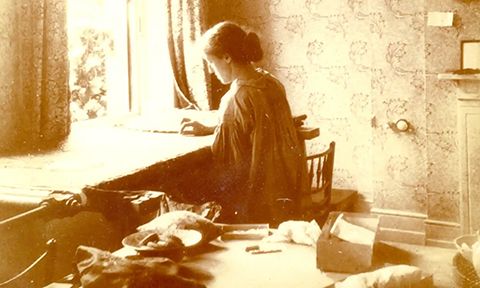 In 1909 May Morris began a 5 month lecture tour of USA on the Arts & Crafts Movement. To her surprise she became caught up in the Women's Rights Movement, becoming an outspoken advocate for trade unions and guilds for female textile artists. Along with Mary Elizabeth Turner May had, however, already founded in 1907 the Women's Guild of Arts as the Art Workers Guild did not admit women.
The image below is an example of May's jewellery displaying the suffragette colours of purple for dignity, white for purity and green symbolising hope for the future.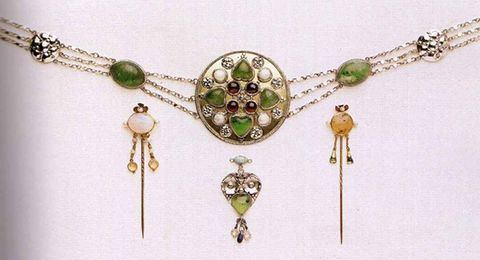 Unfortunately there can be no doubt that her famous father overshadowed her accomplishments which included, along with embroidery, jewellery and wall paper tiles, wall hangings and bed curtains.
Not to take from the brilliant work of William Morris, we must also acknowledge his talented daughter whose embroidery was innovative and influential. She also designed wallpaper and here we see her Honeysuckle design.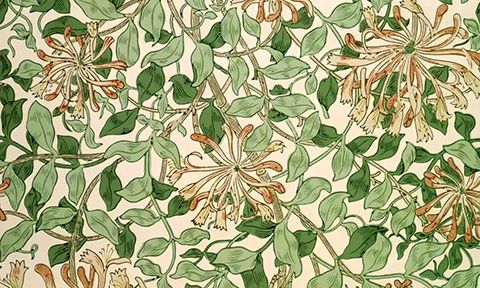 For those of you who are interested in embroidery, here is an excellent article to read, titled May Morris Art & Life Exhibition.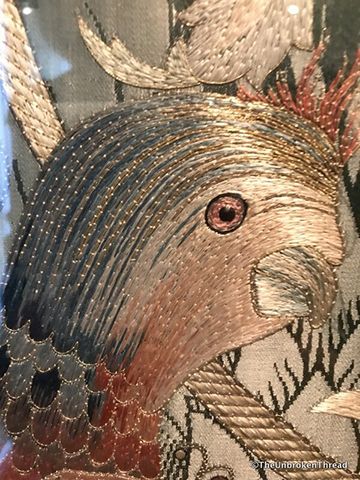 Each panel has two large parakeets which are embroidered in silk thread. The stitch appears to be a tapestry stitch - or long and short shading. It's as if she is drawing with coloured pencils that are made of thread! This is shading of the highest quality and skill. There are also some gold threads which have been couched down with silk (I assume) to highlight parts of the design. Again, not complicated but brilliant!6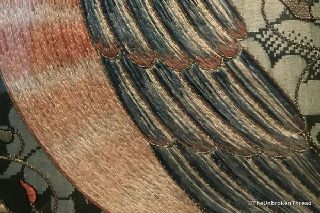 In 1890 May married Henry Halliday Sparling (1860–1924), Secretary of the Socialist League. Unfortunately the marriage broke down as a result of May's affair with playwright George Bernard Shaw.
There can be no doubt that May lead a privileged life surrounded by her mother and father's famous friends. A painting of her by Gabriel Rossetti demonstrates her obvious beauty and sensitivity.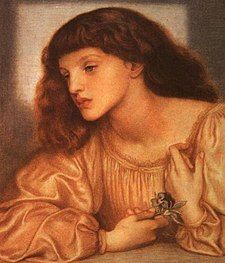 May Morris left Kelmscott Manor to the University of Oxford on the understanding that no modern innovations, improvements or installations be put in or made to the House in view of its age and its historic interest as the Home of the late William Morris. She also donated examples of William's designs to the Victoria and Albert Museum.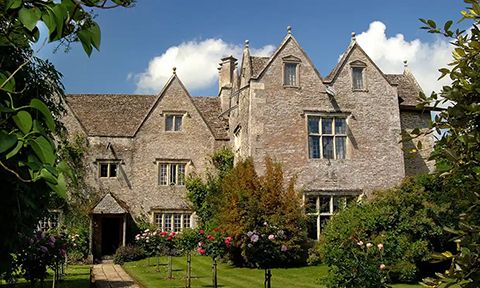 It is sad that May Morris didn't seem to realise that her own work and talent also needed to be preserved. On this International Women's Day let us give credit to her for the outstanding contribution she made to embroidery as an art form and to the broader field of textile art.
And to conclude is a piece of embroidery designed and executed by May Morris, titled quite remakrably - Australia.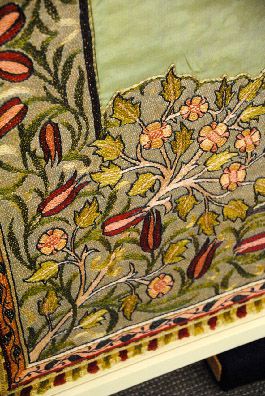 In recognition of International Women's Day, tomorrow I am going to share with you with an Australian woman who couldn't paint or embroider but who was probably the first person to use street art for political purposes. She was a friend of George Bernard Shaw so must have known May Morris. You will have to wait until tomorrow to learn who she is and what she got up to.
Credits
1. morrissociety.blogspot.com
2. selvedge.org
3. ft.com
4. theguardian.com
5. ar.pinteret.com
6. theunbrokenthread.com
7. pinterest.com
8. williammorrisandmichele.blogspot.com