May Morris - much more than her father's daughter
Growing up as the younger daughter of the Pre-Raphaelite artist and designer William Morris and his wife, (artist, model and embroiderer Jane Morris), you would expect May to be great. And Mary "May" Morris (1862–1938) certainly was!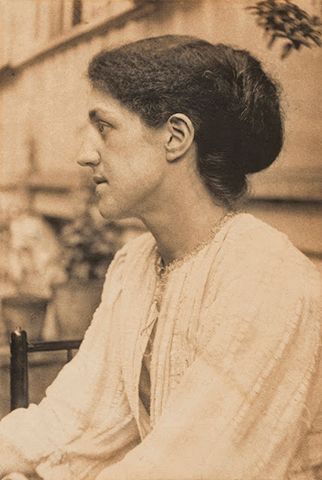 May Morris was an English artisan who had a successful career as a designer, maker and exhibitor of embroidery and jewellery and became a leading contributor to the Arts & Crafts Movement, just like her father.
Here is one of her embroidery patterns that were often filled with flowers, birds and biblical scenes.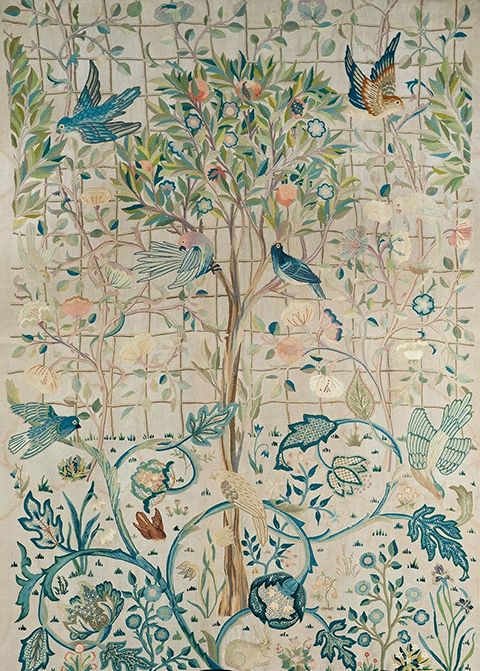 As we know from the recent post about Jane Morris, May was taught to embroider by her mother, Jane, and her aunt, Bessie (Jane's sister). May then went on to study textile arts at the South Kensington School of Design. She went to work for her father's company Morris and Co, and ran the embroidery department there from 1885 when she was only 23. That's talent for you!
She also taught embroidery at the LCC Central School of Art, London from 1897 until 1910. She also was Head of the Embroidery Department there from 1899 until 1905. She also taught at Birmingham, Leicester & Hammersmith Art Schools.
Here are more examples of her beautiful jewellery and embroidery work.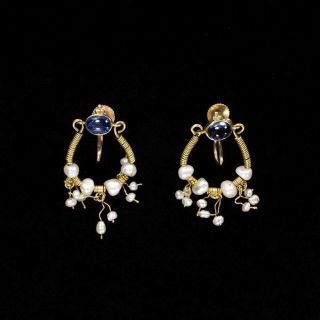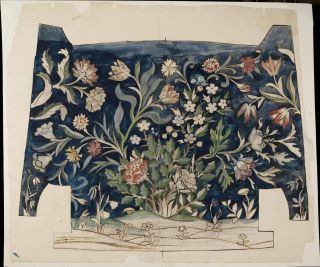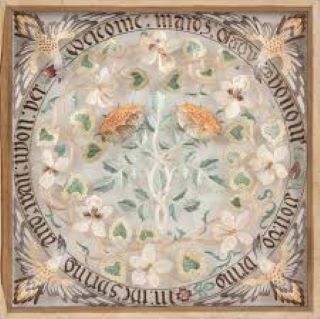 There can be no doubt that May led a privileged life surrounded by her mother and father's famous friends, such as Gabriel Rossetti, Edward Burne-Jones, Phillip Webb the poet Robert Browning, and the artists Arthur Hughes, Thomas Woolner, and Ford Madox Brown. But May was very intelligent, and being present at many of their wide ranging artistic and social discussions no doubt influenced her own thinking, so she grew up to be a confident and rather outspoken woman.
A painting of her by Gabriel Rossetti demonstrates her obvious beauty and sensitivity.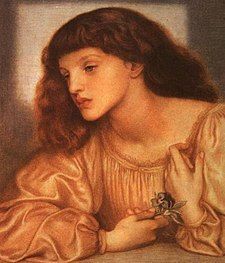 This article from The Guardian provides some insights to the sort of person May was, as detailed in her own beautifully handwritten written and bound journal - click here.
An energetic and forthright person, May was introduced to politics through her father's own activism and socialist views. In 1907, along with Mary Elizabeth Turner May founded the Women's Guild of Arts as the Art Workers Guild did not admit women.
In 1909 May began a 5 month lecture tour of USA on the Arts & Crafts Movement. Though it wasn't her intention, she became caught up in the Women's Rights Movement there too, becoming an outspoken advocate for trade unions and guilds for female textile artists.
The image below is an example of May's jewellery displaying the suffragette colours of purple for dignity, white for purity and green symbolising hope for the future.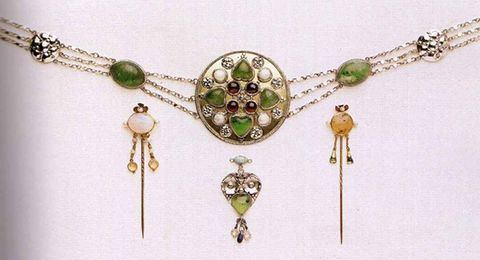 Unfortunately there can be no doubt that her famous father overshadowed May's own accomplishments which included, along with embroidery, jewellery and wall paper tiles, wall hangings and bed curtains. As mentioned in a previous post, much of May's designs and work were attributed to her father, and produced in the name of Morris and Co, rather than her own name.
Not to take from the brilliant work of William Morris, we must also acknowledge his talented daughter who also designed wallpaper. Here we see her Honeysuckle design.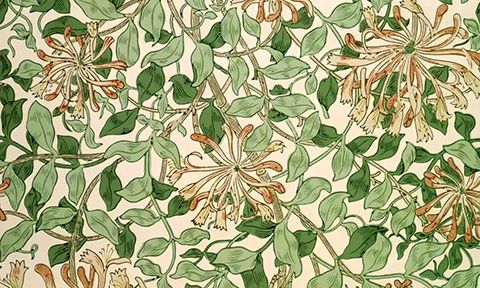 In 1890 May married Henry Halliday Sparling (1860–1924), Secretary of the Socialist League. Unfortunately the marriage broke down as a result of May's affair with playwright George Bernard Shaw.
To gain an appreciation of the detail, shading and designs, here is an excellent article which is well worth reading, titled May Morris Art & Life Exhibition.
After William Morris died in 1896, May continued to work at Morris and Co, but mostly in an advisory capacity. John Henry Dearle, a long serving employee of the comapnay, became head designer, and he and May worked closely together.
May continued to live at Kelmscott Manor after her mother died in 1914 and left the Manor to May and her sister, Jenny.
May greatly admired her father, and spent much time preserving Kelmscott as a memorial to her father and his work. When May herself died on 17th October 1938, (three years after her sister), she left Kelmscott Manor to the University of Oxford in her Will. But this gift was on the understanding that no modern innovations, improvements or installations be put in or made to the House in view of its age and its historic interest as the Home of the late William Morris. If you missed the video on Kelmscott Manor please click here.
May also donated examples of William's designs to the Victoria and Albert Museum, which holds an extensive collection to this day.
It is sad that May Morris didn't seem to realise that her own work and talent also needed to be preserved. But we must give credit to her for the outstanding contribution she made to embroidery as an art form and to the broader field of textile art.
And to conclude is a piece of embroidery designed and executed by May Morris, titled quite remakrably - Australia.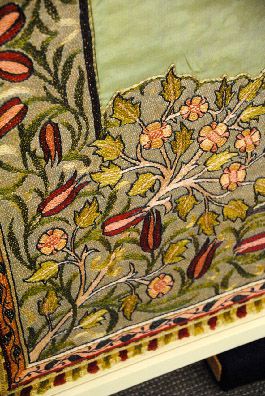 Late Mail
What an exciting week we have had for new subscribers - first we had Barry in Colorado and he has been followed by Miki in Pennsylvania and this morning Phillip in Zimbabwe - the last of which will thrill our friend and artist Tendai Makufa who lives in South Africa but who was born in and grew up in Zimbabwe. Tendai has just completed a new painting which you will see in the next week or so. And a shout out to Monica in Tanzania who hasn't been well and we all wish her a speedy recovery back to better health.