Sharing Christmas with Maud Kathleen Lewis: Candian folk artist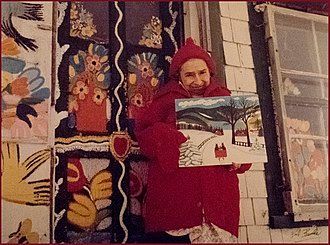 Covid lockdown introduced me to Maud Lewis a Canadian folk artist from Nova Scotia.
Like so many people, this year I have watched a great number of TV series and movies via my loungeroom armchair theatre. A few weeks ago my eye caught the movie title Maudie and curious to find out who Maudie was I gave it a go.
And so Maud Lewis came into my life and I want to share her life with you because Maud Lewis was one of nature's gentle gifts to the art world.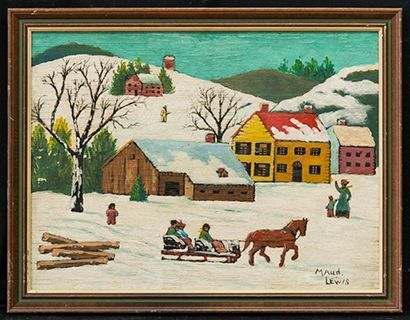 Maud Lewis was born Maud Kathleen Dowley to John and Agnes Dowley in the town of Yarmouth, N.S., on March 7, 1903. Maud lived with her husband Everett Lewis in a small house in Marshalltown, N.S, and drew inspiration from the rural farms, fields and shorelines near her home.
"I paint all from memory, I don't copy much," Lewis once explained before her death. "Because I don't go nowhere, I just make my own designs up."
She spent most of her life in pain from arthritis that left her hands and body deformed, but continued to paint her art. Her masterwork became her colourfully painted home, which is now displayed at the Nova Scotia Art Gallery. Lewis died in 1970.
This year three of Maud Lewis paintings have been chosen to be Canadian Christmas stamps.
And now please enjoy this little gallery of some more of Maud Lewis paintings. I have chosen scenes set in the winter season to reflect the spirit of the Northern Hemisphere Christmas.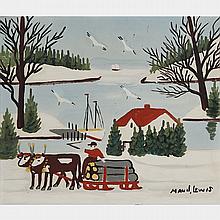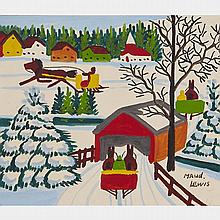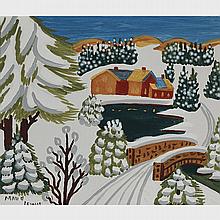 Maudie is a 2016 biographical drama film directed by Aisling Walsh and starring Sally Hawkins and Ethan Hawke. A co-production of Ireland and Canada, the film is about the life of folk artist Maud Lewis, who painted in Nova Scotia. In the story, Maud (Hawkins) struggles with arthritis, memory of a lost child, and a family that doubts her ability, before moving in with a surly fish peddler (Hawke) as a housekeeper. Despite their differing personalities, they marry as her art gains in popularity. The film was shot in Newfoundland and Labrador, requiring a re-creation of Lewis's famously small house. 1
Credit
1. en.wikipedia.org
2. invaluable.com
3. atlantic.ctvnews.ca
4. cbc.ca
5. invaluable.com