Margaret Calvert – Showing us the way
Who doesn't like a road trip, whether it be the narrow lanes in Ireland, Route 66 in the U.S.A or the desert highways in Australia? I am road tripper from way back; give me a long weekend, a map and a 'cassette tape' of my favourite driving songs and I am off!
But have you ever thought what your driving experience would be like without road signs, or perhaps worse, confusing signs? A few samples are shown below! I am sure you will have your own favourites, if so, send them through to us!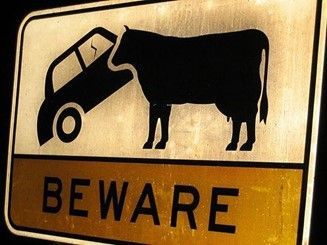 After a recent road trip which I will tell you more about in the coming months, I can particularly relate to this uniquely Australian sign below.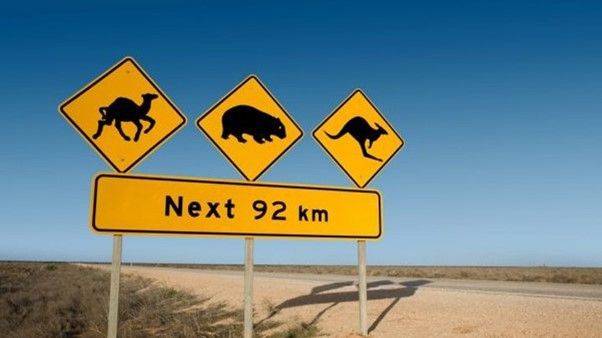 Thankfully, especially for those in the U.K., people like Margaret Calvert are showing us the way. I was introduced to the ground-breaking work of Margaret Calvert via the wonderful BBC arts series 'Secrets of the Museum'.
In 1965, one of the most ambitious and effective information design projects was launched in Britain. The British Road Sign appeared on the streets for the very first time over 55 years ago and has occupied an important role, from instructing us where to go at a safe speed, to making us aware of any hazards or road works. The signs, designed by Jock Kinneir and Margaret Calvert, standardised the road network, creating many of the signs we see today. They produced two new typefaces: Transport and Motorway. The signage system was launched in 1965. 1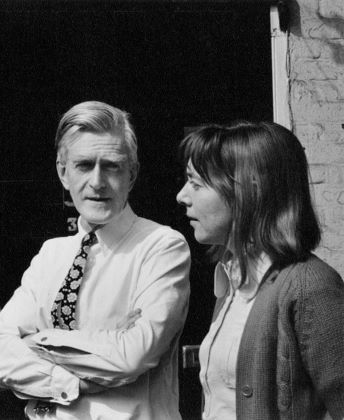 Let's find out a bit more about this trail blazer, Margaret Calvert, below. 2
Margaret, born in South Africa in 1936 and studied illustration at the Chelsea College of Art. While studying, her tutor, Jock Kinneir, saw her immense potential and asked her to assist him in professional projects such as Gatwick Airport. After that success, they were tasked to design signage for all the new motorways in the UK: Margaret was just 21 years old.
The brief was to design signage that could be read and understood at speed. Margaret Calvert and Jock Kinneir caused a stir when they decided to use both upper- and lower-case letters in the designs, rather than the standard block text. But they were onto something — eventually the government decided to implement Kinneir and Calvert's typeface across the whole of the UK transport system. The typeface was named "Transport."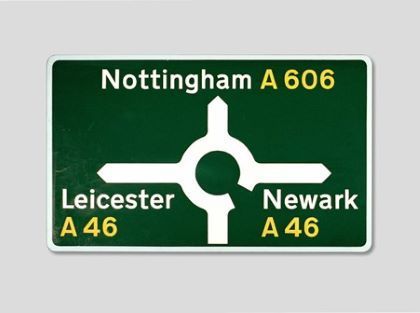 The lettering and sizing were all tested – sometimes using airmen at a field in Oxfordshire as test subjects. They put these signs on a car, and the airmen sat on a platform. They had to say when they could read the word on it as it drove towards them. The picture of the legibility test carried out by the Road Research Laboratory at Benton Airport in 1959 is shown below.1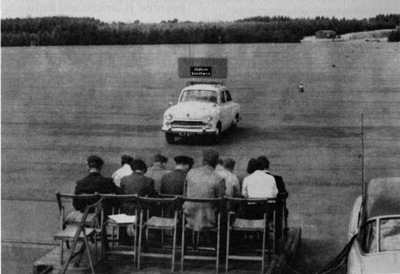 In 1980, Calvert developed the Calvert typeface, which was used on the Tyne & Wear Metro,2 shown below.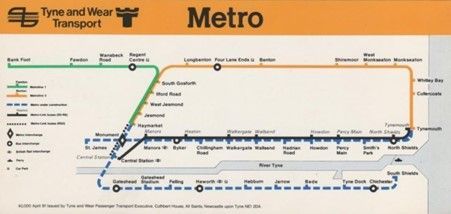 Calvert's illustration background also proved to be an asset and she drew all of the pictograms below.3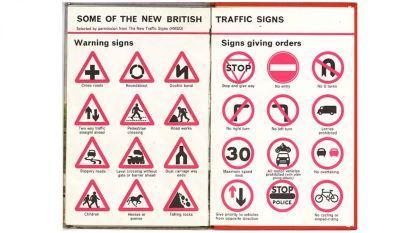 As part of the new road signage system, Margaret would often base the pictogram warning signs on her own memories. The animal signs reminded Margaret of her relatives' Warwickshire farm and the school children crossing sign was modelled on a photograph of herself as a child. This sign looked to be very 'grammar school', so in order to make it more inclusive, she replaced the image of a boy in a school cap leading a little girl with one of a girl with a younger boy.3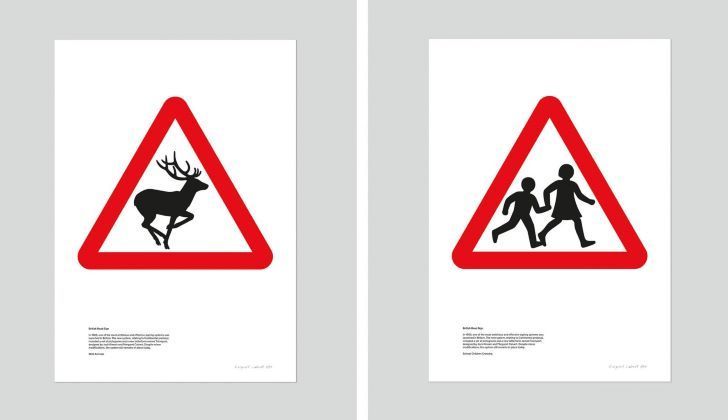 The work Margaret did remained unrecognised for most of her life until recent times. In 2011 she was elected a Royal Designer for Industry, and in 2016 awarded an Honorary Doctorate from the Royal College of Art and an OBE for services to Typography and Road Safety, as well the Misha Black Medal for distinguished services to design education. Most recently, she was awarded the London Design Festival's 2017 Lifetime Achievement Medal.4

In 2017 Margaret was awarded the Lifetime Achievement Medal. The Lifetime Achievement Medal honours an individual who has made significant and fundamental contributions to the design industry over their career.5
And if you like the challenging game of "hhhmmm, do you think we can we park here?" take this quick quiz, courtesy of the ABC - click here.
Footnotes:
1britishroadsignproject.co.uk
2shillingtoneducation.com
3hatchedlondon.com
4jealousgallery.com
5londondesignfestival.com