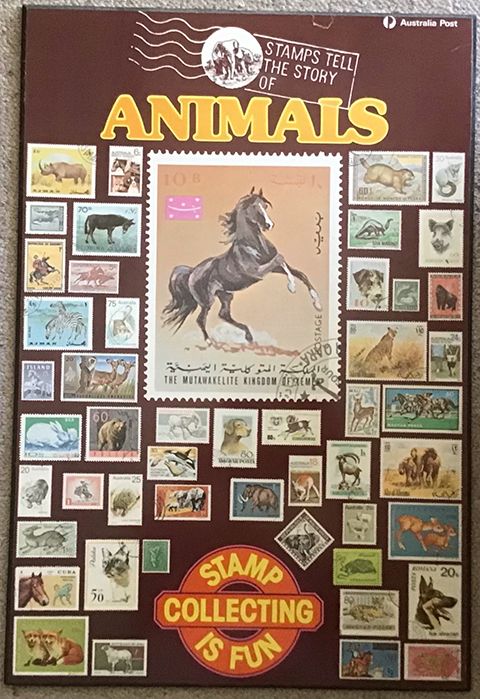 Another of the Advertising Posters for Australian Stamps as provided by H Steve Cook gets us rolling into March Mailbag No 2 for 2023 which is a year which seems to also be galloping along!! No apologies for the pun!!!
Hope you haven't missed the posts in our series on sailing ships as painted by Australian marine artist Robert Carter OAM, FASMA, FISMP. A little while back we showcased the barque James Craig.
Julie loves ships and planes and trains and so I wasn't surprised when she sent in her own photos of the James Craig which she saw when down in Hobart for the Wooden Boat Festival in February 2009…..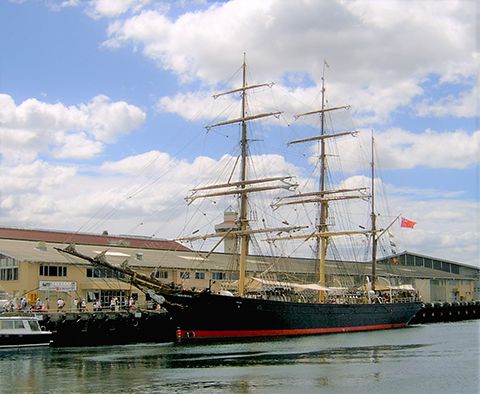 As Julie said: there were SO many boats there, as you can see! It was great! The James Craig is the one at the back with the tall masts, but there are SO many boats it's hard to pick it out!
I also like the one of the "old and the new" – the James Craig beside a huge cruise ship!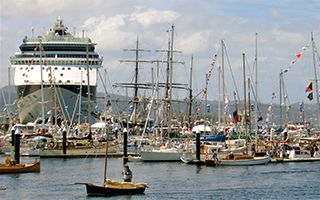 Here is the link to the AnArt4Life post on Bob Carter's painting of James Craig - Final Voyage.

And from ships to farming in Zimbabwe - bought to us through the magical hands of our friend South African artist Tendai Makufa.
Tendai's latest painting is titled Let's Share.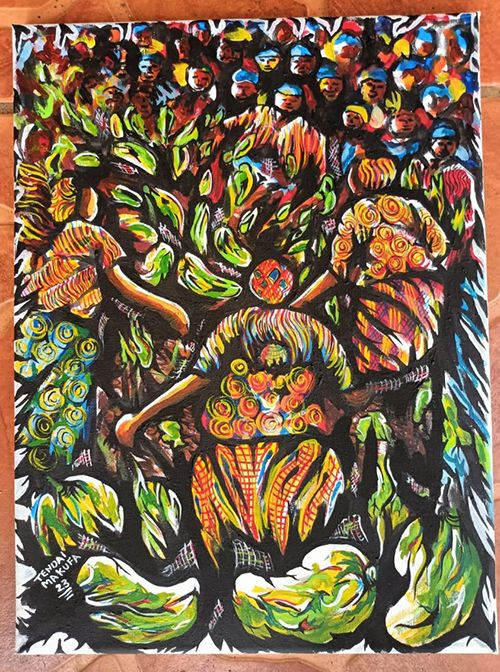 Description:
Artist: Tendai Makufa
Title: Let's share
Medium: Acrylic decorative paint on canvas
Size: 30cmx40cm
Country: Southern Africa (Zimbabwe born)
Explanation:
From Tendai:
Only few individuals can change the "World", as the rest is desperately waiting!!!
In my painting as three great ones are holding all, now smiling and they had decided to share some they have to the rest of ""Povo"" who are a desperate... which gives a great lesson to the World that we should share. This will lead to the creation of a better ""World""🌎 for our future generations.
Next in the mailbag from D our roving reporter in Central Victoria is another remarkable art work but from a totally different perspective.
We have often showcased the sculptures created by Andre Sardone who lives in the Mandurang Valley in Central Victoria, Australia, surrounded by box ironbark forest. Andre creates unique sculptures from predominately waste and reclaimed materials.
Andre has reported thatn: The unveiling of 'Pharmacopia' (see below) at St. John of God Hospital went very well...
This has been a great project, commissioned by Michael McNeill who had a quadruple heart bypass operation 15 years ago and collected every medication packet he has since been prescribed. He asked me to use them in a sculpture and this is the result. It is cram packed full of the three large garbage bags of medication packets. It sits next to the corridor that leads to the Cardiology unit so it is in an appropriate location and is a great reference to the wonders of modern medicine.
This hospital appreciates the arts and hosts regular exhibitions in the atrium where this piece is located. 1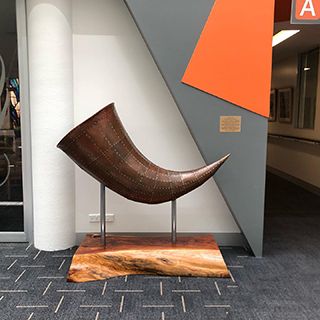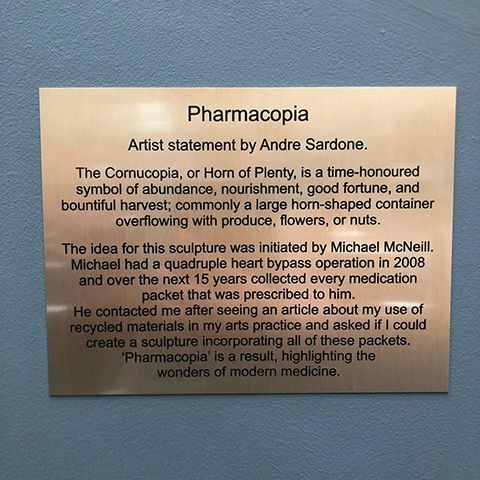 Concluding today with a painting created by HSteve Cook which is a copy of a painting by the Australian artist Mike Barr. I think Steve has done a fabulous job and emphasises the importance and joy to be found in copying.
I always remember on my first trip to Italy being amazed at the large groups of art students sitting in front of and copying famous paintings.
And yes of course it is ok to copy so long as you acknowledge it is a copy and credit the artist who has inspired you.
Watch out for my post on copying coming up very soon.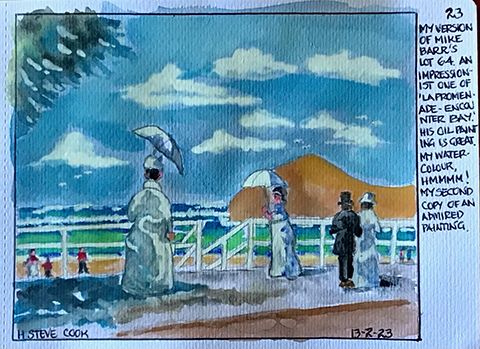 Mike Barr's paintings are wonderful and his motto in painting is: "It's not what you see – but what you feel. "His rainy cityscapes and expansive beachscapes are designed so viewers can enter, not merely look. He believes the camera is meant for detail but paintings are meant to catch the essence of time and place.3
Late Mail
Another new subscriber this week as Willie in Missouri has joined our online community - a very warm welcome to you Willie and we do hope you enjoy the art we have to share.
Credits
1. Andre Sardone Art (facebook.com)
2. andresardone.com/about-me
3. mikebarrfineart.com/about