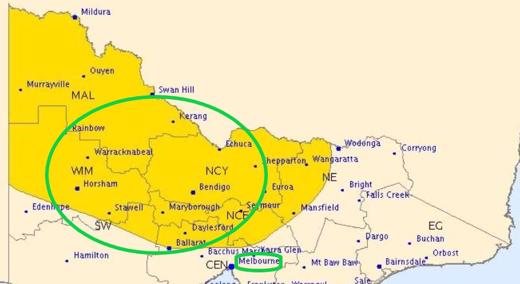 During May I drove approx 1,000kms through country Victoria. A round trip over the Westgate Bridge, skirting Ballarat to Stawell and across the flat land of the Wimmera & Mallee districts, to Rainbow, staying overnight with a friend, then North-east as far as Sea Lake, before heading south, an overnight stop at Bridgewater, calling into Bendigo on the way home to visit the Mary Quant exhibition. The map above gives you an idea of the locations - some of these towns are hardly known to residents of Melbourne let alone our overseas subscribers!
The Wimmera & Mallee covers hundreds of miles of fields with crops of wheat, barley, oats, chick peas and lentils, crisscrossed by railway tracks, the only outcrops innumerable silos used for storing the grain and pulses. These days many form canvasses for mural artists which make up an extensive Silo Art Trail, attracting tourists to the area.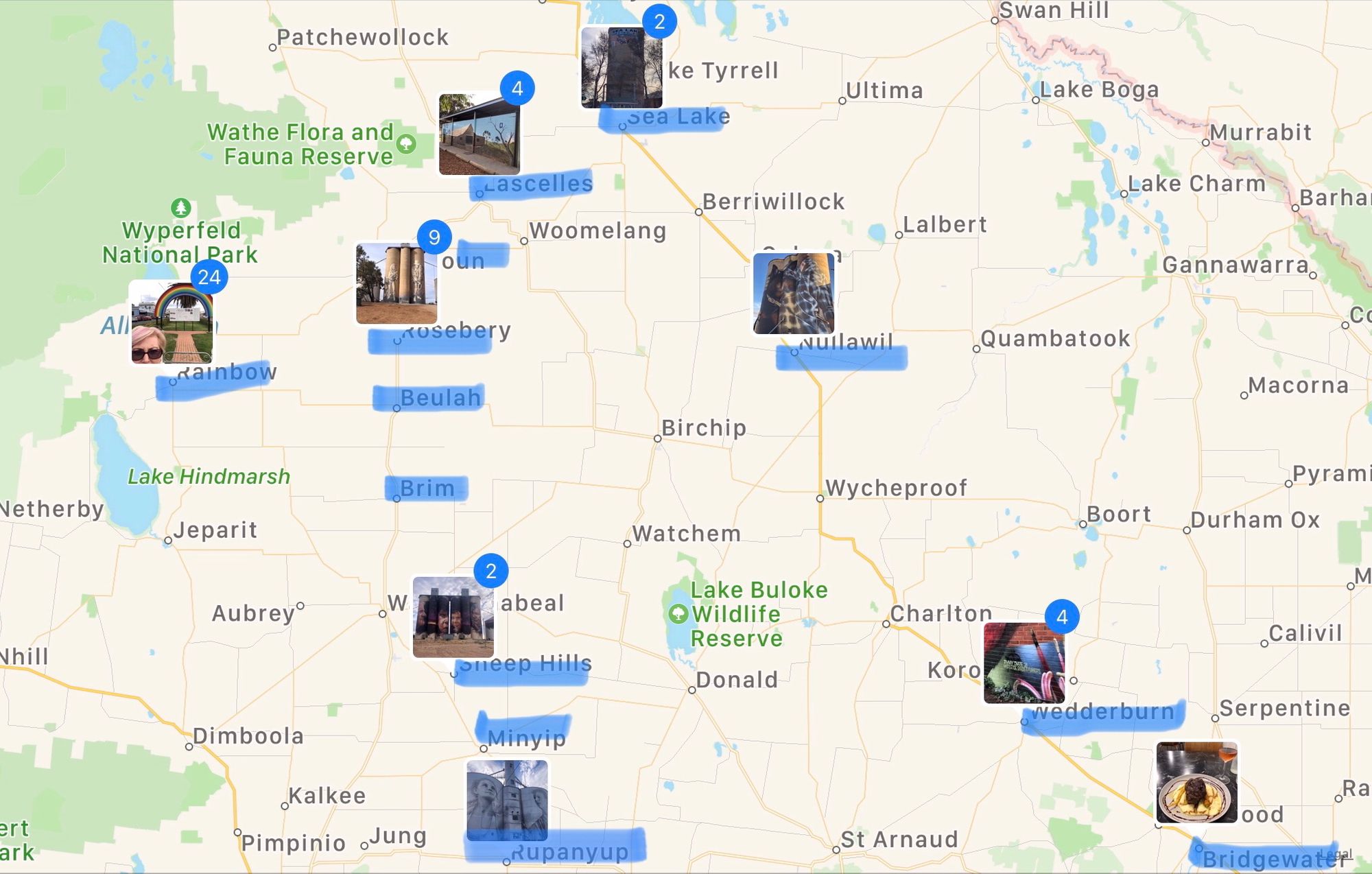 Julie published a post on the Silo Art Trail some time ago: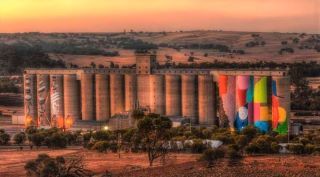 For over a year I'd planned to visit Helen in Rainbow. We met while travelling through Scandinavia in 2018. With a name like Rainbow, it was a place I had to visit! On day 1, I stopped at several silos to admire the painted murals - Rupanyap, Sheep Hills and Brim.
No painted silo in Minyip, but a lovely Lutheran church - the North-West of Victoria is apparently dotted with Lutheran churches, as Germans settled from South Australia in the early 1900s. There isn't much in Minyip, but it is known as the home of "The Flying Doctors", a popular long running Australian TV series in the late 1980s. More recently the town featured in "The Dry", a movie based on the book by Jane Harper and starred Eric Bana.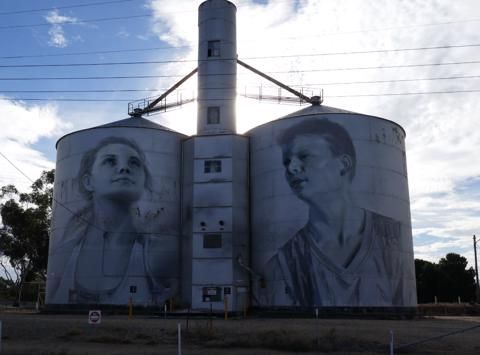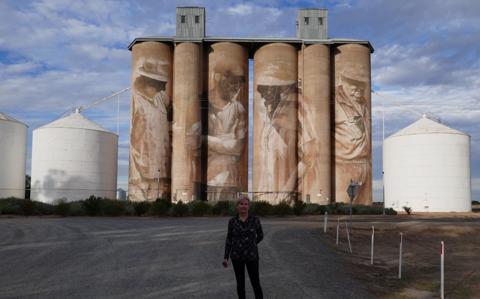 Arriving at Rainbow in the early evening the glorious sunset lived up to the town's name. Helen and her husband Don, live in a beautiful old homestead circa 1910, still in original condition - the pressed metal ceilings still immaculately painted and highlighted with gold.
They welcomed me into their cosy and comfortable home in keeping with the heritage of the house. The kitchen and sewing room though are modern with every convenience – designed by Helen to indulge her skill and passions for cooking and craft work. Trained at the Cordon Bleu school, Helen's meals are a real treat, an exceptional seamstress and a dab hand at making all sort of dolls, bears and soft toys.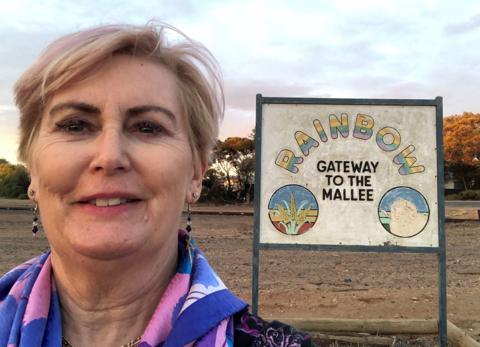 The next morning we awoke to a beautiful sunrise and Helen showed me the town highlights: the centre of the Main Street a wide well-maintained garden, lined with inviting shop fronts. I met Belinda Eckermann, owner of the local art gallery, a talented artist herself and featured on ABC's Backroads. We featured Belinda's work back in 2020 in the September Mailbag.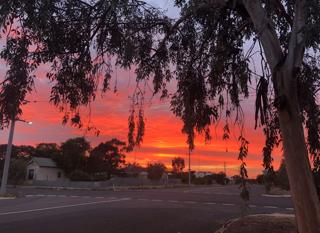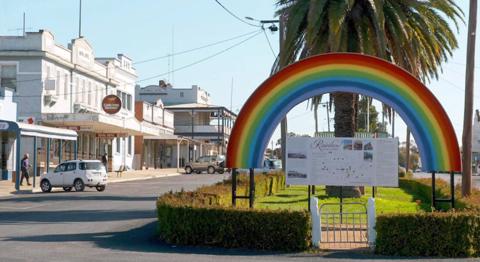 Nearby is Yurunga homestead, built by a successful store keeper family - no expense was spared to impress Edwardian visitors. The underground living room was used by the household during the sizzling summer months. It was acquired by Dimboola Shire in 1969 and opened to the public. It's a similar vintage to Helen's home, however significant renovations are needed and there is an ongoing battle for funding.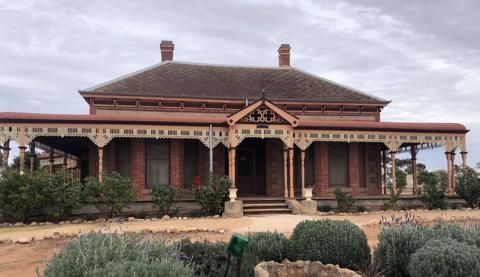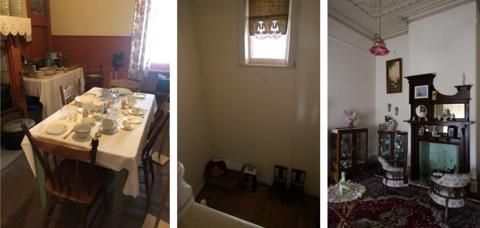 Nearby we stopped at Albacutya silo, which is currently being painted and added to The Silo Art Trail. It rises from the flat land around and can be seen for miles. Tomorrow we will look at this painted silo in more detail - as you can see below only the centre silo has been completed to date.
Rainbow intends installing a lift and viewing platform on one of their silos - a few years away but will be worth a return visit.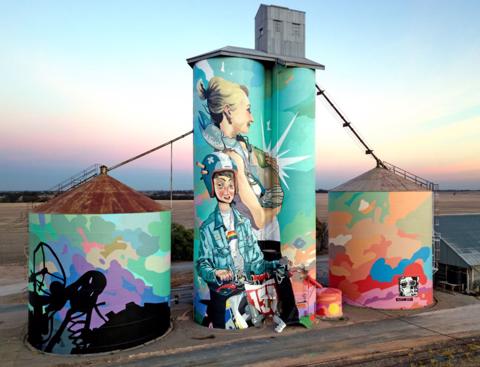 Loaded with Helen's delicious home-made preserves and relish, I set off to view more of the Silo Art Trail, stopping at Rosebery, Sea Lake and Nullawil. All of the murals tell a story, usually of local people and provide an insight into the spirit of the region. I loved them all choosing the silo at Sea Lake as my favourite.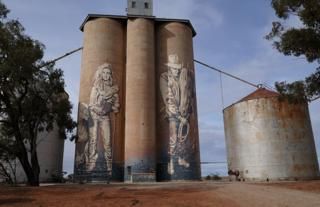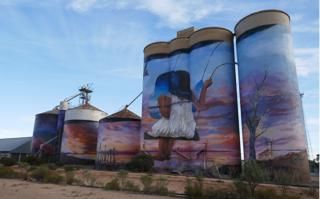 I came across other murals adorning laneways, buildings and even toilet blocks, dotted in places like Beulah and Sea Lake and in Wedderburn a beautifully painted Uniting Church (which was mentioned in our recent Mail bag by D in Bendigo) with matching mural nearby.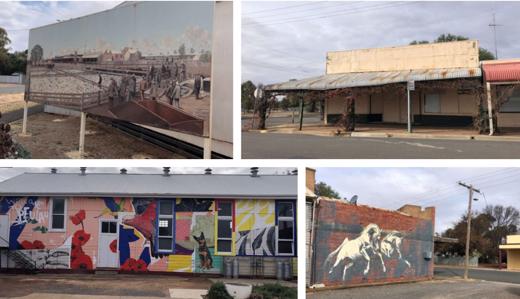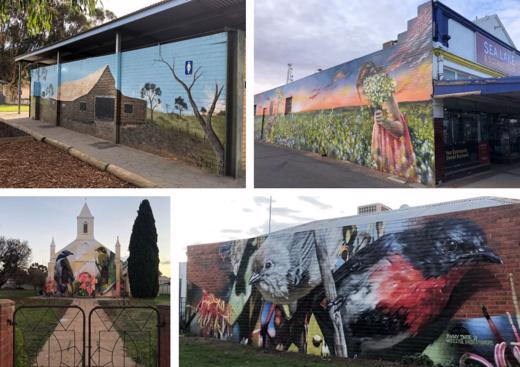 I arrived in Bridgewater just on dusk - it's only a small town, very pretty, located on the banks of the Loddon river, lined with gum trees. I walked along the river bank the next morning to the racket of hundreds of cockatoos – they can be a menace as they completely destroy trees and have been known to even devour window sills!
The main attractions other than water sports and walks on and around the river are the Art Deco pub offering delicious meals and the Bridgewater Bakery renowned for their vanilla slices – having won several awards. We Aussies love our vanilla slices and country bakeries vie for the annual prize – how could I resist? They were indeed delicious.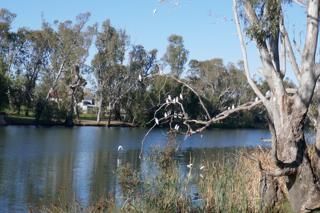 On Day 3, I made my way into Bendigo to view the Mary Quant exhibition exclusively on show in Australia, at the Bendigo Art Gallery from the Victoria and Albert Museum in London. Watch this space for a post on the exhibition - coming soon!
On the way home, I drove through Malmsbury, which is now bypassed by a new freeway - it was good to see their bakery was busy and people were wandering around the curio shops. Geese milled about in the botanical gardens - the autumn colours stunning.
Malmsbury is close to Anne's heart as she taught here for the first two years of her career. It's a very pretty hamlet nestled between the hills close to the Macedon ranges. The town is made predominantly from bluestone and the picturesque Botanic Gardens (below) established in 1850 just prior to the gold rush and the oldest in Victoria.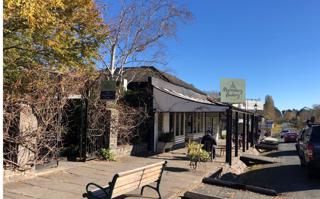 As I approached the smoggy skyline of Melbourne, I reflected on a fabulous 3 days - I saw so much, but feel I have only touched the surface as all of these towns look empty and often derelict, yet underneath filled with interesting mysteries and locals with wonderful tales to tell. I hope to visit these areas again later in the year.
Credits
All photos are my own, unless otherwise stated.
Thank you to Helen for her generous hospitality on my visit to Rainbow and for allowing me to include some highlights of her home and passions in this post for AnArt4Life.

Also a very warm welcome to Charles in Australia - our latest subscriber to sign up to the blog.