Magnificent Moorcroft - Part 1 !
Today I am writing about my favourite of all the Staffordshire potteries – Moorcroft. It has produced what is known as "art pottery" (decorative vases, dishes, jugs and lamp bases), continuously since 1913.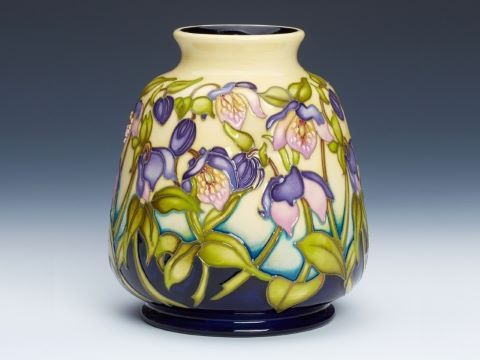 Four generations of my family have known and appreciated Moorcroft, starting with a wedding present to my grandmother in 1925.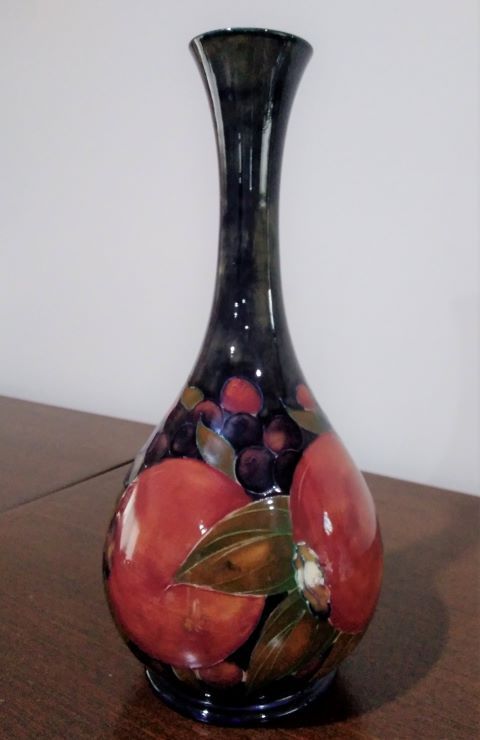 I have to say that I like Moorcroft for it's beautiful designs too, but I also very much admire that it has been able to adapt to changing tastes, survive tough times, and reinvent itself many times, without losing sight of its original roots and heritage. Moorcroft has been able to remain relevant and collectable whilst maintaining strong links to the designs and processes of its original founder, William Moorcroft.
It's one of the few, if not the only, Staffordshire pottery that has managed to survive and thrive, despite the downturn in pottery popularity in the 1980s and beyond, which saw many other Staffordshire potteries amalagamated, rationslised and sold to offshore interests, as we've seen in a number of my previous posts.
Moorcroft is still in it's original premises, with a long serving, and loyal workforce. It occupies a unique niche, with a dedicated following of collectors around the world. That's not to say that there has not been extremely difficult times, but I think the quality of the product has endured.
William Moorcroft was born in 1872, and started worked at James MacIntyre's in Burslem, Stoke on Trent in 1897, aged 25. He was very talented and was soon in control of the MacIntyre Art Studio as head designer, and was allowed to sign the pieces himself under the MacIntyre name.
But inevitably there were artistic clashes and in 1912, William Moorcroft decided to strike out on his own. Liberty's of London loaned him the money to establish a factory in Sandbach Road, Cobridge, Burslem. This is still the place where Moorcroft is produced today. William maintained a lifelong relationship with Liberty's, but worked hard to repay their loan by the early 1920s.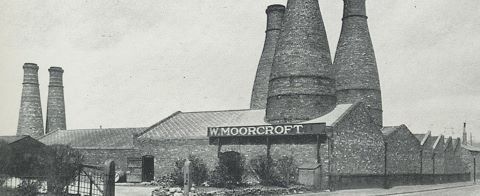 William Moorcroft was greatly influenced by William Morris, a very famous textile designer of the time. Whilst at Macintyre's, William had developed a proprietary, very shiny clear glaze which brought out the colours of his hand painted pieces, together with a unique "slip trailing" method which created raised edges defining the outlines of his wonderful designs.
It seems William was a very single minded and driven designer and stayed true to his own philosophy throughout his life, as did his son, Walter Moorcroft, who took over the business in 1945, and his younger brother, John Moorcroft, who became managing director in 1987. The same hand made process of applying designs, painting and slip trailing (the raised outlines) is still used today by the Moorcroft artists today, which you can read more about here. It is amazing how the firing process and the glaze application brings out the beautiful, vibrant colours!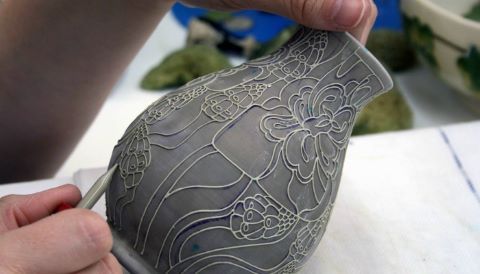 William Moorcroft was given a Royal Warrant by Queen Mary of England in 1929, and Queen Elizabeth still brings new pieces into the Royal collection today.
Moorcroft art pieces were usually signed by William and Walter Moorcroft, and some by John Moorcroft in the 1980's. The signature (either in full or just initials) is a big guide in dating a Moorcroft piece, particularly from the early years.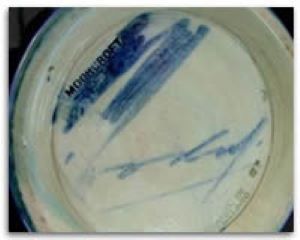 Moorcroft survived many tough times as a small business (especially during the war years). The backbone of its production up to the 1960s, in addition to its decorative pieces, was home table wares such as cups, saucers, teapots and biscuit boxes, including a popular, utilitarian plain blue design known as Moorcroft Blue.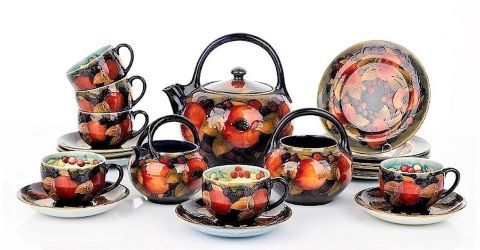 Moorcroft also managed to maintain an export market to countries such as America, Australia and New Zealand, and Moorcroft is still popular in those countries today.
My mother bought a Moorcroft vase in one of the first shipments to come out to Australia after the war. It was her most treasured possession, and I still have it today. I love the blending of the colours in the clematis flower and the leaves!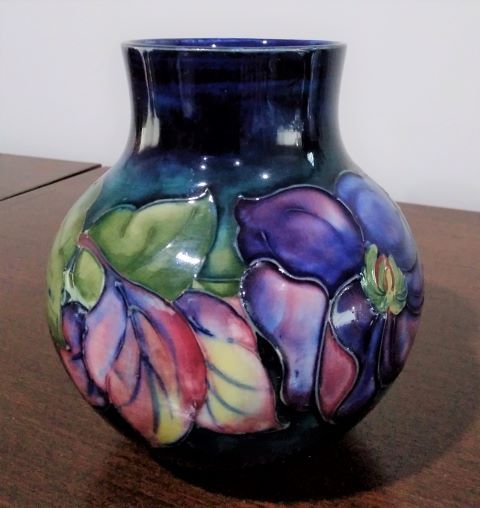 You can read the full history of Moorcroft by clicking here.
Whilst the ownership has now left the Moorcroft family, it is a testament to the commitment to William's original philosophy that there have only been four head designers over its entire history, and many of the designers have been with the company for 20 years or more. The Moorcroft family is a close knit, committed group of talented artists. Staff events such as marriages and new babies all celebrated and reported to members of the Moorcroft Club around the world.
When I went to England for the first time in 2001, a trip to Moorcroft and a tour of the factory was high on my list of things to do! I was lucky enough to have John Moorcroft, William's grandson, conduct the factory tour. It was fabulous!
I have also met John Moorcroft and the current head designer, Rachel Bishop, and designers Emma Bossons and Nicola Slaney when they have come out to Australia, which was always a tremendous thrill!
You can read more about each of the designers and their favourite subjects here.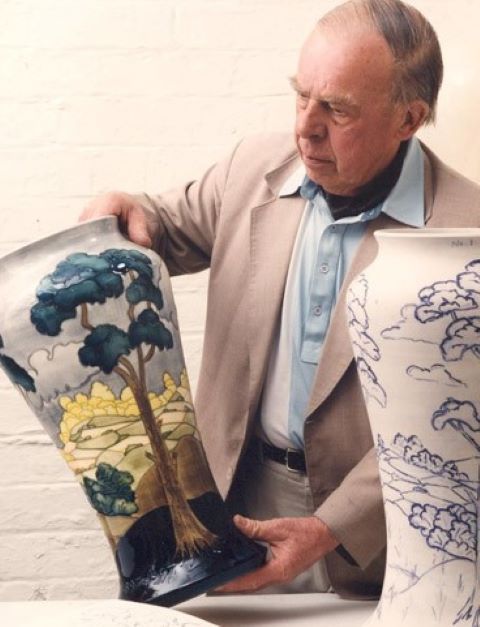 Moorcroft pieces are still highly valued and collectible today, particularly the early William and Walter Moorcroft pieces produced before 1950.
Here is a brief look via a video at the evolution of the Moorcroft designs from the early years right up to the current day pieces.
(Credit for images in the video: The book "Moorcroft Pottery - A Guide to the Pottery of William and Walter Moorcroft 1897-1986" by Dennis and Edwards 1 and the website of moorcroft.com, as noted on each image. All other images were taken by Julie from anart4life.com.)
Footnotes
The book called "Moorcroft Pottery - A Guide to the Pottery of William and Walter Moorcroft 1897 - 1986", by Dennis and Edwards has since been further updated and is available today from online bookshops and at Moorcroft.com.