Magnificent Minton - Part 2
Today we return to look at some of the Minton innovations and different styles of pottery, initiated under the guidance of Herbert Minton and his heirs.
One of these was Parian ware. It was a hard white, unglazed porcelain, looking very similar to marble, first introduced by Spode in the 1840s and further developed by Herbert Minton. It had various names, but it was Herbert Minton who called it Parian ware after the Greek god Paros.
It was very suitable to be used in moulds to create affordable statues and busts, and Minton employed John Bell, Hiram Powers and other famous sculptors to produce figures for reproduction. These capitalised on a very popular trend for this type of decoration in the houses of the nobility and the wealthy in the mid-1800s.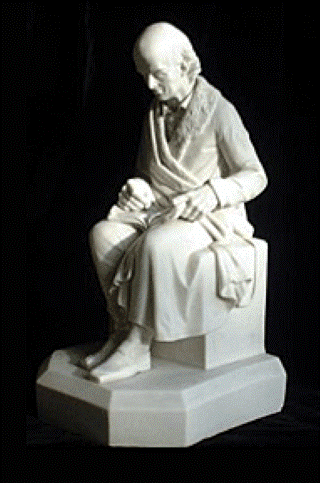 Mintons made special pieces of Parian ware and bone china for the major exhibitions that were popular at the time. They won a bronze medal at the "Great Exhibition" of 1851 in London, and a gold medal at the "Exposition Universelle" of 1855 in Paris.
Queen Victoria visited the Great Exhibiton in London and was shown around by Minton himself. She was very taken with Minton porcelain. She bought Parian pieces and a dessert service in a mix of bone china and Parian, costing 1,000 guineas, as a gesture of friendship for Emperor Franz Joseph of Austria. This collection is still on display today in the Hofburg in Vienna.1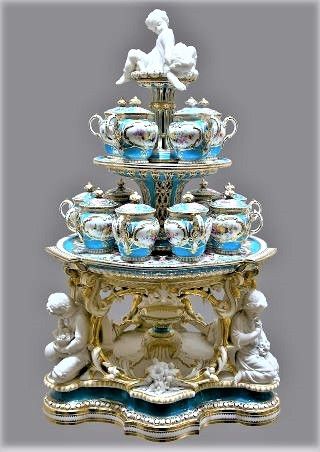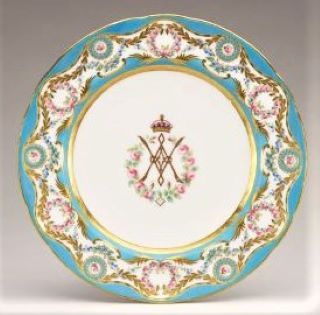 During its 200-year span, some very fine innovative artists and designers collaborated and worked at Minton, which enabled the firm to vastly grow its product range, and profitability.
In 1849 Minton engaged a young French ceramicist Léon Arnoux as art director and he remained with the Minton Company until 1892.
Arnoux formulated a tin-glaze used for Minton's rare Majolica and the coloured lead glazes and kiln technology for Minton's highly successful lead-glazed Palissy ware.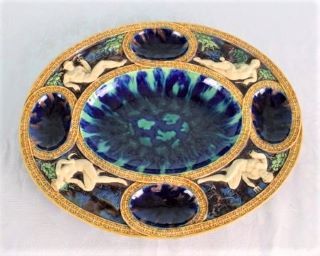 Arnoux also introduced Marc-Louis Solon who was responsible for developing the pate-sur-pate technique at Sevres in France. The design is built up in layers of liquid clay or slip, each drying before the next layer is added.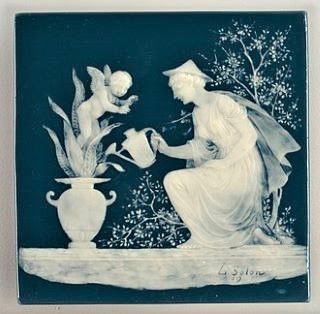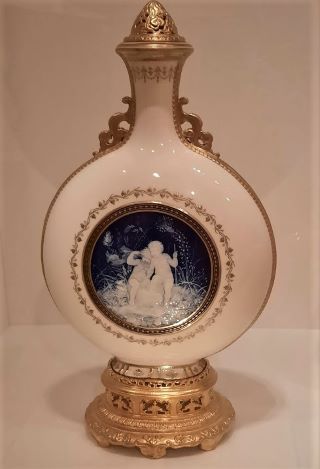 Marc-Loius Solon's son Leon Solon also worked at Minton, and introduced designs influenced by the Vienna Secession art movement, founded by Gustav Klimt and others.
He produced a range of relatively cheap earthenware jugs or vases, rather than full table services, branded as "Secessionist Ware," was made from about 1901 to 1916. (This design reminds of the early designs of Moorcroft, another pottery which we will look at in a later post).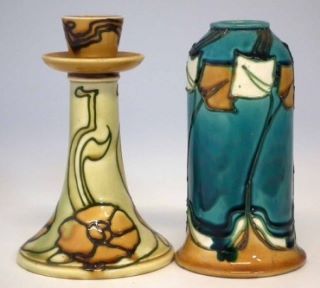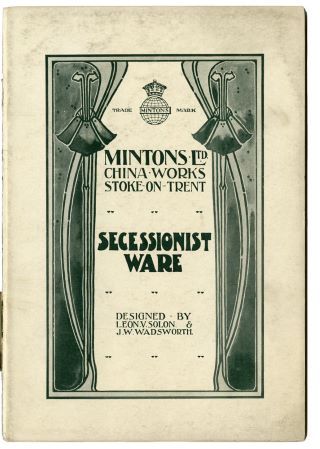 Mintons also worked with Christopher Dresser, often regarded as the most important British designer of the later 19th century. Dresser had travelled to Japan, and in the 1870s produced a number of designs reflecting Japanese ceramics, catching the rising fashion for Japonism in all areas of design. (We have seen the popularity of all things Japanese reflected in the paintings of the French Impressionists such as Monet, Van Gogh and Degas).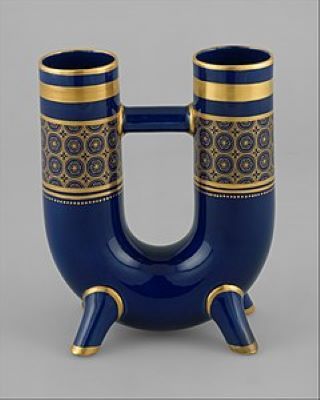 Hollins and Minton Campbell carried on in partnership for ten years after Herbert Minton died in 1858. They then went their separate ways, with Hollins exclusively making tiles, as Minton, Hollins and Co., while Campbell carried on the china works.2
Minton Campbell took the company into a highly successful exploration of Chinese cloisonné enamels, Japanese lacquer and Turkish pottery, in conjunction with designer Christopher Dresser.
It seems Colin Minton Campbell was a man of great energy and ability, described as 'One of the greatest men that ever lived in the annals of the pottery industry'.2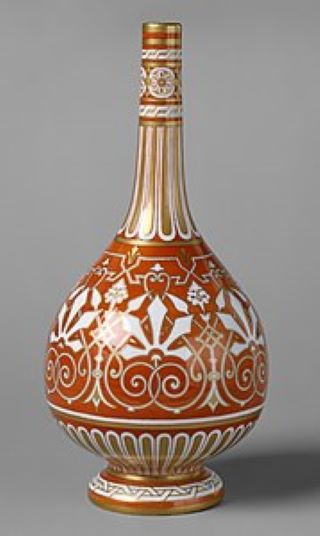 The Minton factory in the centre of Stoke was rebuilt and modernised after the Second World War by the then managing director, J. E. Hartill, a great-great-great grandson of Thomas Minton, the founder. But there was an overall decline of the Staffordshire pottery industry in the post-war period and the rationalisation of the British pottery industry took Mintons into a merger with Royal Doulton Tableware Ltd.1
Royal Doulton itself was taken over by Waterford Wedgewood in January 2005, and that company was taken over by the Fiskars Group of Finland in July, 2015. Minton is not listed on the Fiskar website as a current brand, so if you are lucky enough to have a piece, hold on to your special part of this incredible history…..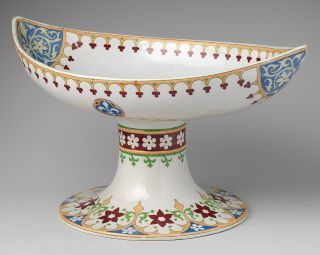 Footnotes
Wikipedia
The potteries.org
Learnantiques.com.au