Magnificent Mansions – Château de Versailles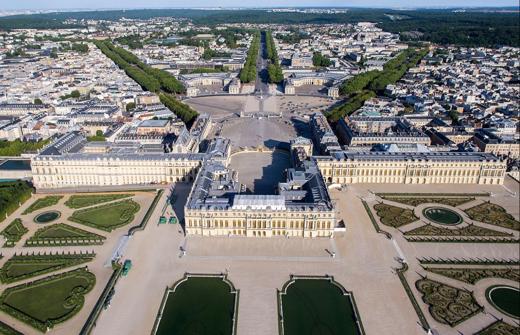 Few palaces rival France's Château de Versailles for sheer opulence. Located on the outskirts of Paris, this former home of French kings was commissioned by Louis XIV, who moved the nation's government to Versailles in 1682 and wanted a palace to match the glory of his reign.
The Palace covers an area of 8,150,265 square meters (87,728,720 square feet), or 2,014 acres, making it the world's largest Royal domain.
While the French monarchs are long gone, Versailles remains a national icon. In the 19th century, portions of the palace were opened to the public and converted into a museum. In 1979, its rich history, architecture, and landscapes earned it a place on the UNESCO World Heritage List.
Way back in 1999 while my Mother and I were touring France we spent a few hours on a guided tour of Versailles. My memories are hazy however I do remember being completely overwhelmed by its magnificence. With the help of websites Nationalgeographic.com and artsandculture.google.com let's explore Château de Versailles together.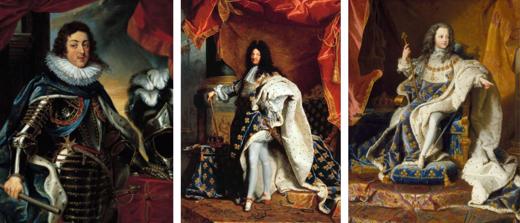 Key royals who resided at Versailles - as shown above:
Portrait of Louis XIII, King from 1610 to 1643. Painted in 1622-25 by Peter Paul Rubens (Credit:nortonsimon-org)
Portrait of Louis XIV, King from 1643 to 1715. Painted in 1701 by Hyacinthe Rigaud (Credit: wikipedia)
Portrait of Louis XV, King from 1715 to 1774. Painted in 1715-17 by Hyacinthe Rigaud (Credit: ncartmuseum.org)
and shown below:
4. Portrait of King Louis XVI, King from 1774 to 1792. Painted in 1779 by Antoine Callet 1779 (credit: wikipedia)
Portrait of Marie-Antoinette with the Rose. Queen to King Louis XVI. Painted in 1783 by Elisabeth Vigée Le Brun (credit:© EPV/ Jean-Marc Manaï - artsandculture.google.com)
Versailles remained the epicenter of French royal power for more than a century, until 1789, when an agitated group of revolutionaries stormed the palace and evicted Louis XVI and Marie-Antoinette. The mob sent the royal couple back to Paris, where they were eventually beheaded.
The Palace of Versailles is said to be one of the most expensive building projects in history. Due to a lack of data, calculating the cost is tricky. In 1994, American TV company PBS concluded that the French palace could have cost anywhere between $2-300 billion in today's money. (Credit: Historyextra.com)
It is no wonder the reign of Louis XVI and Marie-Antoinette ended as it did - having just read in Homo Deus by Yuval Noah Harari that 2.8 million French people (15% of the population) starved to death between 1692 and 1694.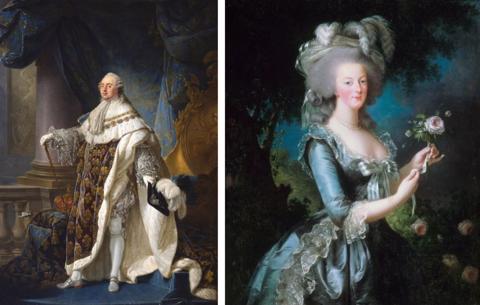 The Palace of Versailles had fairly humble beginnings. Going back in time, Louis XIII (1601–1643) bought the land because he loved hunting and built a chateau as a lodge where he enjoyed staying at night if he had no time to go back to Paris or Saint-Germain-en-Laye before dark.
Louis XIII eventually expanded the chateau and bought more land, which led the way for Louis XIV to turn Versailles into a palace during the 1660s and 1670s. He even moved the French government and its court there in 1682. At one point, over 5,000 people could be accommodated in Versailles' large living space.
The palace was so large, there was quite a distance from the kitchen and the dining rooms. With sometimes over 5,000 people to feed, hundreds of servants were needed to get all those mouths fed. Unfortunately for the king, the distance from his seat to the kitchen was so far away, his meals were often served cold. Eventually, in the 18th century, Louis XV had private kitchens built in his private apartments.
Let's take a look at some of the sumptuous rooms.
The most sumptuous is the Galerie des Glaces (Hall of Mirrors). Spanning some 240 feet, King Louis XIV's elegant ballroom adorned with colossal arched mirrors, gilded statues, and dazzling chandeliers takes us waltzing through a masterclass of mid-17th-century splendor.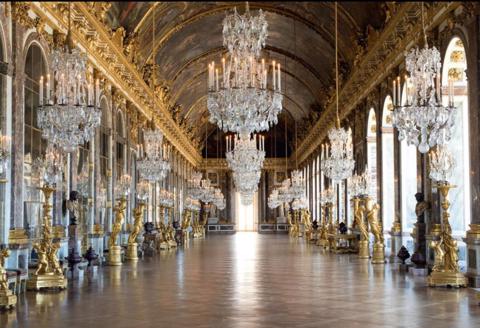 Construction first began in 1678 under the architect Jules Hardouin Mansart and it became one of the most remarkable features of the palace. There are 357 mirrors in the hall, which at the time, were among the most expensive items to possess.
Venice had the monopoly on making mirrors but France managed to entice Venetian mirror makers to come over to create some specially for the palace. Legend has it, in order to keep its monopoly and prevent the craftsmen from giving away their secrets, the Venetian government kept an eye on the craftsmen's movements and forbade them to leave the city under penalty of death.
The Hall of Mirrors has played host to plenty of splendour over the years, with the room originally being lit by as many as 20,000 candles to transform it into a "corridor of light" during special occasions.
It has also been a witness to some of the most important moments in history, the most significant being the signing of the Treaty of Versailles. The Treaty was the most important of the peace treaties that brought World War I to a close, ending the war between Germany and the Allied Powers. It was signed on 28 June 1919 in Versailles, exactly 5 years after the assassination of Archduke Franz Ferdinand that directly led to the war in the first place.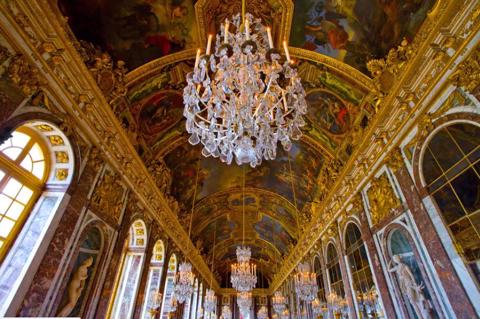 I read that the Palace is capable of holding up to 20,000 people, has around 2300 rooms, more than 2,000 windows, 1,250 chimneys, 67 staircases and approximately 700 bedrooms. Here are just three of the bedrooms.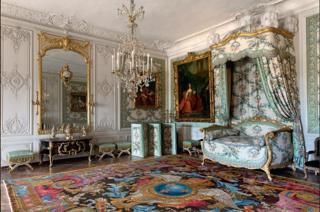 The marquise's simple but elaborate bedroom features green silk hangings and innovative furniture, like the Burgundy-style mechanical table in the center of the room. (Credit: Thomas Garnier, Château de Versailles (Dist. Rmn-Grand Palais)).

The Queen's Bedchamber has been restored to appear as it did when Marie Antoinette fled Versailles in October 1789 through this room's secret door. (Secret Doors seem to be essential for every Queen as mentioned in the post on Buckingham Palace!). The flowery silk wall hangings and light color palette which changed based on the season of year, reflect her summer decoration, even though it was fall at the time. (Credit: Christophe Fouin, Château de Versailles (Dist. Rmn-Grand Palais)).

Madame Victoire, one of Louis XV's eight daughters, lived at the palace until the Revolution. Previously part of Louis XIV's Bath Chambers, this brightly furnished room with taffeta curtains became the princess's bedchamber in 1769. (Credit: Christophe Fouin, Château de Versailles (Dist. Rmn-Grand Palais)).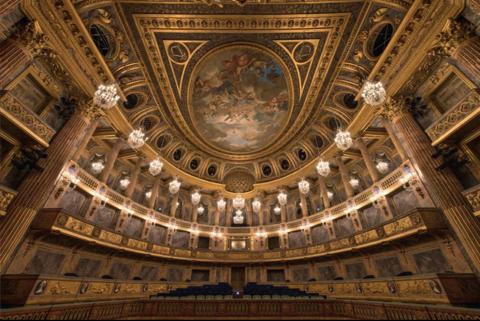 Naturally every palace needs an Opera house! Although the Royal Opera House at Versailles (pictured above), took 20 years to plan, it was built in less than two years as pressure mounted to complete it before the wedding between the Dauphin Louis and Marie Antoinette. The lavish hall was used only 40 or so times before the Revolution, partly because of the high usage costs - it took 3,000 candles to light the auditorium for a night.
It seems every whim was catered for - so it was a complete surpise to know there were no toilets!
Members of the royal family were lucky enough to have a cupboard in their rooms that housed a sort of a toilet chair, where a chamber pot would be placed under a seat with a hole and be changed by staff when they got round to it.
While everyone else also had chamber pots, they didn't always have the dignity of a separate room, with many pots simply being placed in the corners of rooms throughout the palace. Not wanting to avoid an opportunity to show off though, the chamber pots at Versailles were cast in silver.
It's a fancy touch, yet the distinct lack of toilet facilities meant that with a full house of guests and staff, it often got a little smelly. Eventually, under Louis XV facilities called toilettes à l'anglais were installed in his private apartments.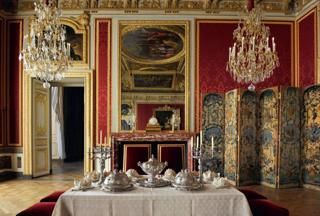 Other rooms include those pictured above:
Louis XIV and his family ceremoniously dined in this room every evening at 10 p.m. while surrounded by courtiers. Although the tradition gradually faded away, Louis XVI and Marie Antoinette reestablished it with weekly Sunday dinners accompanied by live musicians. (Credit: Didier Saulnier, Château de Versailles (Dist. Rmn-Grand Palais)).

The breathtaking double door entrance to the first floor of the Royal Chapel gave the king direct access from his apartments. Although dignitaries and other royalty observed services from the side galleries, the main gallery facing the organ and altar was reserved for the king and his family. (Credit: Christian Milet, Château de Versailles (Dist. Rmn-Grand Palais)).

The intricately designed decor of the Queen's Library in shades of green and yellow gold displayed books from Marie Antoinette's private collection. While the doors are covered with fake bindings, the engraved drawer handles feature the House of Austria's emblem. Yet again another secret door too! (Credit: Christophe Fouin, Château de Versailles (Dist. Rmn-Grand Palais)).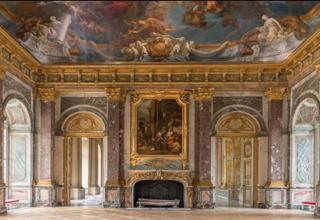 Two of the magnificent salons include those pictured above:
The largest of all salons in the palace, the Hercules Salon paneled in red and green marble hosted various balls and banquets, such as one in honor of Louis XV's eldest daughter. Because of the massive crowds and thousands of candles filling the room that night, the windows had to be broken to accommodate the extra heat.

The eye-popping Mercury Salon covered in crimson damask was originally the state bedroom of the Grand Apartment before the bed was replaced by various gaming tables. One of the rare instances the salon reverted back to its original use was when Louis XIV's body was on display for the public to pay their respects.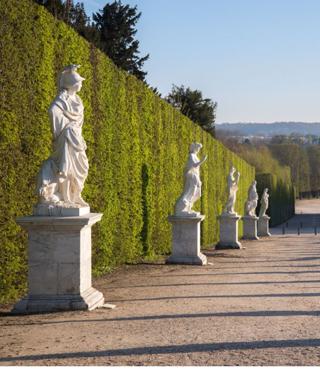 The Gardens of Versailles are some of the largest and most spectacular in the world, taking 40 years to complete and valued by Louis XIV as much as the palace. They contain 372 statues, 55 water features, 600 fountains, and over 20 miles of water pipes. Some examples above. Hundreds of thousands of plants and trees have been continually planted over the years.
While all these plants make the gardens look amazing, in the 17th century the fragrance from these blooms was so overpowering it made guests visiting the Petit Trianon (small villa) fall ill and drove them away.
Orange trees outline a formal garden at Versailles, shown below, once the epicenter of French royal power.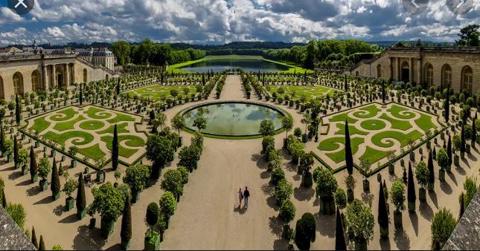 Take a short tour of these impressive gardens:
We cannot leave Versailles without mentioning Marie Antoinette. She made Petit Trianon her private getaway after Louis XVI presented it to her as a gift. The young queen renovated the space, notably having an English-style garden planted to replace the old greenhouses.
She often took refuge at the Petit Trianon to escape the pomp and etiquette of the Court of Versailles, which sometimes weighed on her. She surrounded herself with close friends and organized intimate soirées, without always taking the prerogatives of her time and rank into account.
This excellent video (in French with English subtitles) provides a brief summary of her life.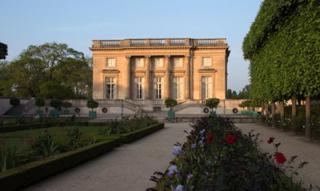 The Petit Trianon included a temple of love, consisting of a round colonnade centred with a statue of cupid, as shown below. Near the temple, Marie-Antoinette had a private grotto built, which was a secluded cave-like area overgrown with vegetation.
It supposedly had a moss bed and two entrances, which seems like the perfect escape for a secret meeting – although its purpose has never been confirmed…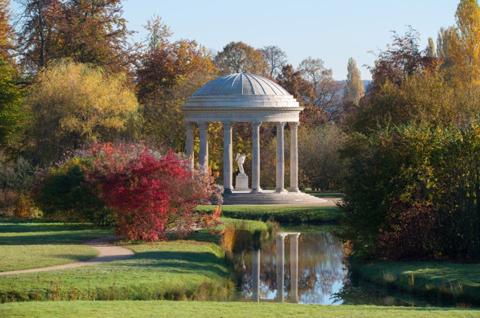 Next week we are heading to Austria and another sumptuous mansion and palace - which also includes a Hall of Mirrors.
In the meantime tomorrow I explore the connection between Elisabeth Louise Vigée-Le Brun, (she painted the portrait Marie Antoinette included in this post) and Charles Le Brun (the artist credited for the ceiling in the Hall of Mirrors).
All details with thanks to websites Nationalgeographic.com and artsandculture.google.com