Maurits Cornelis Escher (1898–1972) was a Dutch graphic artist who made mathematically inspired woodcuts, lithographs, and mezzotints. He was the master of illusion.
We've been talking about fractals in nature and Escher, early in his career, explored nature as a subject especially insects, plants and landscapes. Escher liked the order he found within the insect world and believed that insects are generally best recognized from above. Here is a wood engraving Scarabeeen produced in 1935.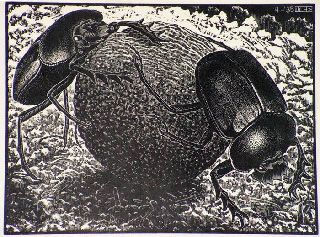 And here we can see Escher's obsession with order using the butterfly as the motif.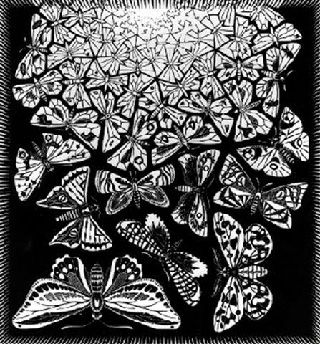 With plants he focused on real subjects including many portraits of single plants but eventually retreated into his imagination. I find Blowall 11 fascinating and can study the interlocking patterns for hours.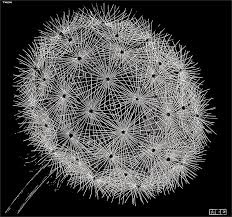 And Plant Curator is interesting.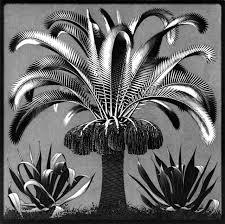 And here he has combined his interest in plants with his growing interest in landscapes.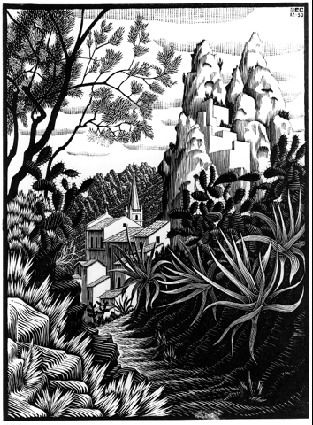 Like so many artists, Escher was inspired by Southern Italy. He was captivated by the landscape, sketching endlessly in preparation for the lithographs and woodcuts he is known for, producing almost half of his life's work in his 13 years in Italy. At first his works were realistic as shown here in Corsica.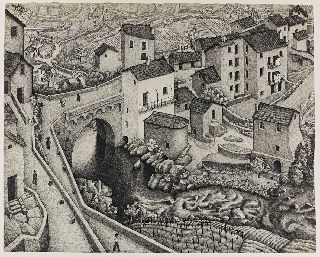 Or semi-realistic by taking from natural elements but placing them in an imaginary framework as shown in The Bridge (1930)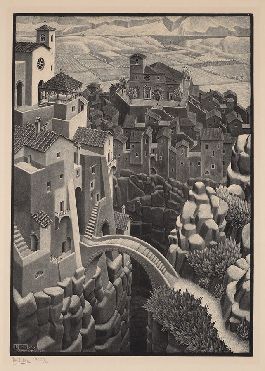 And Ravello 11...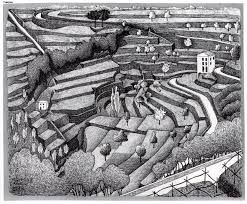 And I rather like this woodcut of San Gimignano (1923).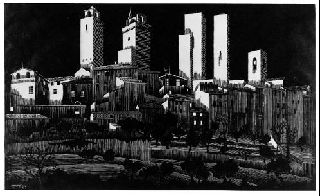 And a favourite of mine Atrani on the Coast of Amalfi (1931).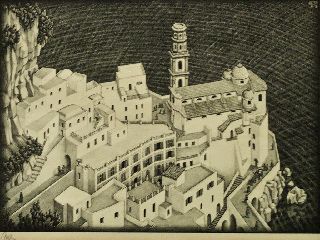 Mark Veldhuysen made the following remarks about the town of Atrani's architecture which helps explain why Escher's perceptual distortions were in fact based on  reality.
Streets look like dead end streets but continue when climbing some stairs, at a completely different level. The roof of one house is the first floor of the next. What looks like someone's front door can actually be the entrance to a square with various side streets ...  M.C. Escher in Italy: The Trail Back" by Mark Veldhuysen published in M.C. Escher's Legacy: A Centennial Celebration.
But gradually Escher's landscapes become more abstract as shown here in Journey to Infinity.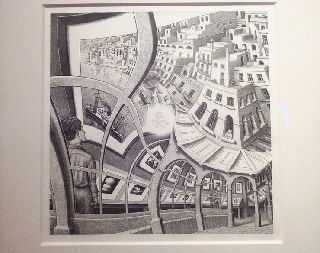 Escher worked primarily in the media of lithographs and woodcuts. He also made 8 mezzotints which are considered to be masterpieces of the technique.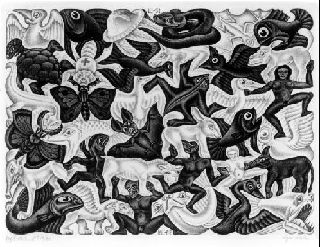 However, Escher's most famous works are images that look convincing but defy logic. One of them is Drawing Hands (1948), in which two hands draw each other - quite amazing.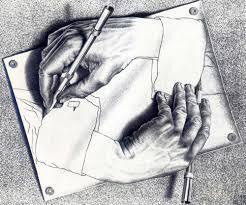 Relativity (1955) is very well known and here the normal laws of gravity don't apply. It was his only major print to be created in both woodcut and lithograph format. In fact it makes me dizzy just looking at it!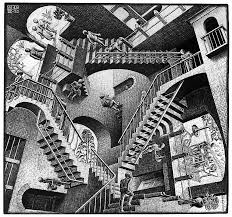 In particular Escher was influenced by the work of English mathematician Roger Penrose. His lithograph Ascending and Descending (1960) is based on the Penrose Staircase.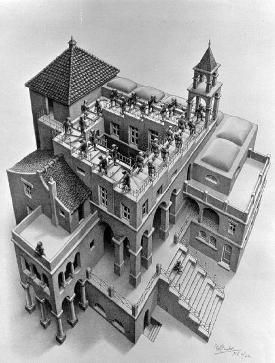 Also well known is Waterfall (1961) which is based on the concept of the Mobius strip, a surface with one continuous side formed by joining the ends of a rectangle after twisting one end through 180°.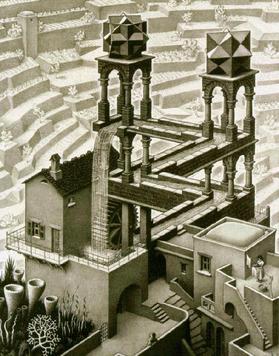 And don't you find Hand with Reflecting Sphere fascinating?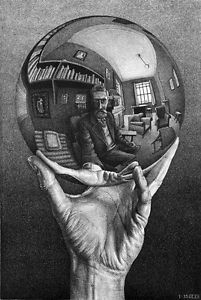 Significantly Escher was inspired by the Alhambra, the magnificent fourteen century Moorish castle in Granada, Spain so many of us have visited and fallen in love with. Here is a photo I took myself when visiting a few years ago.
And if you missed Jane's post on Magnificent Mansion - The Alhambra please Click Here.