This post now reflects that Poldi Mimovich died on the 25th December 2019.
A young neighbour of Ola Cohn's was Leopoldine (Poldi) Mimovich who was born in 1920 and grew up in the village of Sankt Johann in the Pongau region of Austria (now a part of Italy). Poldi studied sculpting in Vienna and then later studied at the School of Wood Sculpture in Hallstatt, Austria from 1943 to 1949. Given this period includes the war years it must have been a very traumatic time for this passionate artist. One of my favourite Mimovich pieces is Seasons which to me encompasses much of the message Poldi expresses: beauty, grace and yes, suffering.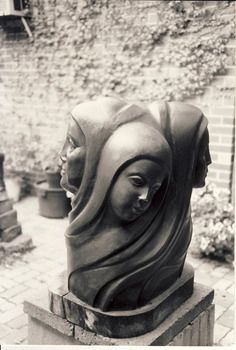 Sadly I haven't seen able to find detailed information about the Wood Sculpture school attended by Mimovich though I imagine much of her interest in Christian symbolic art was fostered here. One of the early Directors of the Hallstatt school, Leopold Pollteritzer was particularly interested in sculpting religious pieces. Hallstatt is known for its salt mines and for giving its name to the Hallstatt Culture which has links to early Celtic people from the Early Iron Age. But back to Mimovich who is known for exploring mainly Christian themes through the spiritual simplicity she gives her stylised creations. Economic in her use of form Mimovich captures the essence of each piece as exemplified here in her Madonna and Child creations. For those of you who are students of art, note the strong directional lines of these sculptures.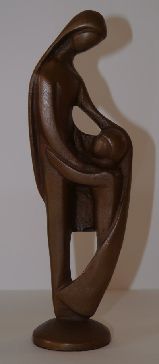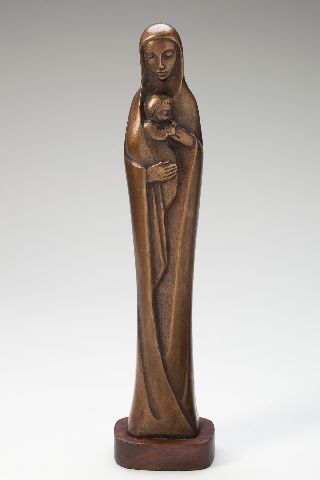 The simplicity of this Mary and Child is wonderful in its nontraditional pose. Yet the ambiguity is intriguing: is Mary swinging her child with delight or is she giving up her son to the world? And therein lies the talent of Mimovich as a remarkable artist.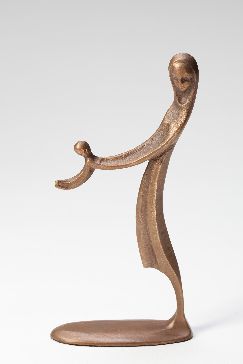 Mimovich liked to sculpt children and her many examples are delightful. Here we see a bronze Boy with Girl.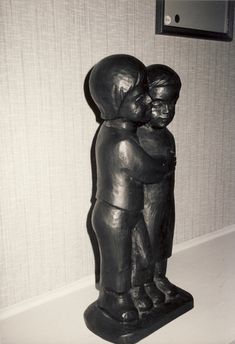 And Boy with Rabbit.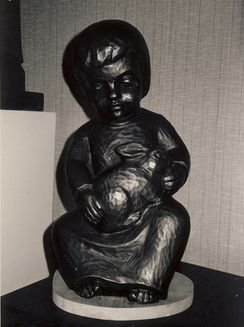 And an easy favourite Girl with Flower.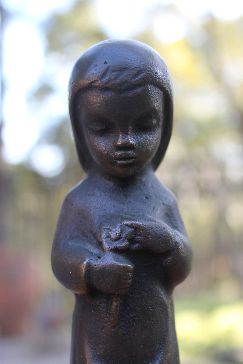 Although predominantly a sculptor of religious works, Mimovich worked in a variety of medium but predominantly bronze and wood. Here she is working on one of her crucifixes. If you live near me in Melbourne, the Good Shepherd Parish Church in Brandon Park has a most glorious Crucifix made by Mimovich. Sadly I couldn't find an image of it to show you.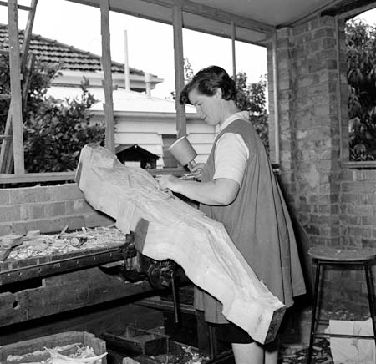 When writing this post Poldi Mimovich was still alive though she suffered a fall some time back which made it difficult for her to work on her beloved sculptures. She was in her 99th year on this Earth - which has definitely been made better by her presence.
Post Script: We have learnt that Poldi Mimovich died 25th December 2019.
And to conclude, here is a comment from Poldi Mimovich related to how hard it is to make your way in the art world. It was back in 1949 when she first came to Australia and it remains so now.
'It was not easy,' she said. That was 1949, and Australia did not have any working wood sculptors. Poldi approached her neighbour, Ola Cohn, famous for carving the Fairy Tree in Fitzroy Gardens. She asked Ola if there was any work for her. 'Ola said: "I can't get enough work for myself, I wish I could employ you, but I can't,"' Poldi remembers. (Museums Victoria Collections)