Today I want to connect you to a giant of in the field of art - the artist is Lee Krasner (1908-1984) who was a pioneer of Abstract Expressionism and played a significant role in making New York a thriving centre for modern art in the postwar period.1
I will introduce you to a little of her work as was presented at the exhibition I was lucky enough to attend at the Barbican Gallery in London back in 2019.
Lee Krasner was one of the first artists in new York to adopt an entirely abstract approach. 1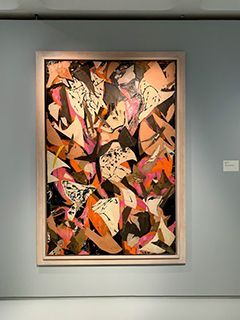 What I find incredibly interesting about Lee Krasner and her style (and this has implications to the artists of today is that:
Unlike many of her contemporaries, Krasner refused to develop a 'signature image', which she considered to be 'rigid rather than being alive'. Working in cycles, she continually sought out new means for authentic expression, even during the most tumultuous of times... 1
These tumultuous times included living with her husband Jackson Pollock who was emotionally very volatile and tragically was killed in a car accident in 1956.
When you see the works of Lee Krasner which she created in her studio for over 50 years, you are overwhelmed by her talent which is exemplified in her creative genius in forming line, shape and colour.
To quote Krasner:
Painting is a revelation, an act of love...as a painter I can't experience it any other way.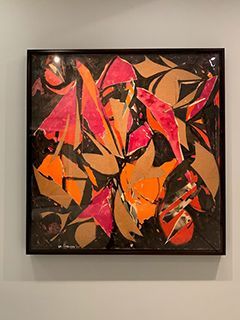 Of significance, again to the art scene today, is that Krasner didn't necessarily believe that big was better. She said:
You can have giant physical size with no statement on it...And vice versa, you can have a tiny painting which is monumental in scale. 1
Krasner turned the upstairs bedroom into a makeshift studio and began work on her 'Little Images'- vibrant, jewel-like abstractions, pulsing with an even rhythm. In some she layered the paint thickly with a palette knife and worked into it with a stiff paintbrush, others she laced with paint thinned down with turpentine in a can. 1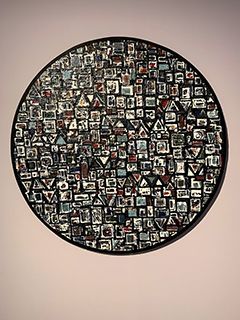 When the bitter winter of 1947 forced Krasner to work in the living room (they could only afford to heat one floor of the house at a time), she decided to turn two old wagon wheels from the farm into mosaic tables, using leftover tesserae as well as bits of costume jewellery, keys, coins and broken glass. 1
Here is one of her wagon wheel tables which was absolutely beautiful.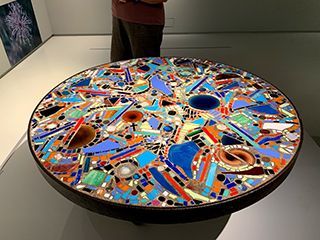 The words that comes to my mind when I think of Lee Krasner are versatile genuis. She could literally turn her hand to create in any art medium. Although known as an abstract artist, Krasner was an accomplished drawer as seen in her self portraits.
This self portrait in oil on linen was done in about 1928 when Lee was 20 years old. I have included some close ups so you can study her techniques.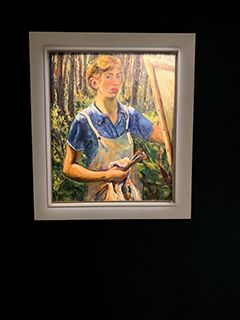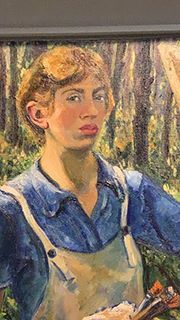 And another self portrait.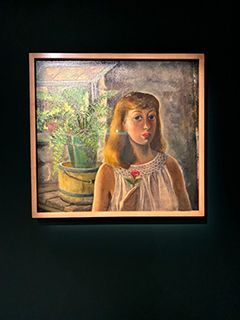 We will conclude today with some examples of Life Drawing which illustrate how uninhibited Krasner was towards nudity, using Conte crayon to emphasise the muscularity of the model's body. 1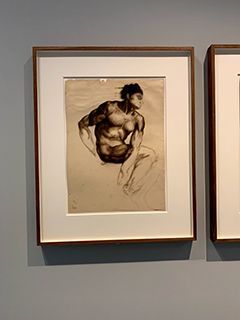 In the last of these life drawing images you can see the beginnings of Cubism emerging in Kranser's works and hence her break into abstraction. This move was brought about through Krasner studying with Hans Hofmann, a German modernist who had lived and worked in Paris alongside Picasso and Matisse, two of Krasner's self-proclaimed 'gods'. 1
When Hofmann saw Lee Krasner's work he responded: with the barbed compliment that her work was so good:
you would not know it was done by a woman.1
Tomorrow we will look at the War Service Windows created by Krasner.