Late Mail & Some Cool Water Colour
Nearly a year ago I wrote a blog on Berthe Julie Lucie Mouchette (nee Lion)(1846-1928) who was a painter, ran a painting school in St Kilda, Melbourne and was also the founder of the Alliance Française de Melbourne, Victoria.
Just before Christmas I received an email from a Max Tomlinson from Townsville, Queensland, Australia. Max is related through his mother Lorraine Nelie Allan (nee Collard) and maternal grandmother Berthe Rosalind Collard (1894-1951) to the Pignolet sisters who set up and ran a school in Melbourne called L'Avenir- no doubt rivals to Berthe Mouchette. For our purposes I can't find any evidence that the Pignolet sisters were painters but if anyone can shed any light on the Pignolet sisters and their school please let me know. Max gave permission for his name and those of his family to be included in the hope that someone might know a little more about the work done by his ancestors to educate the young ladies, many of whom helped change the identity of femininity as Australia grew into a nation.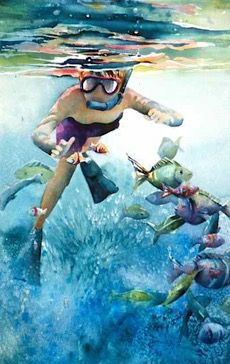 ARTIST
Cathy Quiel is from Santa Barbara, California and has an international reputation as a water colourist. Her signature style is the vivid application of pigment and dramatic contrasts achieved in colour. My intent is to share my view of a certain aspect of the world with the viewer, a view that hopefully brings a smile and a touch of joy. I find great pleasure in sharing my love of watercolor by teaching and exhibiting my work. I teach at SBCC CLL and instruct workshops throughout the US and abroad. My work is in private and public collections, published in art books and publications and I have lectured in multiple art museums. I recently have expanded my work as an illustrator and received the EBook Silver Award for Illustration in Children Books (cathyquiel.com)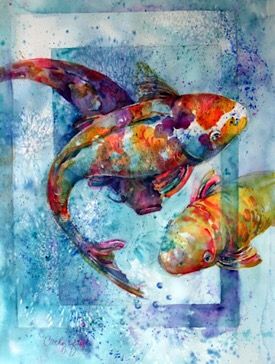 TECHNIQUE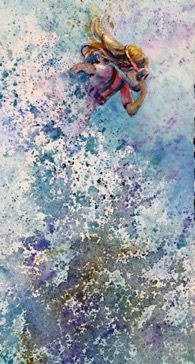 I love the vibrant color, transparency and the movement that can be achieved with watercolor. I always select a subject matter that enhances the media and in which I can utilize the dramatic contrast of light and shadow whether it be an Italian villa, a giant tomato or an illustration. As with my vibrant palette, most of my work has a touch of whimsy and humor. (cathyquiel.com)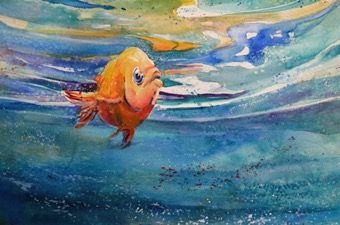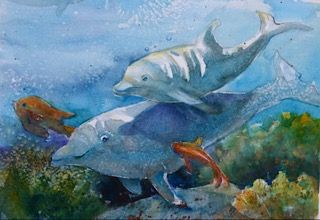 All of the Cathy Quiel paintings today come from her Submerged series. She also creates within the genres of landscape, still life, travel, floral and many more.
You can study more about the paintings created by Cathy Quiel through her website or follow her on Facebook (Cathy Quiel Artist)
Tomorrow we are going to commence looking at a Creative Community that went by the title of The Bread and Cheese Club.