Kevin "Bushy" White: Pictorial Mineral Art Works of Mining in Broken Hill, NSW, Australia: Part 1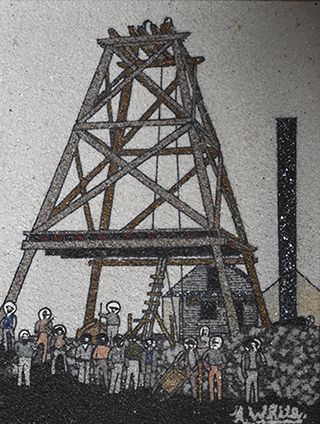 Today we travel to Broken Hill in the far west of outback New South Wales, Australia and meet another one of the local artists who has literally brought into his creative images the treasures of the earth that made the Silver City.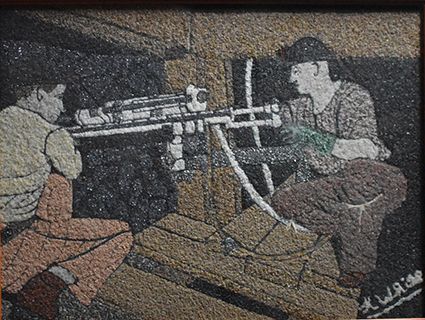 Broken Hill, also fondly known as The Silver City, was built on the mining industry following the discovery of silver and lead deposits by boundary rider Charles Rasp in 1883. The orebody they came from proved to be the largest and richest of its kind in the world.1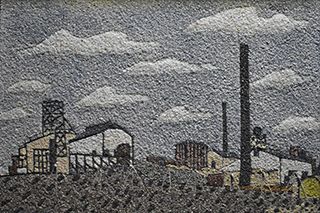 The artist Kevin Bushy White was born in Broken Hill in 1943, left school at 14 and was working on a sheep property near Robinvale, north western Victoria by 15 years of age.
Kevin returned to Broken Hill when he was 20 years old and met the love of his life, Betty - they were married on 9th September 1967 and remain happily together 54 years later.
At the same time Kevin began working at the Zinc Corporation Mine in Broken Hill.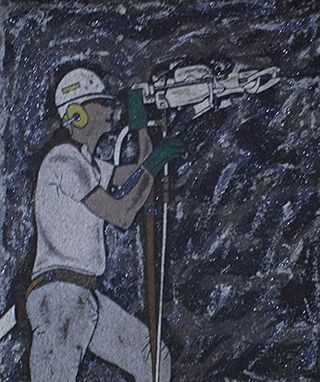 His works are a lasting testament to the men who worked these mines, deep underground in the precious earth. Kevin uses this same precious earth to bring his view of the history of this world alive in his images - many of which recreate life underground from as far back as the 1880s.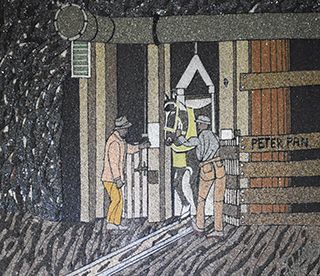 In a way Kevin's images could be defined as following a naive style especially as each one tells a story. A close look reminds us of the courageous roles not only men, but also horses, played in the early days of mining.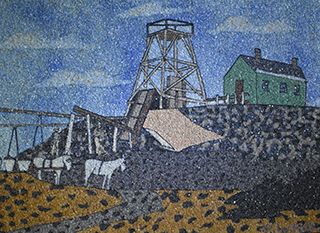 And we are reminded that the men did everything by hand, including pushing the trucks along the rails.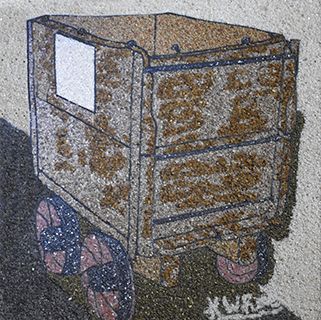 Eventually, with the age of mechanisation the rumble of engines filled the underground caverns.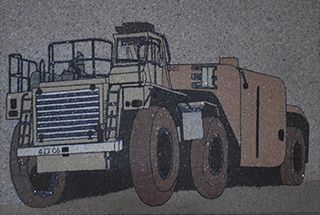 Working underground in the dark became the inspiration for Kevin to start creating pictures of the world he worked in.
Tomorrow you will learn about the process that evolved as Kevin began transforming his mining world to images using about 50 different natural minerals which light up the inky underground caverns around The Silver City which is home to some of the rarest minerals in the world.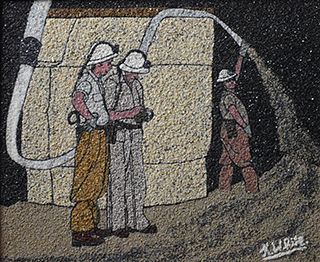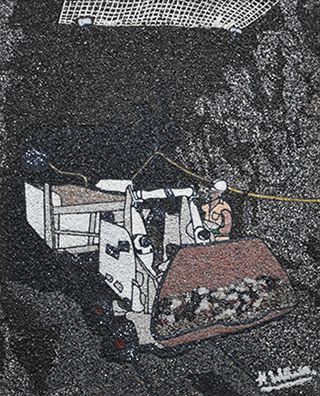 His mineral work pictures are not only artistically attractive with their beautiful subtle colours made from the precious elements in the earth but they combine to make a historical record of mining in Broken Hill.
Take particular note of the titles Kevin has given his pictures - each one is descriptive of the work being done.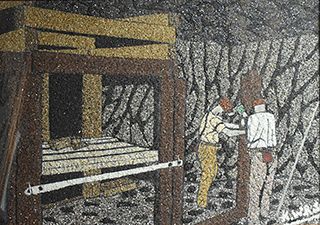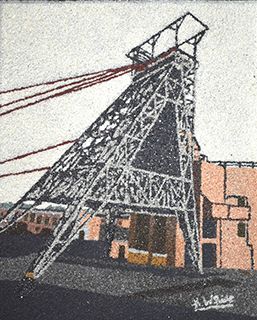 Can you choose a favourite amongst all these wonderful images where you can smell the warmth from the earth and sweat of industry? I think I can.
As I have said before - I have mining in my DNA and I admit to going weak at the knees at the sign of a poppet head (the tall wooden framework above the mine shaft) as we call them in Central Victoria. I grew up with these structures towering high above our heads and learned to toboggan down the side of mullock heaps - the mound of loose rocks left over from gold mining. So it is easy for me to choose Harvey's Shaft and Campbell Shaft 1900s as this image reminds me very much of home.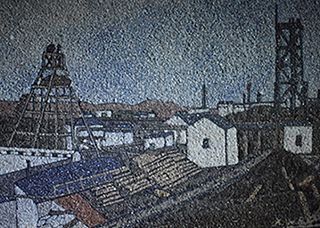 In 1983 Kevin's creativity and passion for Broken Hill and its history drove him to start building a museum so that he could share his knowledge with the public and especially tourists who loved to visit the outback mining town.
In 1987 he finished working down the mine and became a security officer for the mine for four years, and then became a permanent ambulance officer until 1992.
In 1992 he was retrenched due to minimal knowledge of computers.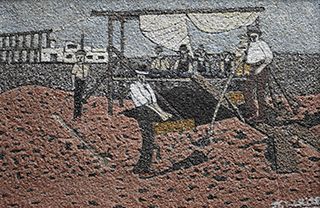 The museum, which Kevin built by himself, was completed in 1991 and officially opened in 1992. Several hundred pieces of mining equipment are on display plus a gallery of his wonderful mineral pictures.
Today you have seen images representing The History of Mining in Broken Hill. Kevin has also created pictorial mineral art works to illustrate Historical Broken Hill Buildings and Argent Street, Broken Hill - the latter being the main street which runs through The Silver City. He has also created landscapes and abstract images using the crushed minerals.
Tomorrow we are going to learn how Kevin Bushy White makes these wonderful images. And where did his name Bushy come from? I'll tell you the story tomorrow.
© Thank you to Kevin "Bushy" White who kindly gave permission for the images of his work to be shared on AnArt4Life.

❁ A very special thank you to Jody Lindsay, daughter of Kevin and Betty White, who has given generous support in preparing the images and notes for publication.


Welcome to A.K. in Australia who has just come aboard as a subscriber. We have two mailbags coming up soon with correspondence from some of our on-line community. Don't forget that we love to hear from our subscribers and love to share the art treasures that are important to you.
Credits
1. en.wikipedia.org