There has been much chatter going on around the world since our last mailbag and much of it centres on the sun and gardens and what you might find in a garden - from the hand of Mother Nature and from very creative humans.
First let's start with the Solstice Festival project being conducted by the inspirational Rebeca Dorich from Lima in Peru.
Rebeca invited artists to send in a sun inspired coloring in page to be presented at the festival for the audience to color in.

Our post Comments Box brought in some wonderful responses to Rebeca's project
From Ilona Lakatos from Hungary
That's great Rebeca. Thank you very much. Congratulations. I wish all artists every success. Greetings to the author of this article Anne Newman.
From Monica Broom
Rebeca is achieving a miracle, and seemingly on a shoestring! She brings about a metamorphosis of spirituality, art, patriotism and childlike innocence into her creations which serve to bring entertainment and knowledge to her countryfolk, and indeed the world. Her Chaposos are endearing because they have 'no axe to grind,' just the ' blushes' of childhood eagerness to embrace history, the earth, the cosmos, their heritage and folk lore, which is so precious! Would that there were a thousand Rebecas to expand her enthralling work! M.B. Tanzania
I decided to join Rebeca's Solstice Project with my painting Gold Dust converted to a colouring page. Gold Dust was painted to represent the gold that literally covered Central Victoria in Australia back in the 1850s bringing many Europeans to this country. The sun now lights up this area which is a thriving arts loving community.

My Gold Dust painting is on the left and on the right the colouring in page created for the Solstice project. You can print off the image and colour it in if you are so inspired.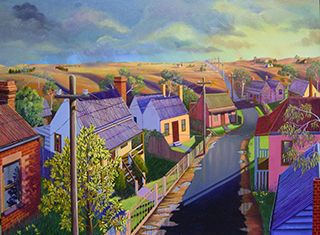 The sun brought out several of our Facebook Followers who have joined the AnARt4Life Chatroom where we share our common interest in all things art.
From Jean Yves Hervé in France a delightfully charming acrylic painting Flowers and the Sky (30x40cm) which makes me want to stop by for morning tea and a chat.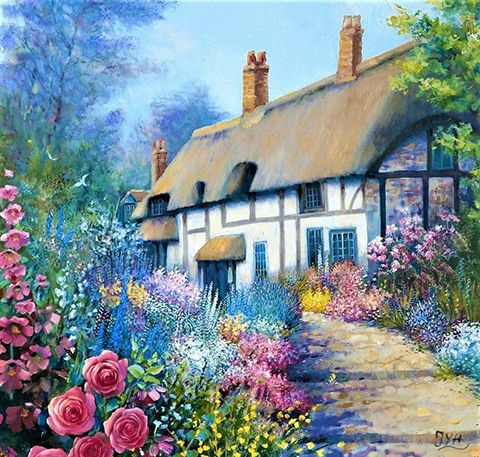 Another FB Follower of the AnArt4Life ChatRoom is Ayşe Anıl from Balıkesir in Turkey who has greeted and inspired us with her peaceful dove.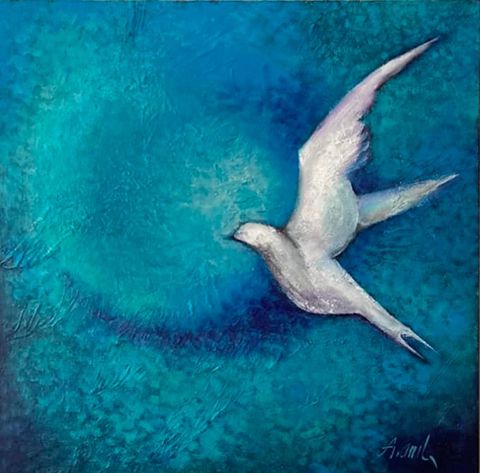 Renata Lichańska-Mleczko from Kety in Poland explains to us that:
In my painting, the sun illuminates the Tatras and the Podhale meadows around them. I painted the picture in the spring months, when it was still cool, there was snow in the higher parts of the mountains. However, the mountain climate is warmed by the already strong sun, which awakens nature in the lower parts. The painting was exhibited on Onebid.pl in Poland.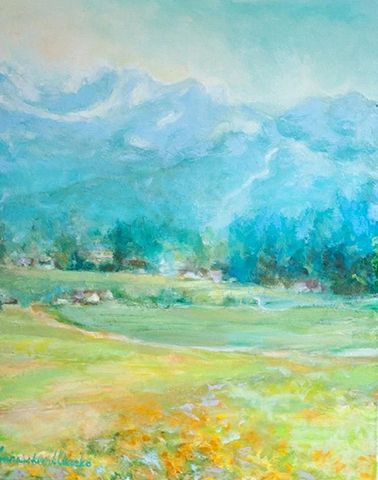 And finally from FB we have The Moon of Love by Estela Viotti in Argentina.
The work (50x70cms) was created using an acrylic and plaster technique on canvas.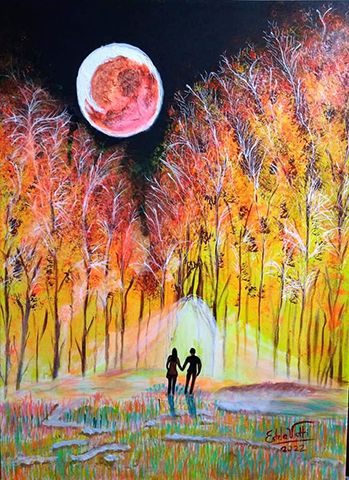 Further down in the mailbag after the FB paintings was a response from Caro in Cape Town to the Philip Jackson Garden Sculptures. Caro wrote:
Very striking and somewhat otherworldly I feel. As you say months and months of work for each one to get so much detail into something so large. Enjoyed the virtual tour around the beautiful garden but I think the one taken in the snow is actually more striking as one's eye isn't distracted by the greenery of nature and more able to focus on the sculpture. Caro Cape Town
If you missed Julie's posts on the Philip Jackson sculptures here are the Bookmark links to take you into his incredible world especially in the second post when you can lose yourself in his garden.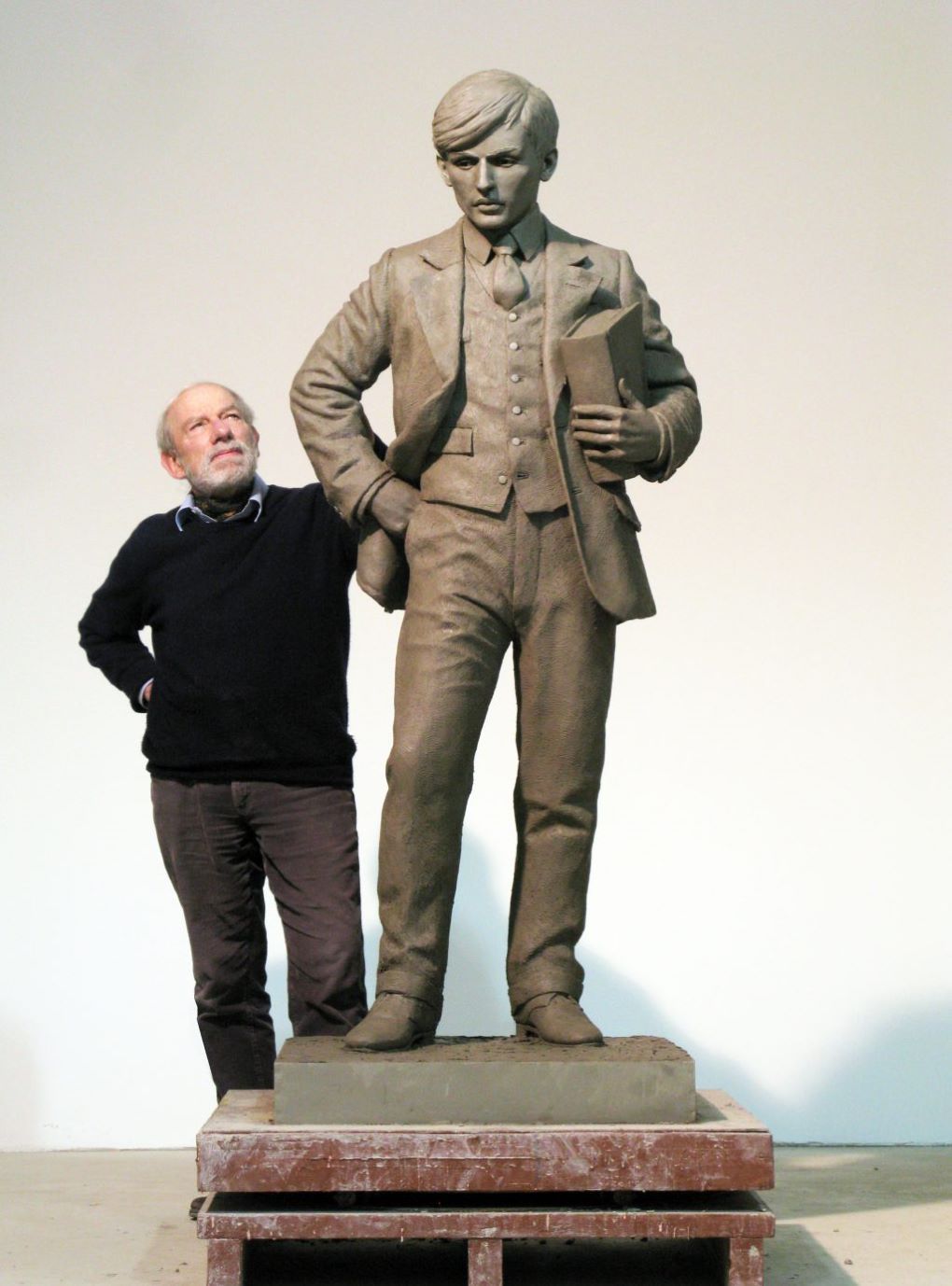 And let us sign off today by Joining Hands Together with Tendai Makufa, born in Zimbabwe and now living in South Africa.
As a visual story teller Tendai tells us about his painting titled United till late:
They started from the field, harvesting and now poundering until it's late (dark), but still joining hands and no matter others are sitting down tied, but the effort they put doesn't lead to others to complaint!!!!!!! Because there is "Unity of Purpose between them"
""What we should do to in life!!!! As one hand can not hold Unity!!!
Medium,, Acrylic decorative paint on canvas
Size: 40x30cm
Country: Zimbabwe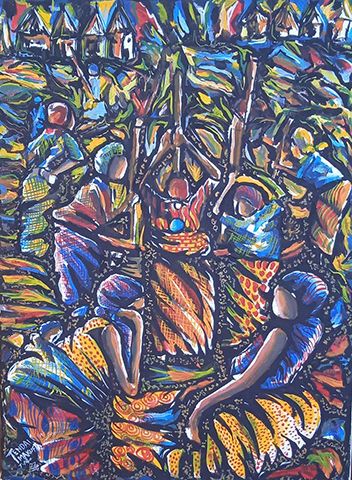 Thank you to everyone who contributed to the July mailbag and sharing the joy of creating visual images to express so many wonderful perspectives of our remarkable world.