Joseph Wright: Much More than Patience's Son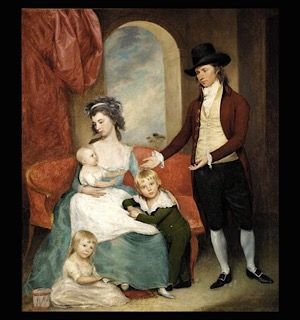 THE other day I introduced you to America's first known sculptor Patience Lovell Wright. Patience passed on her Artistic Talent to her son Joseph Wright Jnr who was born in Bordentown, New Jersey in 1756 and who in his short life became the first American-born student at the Royal Academy of Art, London, the first artist to sculpt a bust of George Washington, and the first to assume the position of Engraver of the U.S. Mint. (Smithsonian Institute) Tragically Joseph Wright died in 1793 when he was only 37 years old most likely in the Yellow Fever Epidemic which ravaged Philadelphia where they lived. Joseph's wife also died but from what I have read their children survived as Joseph and his wife sent the children out of Philadelphia during this period. Let us give recognition to this remarkable artist.
Joseph's story really begins after his father's death in 1769 when Joseph Jr, it is believed, went to live with Manuel Eyre & his wife in the Kensington neighborhood of Philadelphia. In the same year Joseph began studying at The College, Academy & Charitable School of Philadelphia.(artspaintinggallery.blogspot.com)
In 1775, at the age of 21, he moved to London to join his mother who had established a studio and waxworks there. Joseph matriculated from the Royal Academy of Arts in London after 6 years of study. He won a silver medal for the best model of an Academy figure in December 1778. In 1780, he caused a scandal at the Royal Academy by exhibiting a portrait of his mother sculpting a wax head of King Charles II, while busts of King George III and Queen Charlotte looked on. (Wikipedia) Sadly I couldn't find images of these works.
In 1781 Joseph went with his mother to live in Paris and here he painted several portraits of Benjamin Franklin. The painting below was done in 1782 using observation and a 1778 pastel of Franklin painted by Joseph Siffred Duplessis (1725-1802).


(Credit: artspaintinggallery.blogspot.com)
By the end of 1782 Wright was back living in America.

In August 1783, Congress authorized funding for an equestrian statue of George Washington in "Roman dress…his head encircled with a laurel wreath." They commissioned American painter Joseph Wright for a bust of the victorious Commander in Chief. Wright executed this cast bas-relief portrait as an offshoot of that project. (artspaintinggallery.blogspot.com)
This is Wright's portrait of Hannah Bloomfield Giles painted in 1784.


(Credit:artspaintinggallery.blogspot.com)
And this is his portrait of John Jay (1745-1829) who was the first Chief Justice of the United States Supreme Court (1789-95).


(Credit:artspaintinggallery.blogspot.com)
This drypoint profile of George Washington (done in 1790) illustrates Wright's delicate touch and attention to detail.


(Credit:artspaintinggallery.blogspot.com)
There is a popular, though not necessarily truthful, story that Wright secretly sketched the president, while he sat in his pew in Saint Paul's Chapel in New York. Washington posed for Wright in 1783, for a painting & a sculpture. It is conceivable, that the artist drew upon that experience for this little print. (artspaintinggallery.blogspot.com)
I like Joseph Wright's portrait style very much. This is one of the Pennsylvania minister and politician Frederick Muhlenberg painted in 1790. Of interest to my American subscribers is that Muhlenberg was the First Speaker of the United States House of Representatives.

(Wikipedia)
Joseph Wright is however most famous for designing the American coin called the Liberty Cap Cent.


(Credit: artspaintinggallery.blogspot.com)
*Early in his Presidency, Washington and Secretary of State, Thomas Jefferson, diligently sought after talented European engravers to design the first United States coins. However, they failed in this endeavor and ultimately decided that Wright would become the unofficial Engraver at the nascent Philadelphia Mint (below) in the second half of 1792. In August, 1793, Joseph was designated as the Mint's "First Draughtsman & Diesinker." Wright was responsible for the design of Liberty Cap designs on both the half and large cents. These designs were based upon the obverse of the Libertas Americana medal on which Wright is believed to have been the designer. Large Cent varieties of 1793 are his creations. (Wikipedia)

(Credit: artspaintinggallery.blogspot.com)
---
Post Script
Don't confuse this Joseph Wright with Joseph Wright of Derby UK (1734-1797) who was an English landscape and portrait painter.