Join Jane in Greece and Visit Meteora with her
Jane has taken a moment from her travels to communicate with us from Greece.
Visiting Meteora was the reason I booked this tour. Yesterday we travelled from Athens north west through the spine of Greece, a typical Mediterranean landscape, passing through a large valley, the food bowl of the country. Cotton, rice, pulses and vegetables grown here.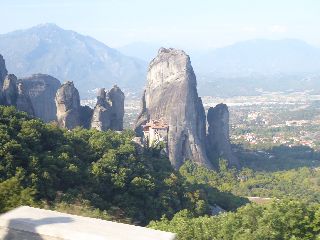 Meteora, which means suspended in the air, is an area of soaring monoliths more than 400 metres high, which attracted ascetics from the 12th century,  seeking a tranquil setting to devote their lives to pray and set about building around 41 monasteries over several centuries, all, perched atop the rocky pillars. 6 remain today and it's hard to imagine the time and effort required to transport the materials and build these majestic places of worship.   I could think of easier places for quiet contemplation!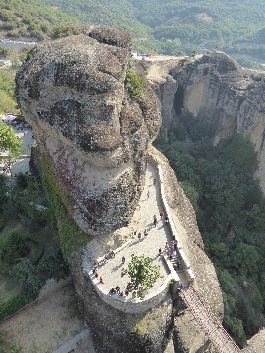 Time was spent not only on prayer, but adding beauty to their churches, which are filled with beautiful frescoes, silver rimmed paintings, gold leafed adorned walls, intricate vestments covered with gold and silver thread, ornate crosses and other religious items.
This is one of the churches inside the monastery which included courtyards and living quarters.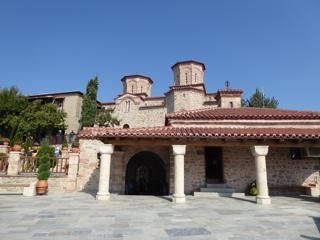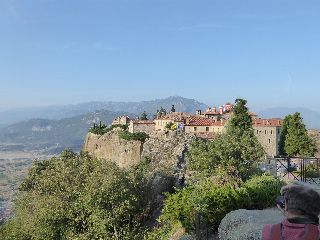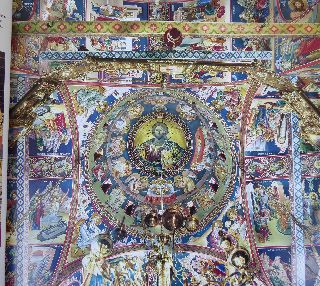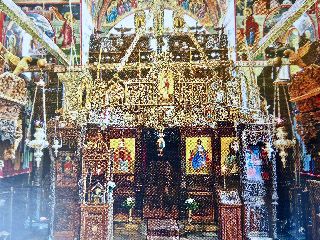 This was in marked contrast to our 2nd visit -Monastery of Varlaam (centre below) - built in the 16th century, where the patina of the frescoes has aged, there is some damage and the walls imperfect, but equally beautiful. I was reminded of the wonderful churches I visited in Cyprus a few years ago.  Sadly no photos allowed inside but I did buy a small book, a few images shown below.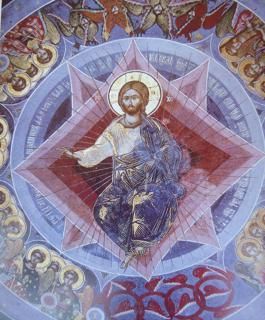 Below is a beautiful fresco of the Treee of Life - Bottom left is heaven, with Peter knocking on the door of Heaven's gate and Simon to the left - he helped Christ carry the cross. Then on the left he'll and filled with those doomed to damnation. And I agree with Jane. It's fabulous.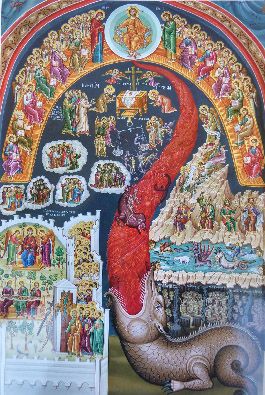 The local town of Kalambaka services the tourist trade, with several hotels, lots of street side tavernas and of course the inevitable tacky tourist gift shops. I was so surprised when at least 10 coaches arrived at our hotel last night, yet check-in, dinner and breakfast was all handled effortlessly. Greece is obviously very popular, even this far away from Athens.
I would have liked to visit some of the other monasteries, but the legs threatened to go on strike and the pool was beckoning. A good chance to rest up as tomorrow is a long driving day to to Olympia, stopping at Delphi on the way.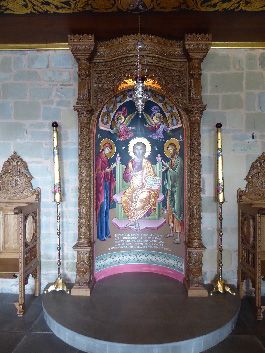 As we are visiting Greece perhaps you might like to follow this link to enjoy the legendary Joanna Lumley in Greece.
The Hero Image today with Jane floating above the Meteora Valley is from the Students of the World.