Jane Morris: More than a Pre-Raphaelite Star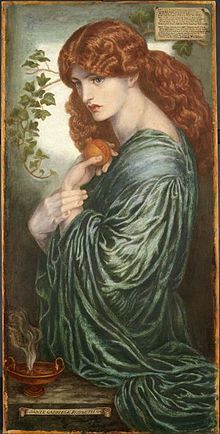 Do you recognise this woman? She appears in so many of the paintings of the Pre-Raphaelite painters, especially those done by Gabriel Rossetti as featured here. Her beauty is famous. But who was she? The post a couple of days ago probably gives it away, but read on........
Jane Morris (née Jane Burden, 1839-1914) was an English artists' model who embodied the Pre-Raphaelite ideal of beauty. She was a model and muse to William Morris (1834–1896) and eventually married him. In fact she modeled for the only known painting done by Morris - La Belle Iseult, below.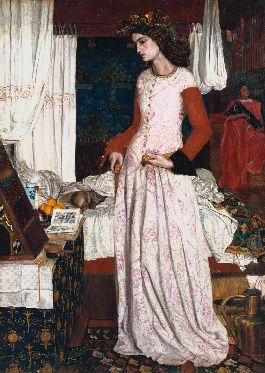 Jane Burden was born in Oxford, England on 19th October 1839. Her father was a stableman, and her mother a domestic servant, and so Jane didn't have much of an education herself. But when she was 18 years old, she was spotted at the theatre in Oxford with her sister by Dante Gabriel Rossetti and Edward Burne-Jones who were struck by her beauty and similarity to the Pre-Raphaelite beauties of the past. They asked her to model for them, and from then on her future was assured. You can see in the photo and paintings below just how well she fitted the prevailing trend.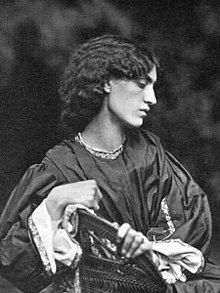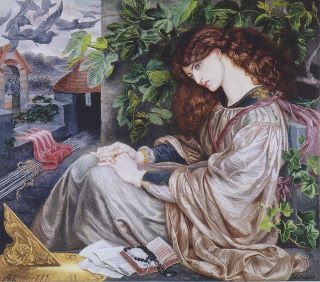 Burne-Jones and Rossetti were friends and collaborators of William Morris, (who we learnt about in the post on William Morris) so of course Jane became a model for William and other artists as well.
Whilst Jane was the muse of both Morris and Rossetti, it was Morris who fell in love with her and they became engaged, even though Jane admitted she was not in love with Morris herself. But Jane obviously recognised her chance to better herself, and, despite her humble beginnings, set about "re-inventing herself" in a remarkable way.
She must have been very intelligent, despite her limited education. She studied, and became proficient in, French and Italian. She became an accomplished pianist in classical music. She learnt the manners and refined speech of the upper-class and learnt to be comfortable in that society. She was the model for the heroine of the 1884 novel Miss Brown by Vernon Lee and may also have influenced George Bernard Shaw in creating the character of Eliza Doolittle in his play Pygmalion (1914) and the later film, My Fair Lady (1964).1
She also became a skilled, self taught, needlewoman in ancient embroidery techniques, and later became renowned for her own embroideries, though they were produced by her husband's company, Morris and Co.
Here are some examples of Jane's work: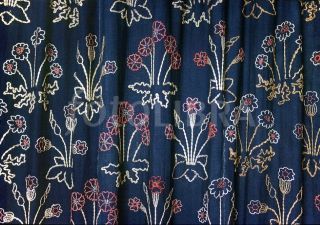 Jane and her sister Bessie passed on their embroidery skills to Jane's daughter, May, who was encouraged to develop her own designs. We are going to learn more about May Morris in a couple of days.
It is interesting to note that, even though Jane, her sister Bessie, and later, her two daughters Jenny and May, all supervised and embroidered for Morris & Co., credit for all their designs was generally given to William Morris himself "in the interests of commercial success".
It seems incredible now, but those were the times they lived in.......
After William and Jane were married in 1859, they moved into the Red House, which we learnt about in a recent post. While living there, they had two daughters, Jane Alice "Jenny", born 17 January 1861, and Mary "May" born 25 March 1862, who later edited her father's works. They moved to 26 Queen Square in London, which they shared with the design firm of Morris, Marshall, Faulkner & Co, and later bought Kelmscott House in Hammersmith, London as their main residence.
In 1871 William Morris and Gabriel Rossetti took a co-lease on Kelmscott Manor, in the Cotswolds. William lived there till his death in 1896, calling it "heaven on earth." Jane continued to live there after William died, but significantly, she actually bought it in 1914, just a few months before her own death, in order to secure the future for her two daughters.
Kelmscott Manor is now owned by the Society of Antiquaries and is open to visitors to experience it and see why it was so loved by the Morris family.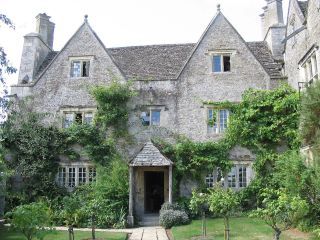 So it seems Jane ended up living a very good life, far better than her lowly beginnings would have indicated. Although the men in her life gained a great deal from her beauty, especially Rossetti who invented a whole new way of perceiving women, Jane was also capable of exploitation herself. Jane and Rosetti had a romantic liaison from the late 1860s up until Rossetti's death in 1882. Somehow she managed to get her husband, William Morris to agree to have Gabriel Rossetti live with them for at least some of that time!
We want to introduce you to a Dutch artist- Margje Bijl who has made it her mission to change the image the world has of Jane Morris - the personification of Gabriel Rossetti's ideal image of a woman. Margje Bijl states on her website:
"As a contemporary female artist my viewpoint differs from Rossetti's. It is my underlying intention to free Jane Morris of the myth that has been created around her. I have created a role for myself, based on Jane Morris' history to complement and modernise her persona". If you are interested, you might like to follow through by clicking here.
Jane Morris died on 26 January 1914, while staying at 5 Brock Street in Bath. She is buried in the churchyard of St. George's Church in Kelmscott, with her husband. (Her daughters Jenny and May are also buried there too.)
Footnotes
With thanks to Wikipedia.